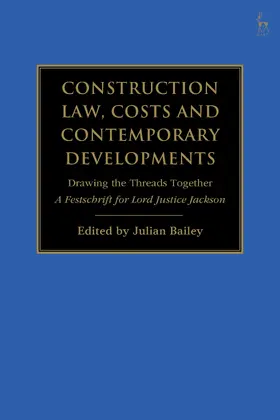 Bailey
Construction Law, Costs and Contemporary Developments: Drawing the Threads Together
A Festschrift for Lord Justice Jackson
Erscheinungsjahr 2018
ISBN: 978-1-5099-1994-9
Verlag: Hart Publishing
Seite exportieren
---
Buch, Englisch,
416 Seiten, Gebunden, Format (B × H): 156 mm x 234 mm, Gewicht: 762 g
A Festschrift for Lord Justice Jackson
Erscheinungsjahr 2018, 416 Seiten, Gebunden, Format (B × H): 156 mm x 234 mm, Gewicht: 762 g
ISBN: 978-1-5099-1994-9
Verlag: Hart Publishing
Seite exportieren
---
---
---
---
---
---
Lord Justice Jackson's retirement in March 2018 concluded a career of almost 20 years on the bench. His judicial career has seen a remarkable transformation of construction law, construction law litigation and the litigation landscape more generally. Drawing the Threads Together is a Festschrift which considers many of the important developments in these areas during the Jackson era.

The Festschrift discusses most of the leading construction cases decided by Lord Justice Jackson, with subject matter including statutory adjudication, fitness for purpose obligations, consideration, delays and extensions of time, liquidated damages, time bar provisions, the prevention principle, neighbour rights, limitation clauses, negligence, good faith, bonds and guarantees and concurrent duties of care. It also includes a discussion of the background to the Jackson Review of Civil Litigation Costs (2009-2010) and its impact on litigation, as well as considering the development of the Technology and Construction Court during and subsequent to Mr Justice Jackson's tenure as judge in charge of that court.
Herausgeber


Bailey, Julian
Julian Bailey is a Partner at White and Case LLP.


PART I
INTRODUCTION
1. A Judicial Career of Many Parts
Julian Bailey

PART II
THE TECHNOLOGY AND CONSTRUCTION COURT
2. Lord Justice Jackson and the Evolution of the Technology and Construction Court
Lord Justice Coulson

PART III
COSTS
3. The Jackson Review: Its Rationale and Objectives
Lord Clarke of Stone-cum-Ebony
4. The Jackson Reforms and Technology & Construction Court Litigation
Sir Antony Edwards-Stuart

PART IV
CONSTRUCTION ADJUDICATION
5. A Second Bite
Adrian Williamson QC
6. Of Special Character
Steven Walker QC
7. An Open Mind
Rachael O'Hagan

PART V
CONSTRUCTION CONTRACTS
8. Fitness for Purpose Obligations
Michael Curtis QC
9. The Legacy of Williams v Roffey: Death Knell for Consideration or Infusion of New Blood?
Mindy Chen-Wishart
10. Of Chocolate Mousse and Good Faith
Shy Jackson

PART VI
NEGLIGENCE & NUISANCE
11. Rectifying the Defects in Builders' Concurrent Liability
Fiona Sinclair QC
12. Complex Structure Theory: Testing the Limits of a Builder's Liability for Economic Loss
Karim Ghaly QC
13. All Care, No Responsibility - Limiting Liability for Negligence
Manus McMullan QC
14. Good Neighbours?
Philip Britton

PART VII
CONTRACT ADMINISTRATION
15. To Hold the Scales Even: The Duty of a Construction Contract Administrator
Anthony Lavers

PART VIII
PRIVATE FINANCE INITIATIVES (PFIs)
16. PFI Problems: The Emperor Claudius and the Tiger Tails
Mrs Justice Jefford DBE

PART IX
PERFORMANCE BONDS
17. Promises and Prejudice
Richard Wilmot-Smith QC

PART X
TIME AND LIQUIDATED DAMAGES
18. Time Rolls On
Vincent Moran QC
19. Prevention, Time-Bars and Multiplex Constructions (UK) Ltd v Honeywell Control Systems Ltd (No 2)
Doug Jones AO
20. Penalties in the Box
Riaz Hussain QC