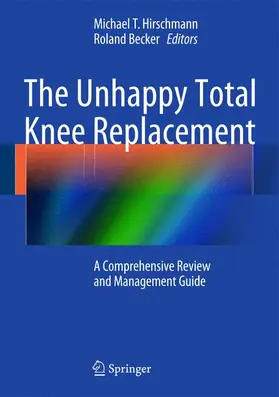 Becker / Hirschmann
The Unhappy Total Knee Replacement
A Comprehensive Review and Management Guide
1. Auflage 2015
ISBN: 978-3-319-08098-7
Verlag: Springer, Berlin
Seite exportieren
---
Buch, Englisch,
823 Seiten, Gebunden, Book, Format (B × H): 188 mm x 258 mm, Gewicht: 1972 g
Erhältlich auch als
A Comprehensive Review and Management Guide
1. Auflage 2015, 823 Seiten, Gebunden, Book, Format (B × H): 188 mm x 258 mm, Gewicht: 1972 g
ISBN: 978-3-319-08098-7
Verlag: Springer, Berlin
Seite exportieren
---
(inkl. MwSt.)
versandkostenfreie Lieferung
sofort versandfertig, Lieferfrist: 1-3 Werktage
---
---
---
---
---
---
---
This book addresses the need for improved diagnostic and treatment guidelines for patients in whom total knee arthroplasty (TKA) has had an unsatisfactory outcome. It opens by discussing the basics of TKA and the various causes of failure and pain. Diagnostic aspects are considered in detail, with attention to advances in clinical investigation, laboratory analysis and in particular, imaging techniques. In addition, helpful state of the art diagnostic algorithms are presented. Specific pathology-related treatment options, including conservative approaches and salvage and revision TKA strategies, are then explained, with identification of pitfalls and key points. A series of illustrative cases cover clinical scenarios frequently encountered in daily clinical practice. The evidence-based, clinically focused guidance provided in this book, written by internationally renowned experts, will assist surgeons in achieving the most effective management of these challenging cases.
Herausgeber


Hirschmann, Michael
Michael T. Hirschmann, MD, is head of Knee Surgery at Kantonsspital Baselland (Bruderholz, Liestal, Laufen). He trained at the University of Mainz in Germany, graduating in 2004. He then worked from 2004-2006 as registrar at the Departement of Surgery at University of Basel. His orthopaedic residency was spent at Bruderholz Hospital and Kantonsspital Baselland under the leadership of Professor Dr. Niklaus Friederich. He became a board certified specialist in Orthopaedic Surgery in 2011. He completed a 12 months clinical and research fellowship at the Imperial College London, UK under Prof. Justin Cobb and Prof. Andrew Amis. In addition, he spent a 3 months knee fellowship in Melbourne, Australia with John Bartlett. Michael went on several fellowships such as the ESSKA-APOSSM Travelling Fellowship 2012, the AGA European Arthroscopy Fellowship 2011 and the EFORT Visiting Fellowship 2010, which he spent with Dr. Timo Järvelä in Tampere, Finland. For his research he was awarded numerous awards such as the Swiss Quality Award 2013, the ESSKA Basic Science Poster Award 2012, 2nd AGA Poster Award 2013 and the EANM Young Investigator Award 2013. His research focus has been on diagnostics and treatment of knee injuries involving the cartilage, meniscus or ligaments, diagnostics and treatment of patients with OA and in particular on unhappy patients after knee arthroplasty surgery. Another major research focus lies on the evaluation and development of 3D imaging such as CT, MRI and SPECT/CT on orthopaedic purposes. He published numerous original articles and book chapters in these areas. Michael has been a member of ESSKA since 2007 and has been active in the ESSKA arthroscopy and cartilage committee. He is also a member of AAOS, ACL Study Group, AGA, DGOOC, DKG,EKA, EORS, GOTS and ISAKOS. In September 2012, he was appointed an Ass. Professor (PD) at the University of Basel, Switzerland.


Basics of total knee replacement: Anatomy and biomechanics of the knee after total knee arthroplasty.- Biology of the knee after TKA- the neglected potential or source of failure?- There is an optimal axial alignment in TKA- rotation does matter!- There is an optimal alignment of the TKA- tibial rotation does matter!- Gap balancing in total knee arthroplasty- the US perspective.- Design, shape, and materials of total knee arthroplasty - What works well, what does not.- Patellofemoral complications and mal-tracing in TKA are influenced by what?- Image analysis- new ways to improve the diagnosis in patients after TKR.- How can preoperative planing prevent occurrence of a painful TKA? Causes of pain after TKA: Avoiding Wound Complications in Total Knee Arthroplasty- Failure of the TKA implant.- Periprosthetic fractures following total knee replacement- an epidemic problem on the rise!- Malposition and malorientation of TKA.- The problem of under- or oversizing of TKA.- Instability of TKA.- Extensor mechanism deficiency in TKA.- Causes and diagnosis of aseptic loosening after TKA.- Infection after TKA.- Allergy and hypersensitivity to implant materials in patients with TKA: an allergological approach.- Stiffness after total knee arthroplasty.- The unhappy TKA: Reducing the impact of psychological factors on outcome.- Impingement after TKA. Diagnostics: Medical History and physical examination.- Laboratory analysis in the assessment of painful total knee a

rthroplasty.- What do the radiographs tell us?- CT determination of component orientation and position in patients after TKA.- Magnetic resonance imaging in knee arthroplasty.- The diagnostic value of SPECT/CT in the 'unhappy' total knee arthroplasty- a potential for better diagnosis!- FDG-PET in patients with total knee arthroplasty - what is the evidence?- Fluoroscopy and stress radiographs diagnosing laxity/instability in patients after TKA.- Biopsy, joint puncture, diagnostic

arthroscopy.- A diagnostic algorithm for patients with painful total knee arthroplasty - what to do when?- Algorithm for the management of patients with painful total knee arthroplasty Treatment principles - Conservative treatment: Management of patients with painful total knee arthroplasty: A multimodal approach.- Pain after TKA- when is a conservative treatment possible?- Radiosynovectomy.- Physical therapy, alternative treatment options, braces/orthotics.- Treatment principles -Surgical treatment: General Principles.- Exposure for revision TKA.- Intraoperative landmarks in revision surgery- when to choose what?- Arthroscopic treatment of patellofemoral soft tissue impingement after posterior stabilized total knee arthroplasty.- Arthroscopic or open treatment of stiff knees after TKA.- Treatment of aseptic loosening.- Treatment of Instability after TK.- Cementless versus cemented revision TKA.- Use of stems in revision TKA.- Ligament and gap balancing in revision TKA.- Unusual causes of failure and unexpected complications.- My algorithm treating infection after TKA.- My special case of infection after total knee arthroplasty.- Joint line restoration in revision surgery.- Treatment of patellofemoral pain after TKA.- Hinged implants for revision TKA.- The management of bone loss in revision TKA.- My experience with diagnosis and treatment of extensor apparatus insufficiencies.- Low-grade infection after total knee arthroplasty.- Treatment of infection after TKA- one stage versus two stage.- Navigated revision arthroplasty- what is the benefit?- Periprosthetic fracture treatment in TKA.- Salvage procedures in revision TKA.- Future developments and perspectives. Case discussion.


Professional/practitioner
versandkostenfreie Lieferung
---
235,39 €

(inkl. MwSt.)
sofort versandfertig, Lieferfrist: 1-3 Werktage
---
Webcode: sack.de/guov9
Bitte ändern Sie das Passwort