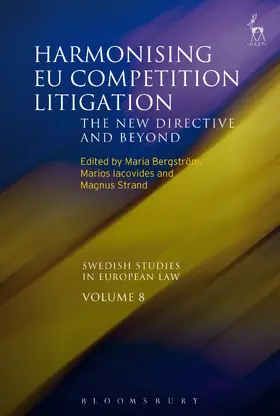 Bergström / Iacovides / Strand
Harmonising EU Competition Litigation
The New Directive and Beyond
Erscheinungsjahr 2016
ISBN: 978-1-84946-762-9
Verlag: Hart Publishing
Seite exportieren
---
---
---
---
---
---
This volume in the Swedish Studies in European Law series, produced by the Swedish Network for European Legal Studies, heralds the new harmonised regime of private enforcement of EU competition law. In 2013, the Commission issued a Communication and Practical Guide to the quantification of harm in antitrust litigation and a Recommendation on collective redress. In 2014, the long-awaited Directive on actions for damages for infringements of EU competition law was finally adopted. In 2016, the Commission is expected to issue guidelines on the passing-on of overcharges. This book examines these recent developments and offers the perspectives of judges, officials, practitioners and academics.
With a preface by Judge Carl Wetter of the General Court, the book explores five different themes. In section one, the main policy issues and challenges are presented. In section two, the new regime is placed in the bigger picture of recent EU law developments. In section three, the nexus between private enforcement and transparency is investigated. A comparative perspective is offered in section four by looking into private enforcement in five Member State jurisdictions. Finally, issues relating to causation, harm and indirect purchasers are explored in section five.
Herausgeber


Bergström, Maria
Maria Bergström is Associate Professor of European Law and Senior Lecturer in EU law at the Faculty of Law, Uppsala University.

Iacovides, Marios
Marios Iacovides is a Doctoral Candidate in European Law at Uppsala University.

Strand, Magnus
Magnus Strand is associate professor of European law and senior lecturer in commercial law at Uppsala University.


Part I: Main Policy Issues and Particular Challenges
1. Introduction to the Directive on Competition Damages Actions
Ulf Bernitz
2. Private Enforcement of EU Competition Law: A Comparison with, and Lessons from, the US
Alison Jones
3. Welfare Effects of Right to Damages-A Practical Approach and the Swedish Perspective
Lars Henriksson
4. Challenges for Swedish Courts: Will the New Directive on Competition Damages Actions Help?
Ingeborg Simonsson
Part II: Private Enforcement and the New Directive in Context
5. The Damages Directive and Other Enforcement Measures in EU Competition Law
Vladimir Bastidas Venegas
6. Embedding Procedural Autonomy: The Directive and National Procedural Rules
Pieter Van Cleynenbreugel
7. Private Enforcement of Competition Law in Intellectual Property Cases
Paul LC Torremans
Part III: Transparency, Leniency Programmes, and Human Rights
8. Transparency and Liability in Leniency Programmes: A Question of Balancing?
Xavier Groussot and Justin Pierce
9. Access to Documents for Cartel Victims and Cartel Members - Is the System Coherent?
Björn Lundqvist and Helene Andersson
Part IV: Private Enforcement Through National Actions
10. Practical Private Enforcement: Perspectives from Portugal
Sofi a Oliveira Pais
11. Practical Private Enforcement: Perspectives from Poland
Anna Piszcz
12. Practical Private Enforcement: Perspectives from Finland - Causal Links, the Principle of Effectiveness
and Requirements for National Solutions
Katri Havu
13. Practical Private Enforcement: Perspectives from Greece and the Netherlands
Agisilaos Karpetas
Part V: Harm, Indirect Purchasers, and Alternative Redress
14. Indirect Purchasers - Is there Anything New in the Directive? An Introductory Overview of the Current
and Future Status of Indirect Purchasers in the EU
Elisabeth Eklund
15. Beyond the Competition Damages Directive: What Room for Competition Law Restitution?
Magnus Strand
16. The Presumption and Quantifi cation of Harm in the Directive and the Practical Guide
Marios C Iacovides