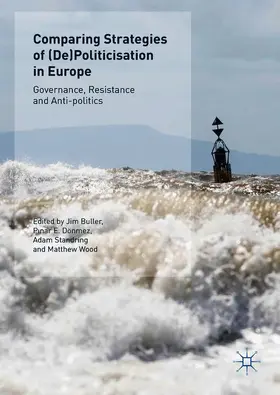 Buller / Dönmez / Standring
Comparing Strategies of (De)Politicisation in Europe
Governance, Resistance and Anti-politics
1. Auflage 2019
ISBN: 978-3-319-64235-2
Verlag: Springer, Berlin
Seite exportieren
---
Buch, Englisch,
265 Seiten, Gebunden, Book, Format (B × H): 156 mm x 215 mm, Gewicht: 476 g
Erhältlich auch als Buch
Governance, Resistance and Anti-politics
1. Auflage 2019, 265 Seiten, Gebunden, Book, Format (B × H): 156 mm x 215 mm, Gewicht: 476 g
ISBN: 978-3-319-64235-2
Verlag: Springer, Berlin
Seite exportieren
---
---
---
---
---
---
---
This book investigates the extent to which depoliticisation strategies, used to disguise the political character of decision-making, have become the established mode of governance within societies. Increasingly, commentators suggest that the dominance of depoliticisation is leading to a crisis of representative democracy or even the end of politics, but is this really true? This book examines the circumstances under which depoliticisation techniques can be challenged, whether such resistance is successful and how we might understand this process. It addresses these questions by adopting a novel comparative and interdisciplinary perspective. Scholars from a range of European countries scrutinise the contingent nature of depoliticisation through a collection of case studies, including: economic policy; transport; the environment; housing; urban politics; and government corruption. The book will be appeal to academics and students across the fields of politics, sociology, urban geography, philosophy and public policy.
Herausgeber


Buller, Jim
Jim Buller is Senior Lecturer of Politics at the University of York, UK. He is a member of the British Political Studies Association (PSA) Anti-Politics and Depoliticisation Specialist Group.

Pinar E. Dönmez is Research Fellow at the Center For Policy Studies, Central European University, Hungary. She is a member PSA Anti-Politics and Depoliticisation Specialist Group.


Chapter 1: Depoliticisation, Post-politics and the Problem of Change; Jim Buller, Pinar E. Dönmez, Adam Standring, Matthew Wood.- Chapter 2: Rethinking (De)Politicisation in Liberalism: Macro and Micro-Political Perspectives; Alen Toplisek.- Chapter 3: Re-politicising Government Accountability: the Case of Protest Network and the Model 'Who?' in Bulgaria; Gergana Yankova Dimova.- Chapter 4: The Airports Commission, Depoliticisation and the Third Runway at Heathrow Airport; Steven Griggs and David Howarth.- Chapter 5: Political Dissatisfaction and Decline of Party Identification: Societal Depoliticisation in the Republic of Cyprus (2006-12); Giorgos Charalambous and Direnc Kanol.- Chapter 6: Portugal and the European Union: Defining and Contesting the Boundaries of the Political; Adam Standring.- Chapter 7: Forms of Politicisation as Governing Strategy versus Resistance: Demystifying Capitalist Social Relations and the State in Turkey; Pinar E. Dönmez.- Chapter 8: Depoliticisation and Urban Politics: Moving Beyond the "Post-political" City; Ross Beveridge and Philippe Koch.- Chapter 9: Revanchism and Anti-revanchism in Hungary: the Dynamics of (De)politicisation and Criminalisation of Homelessness; Kata Amon.- Chapter 10: The Dynamics of Depoliticisation: Conclusions and Reflections; Jim Buller.