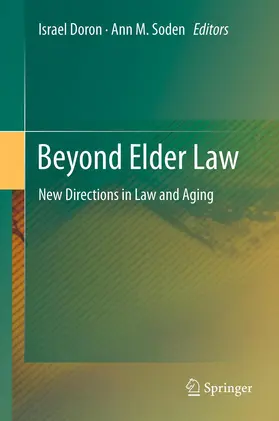 Doron / Soden
Beyond Elder Law
New Directions in Law and Aging
Erscheinungsjahr 2014
ISBN: 978-3-642-43439-6
Verlag: Springer
Seite exportieren
---
Buch, Englisch,
222 Seiten, Kartoniert, Format (B × H): 155 mm x 235 mm, Gewicht: 367 g
Erhältlich auch als Buch
New Directions in Law and Aging
Erscheinungsjahr 2014, 222 Seiten, Kartoniert, Format (B × H): 155 mm x 235 mm, Gewicht: 367 g
ISBN: 978-3-642-43439-6
Verlag: Springer
Seite exportieren
---
---
---
---
---
---
---
All over the world, there is a growing interest in the relationship between law and aging: How does the law influence the lives of older people? Can rights, advocacy and representation advance the social position of the aged and combat ageism? What are the new and cutting-edge frontiers in the field of elder law? Should there be a new international human rights convention in this field? These are only a few of the many questions that arise.
This book attempts to answer some of these questions and to set the agenda for the future development of elder law across the globe. Taking into account existing research and knowledge, leading scholars from different continents (North America, Europe, Asia, and Australia) present in this book original and novel ideas regarding the future development of elder law. These ideas touch upon key topics such as elder guardianship, citizenship, mental capacity, elder abuse, human rights and international law, family relationships, age discrimination, and the right to die. This book can thus serve as an important reference work for all those interested in understanding where law and aging are headed, and for those concerned about the future legal rights of older persons.

Herausgeber


Doron, Israel
Dr. Israel (Issi) Doron and Ann Soden Ad. E. are both leading international scholars in the field of elder law. Dr. Doron, is a Professor of Law and a Senior Lecturer at the Department of Gerontology, University of Haifa, Israel, and has edited the book Theories on Law and Ageing: The Jurisprudence of Elder Law (Springer, 2009). Ann Soden is the head of the National Institute of Law, Aging and Policy, based in Montreal, Canada, and has edited the book Advising the Older Client (LexisNexis, 2005).


T. Carney: Guardianship, "Social" Citizenship, & Theorizing Substitute Decisionmaking Law.- N. A. Kohn: A Civil Rights Approach to Elder Law.- C. P. Sabatino, E. Wood: The Conceptualization of Legal Capacity of Older Persons in Western law.- H. Meenan: Age Discrimination and the Future Development of Elder Rights in the European Union: Walking Side by Side or Hand in Hand?.- A. M. Soden: Family Matters - Some Emerging Legal Issues in Intergenerational and Generational Relations.- I. Doron, B. Spanier: International Elder Law - The Future of Elder Law.- A. Evrard, C. Lacour: A European Approach to Developing the Field of Law and Ageing.- J. Herring: Elder Abuse - A Human Rights Agenda for the Future.- A. Murphy: Aid in Dying - United States and Around the World.