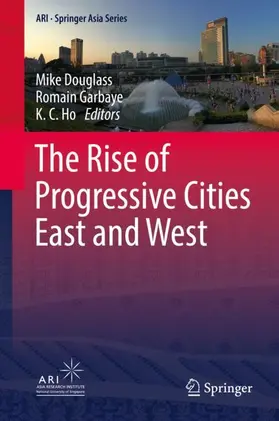 Douglass / Garbaye / Ho
The Rise of Progressive Cities East and West
---
Buch, Englisch, Reihe:
ARI - Springer Asia Series
Band: 6
256 Seiten, Gebunden, Book, Format (B × H): 168 mm x 244 mm, Gewicht: 562 g
---
(inkl. MwSt.)
versandkostenfreie Lieferung
sofort versandfertig, Lieferfrist: 1-3 Werktage
---
---
---
---
---
---
---
This book explores the leading role that cities can play in shaping progressive policies in collaboration with various stakeholders. It examines the timing of such shifts to progressivity in cities, the interactions that enable progressive actions to be developed and sustained, and the challenges and constraints facing progressive cities. The book approaches the themes using an array of methods to investigate how progressive city governments emerge, what constitutes a "progressive city" in terms of governance institutions, processes and outcomes and whether progressive cities are destined to be ephemeral or if they can be sustained over time. With its focus on the emerging role of local governments in shaping city futures, this book is useful for students, academics, government official and policy makers interested in geography, sociology, urban planning, public policy, political economy, social movements, participatory democracy and Asian and European studies.
Herausgeber


Douglass, Mike
Mike Douglass is Professor and Leader of the Asian Urbanisms Cluster at the Asia Research Institute and Professor at the Lee Kuan Yew School of Public Policy, National University of Singapore, where he teaches and does research on cities in Asia. He is Emeritus Professor of Urban Planning and former Director of the Globalization Research Center, University of Hawaii. His Ph.D. is in Urban Planning from UCLA. He has been a consultant on urban policy and planning for major international development and donor agencies as well as national and local governments in Asia. His current research on progressive cities draws from his parallel research in Asia on livable cities, sustainable development, disaster governance, globalization and the city, and civic space. His publications include Globalization, the Rise of Civil Society and Civic Spaces in Pacific Asia Cities; Building Urban Communities: The Politics of Civic Space in Asia; The Rise of Mega-Urban Regions in Pacific Asia; Connected Cities: Histories, Hinterlands, Hierarchies and Networks; and Disaster Governance: The Urban Transition in Asia.

Romain Garbaye is Professor of British studies at the Université Sorbonne Nouvelle-Paris 3. His publications include Emeutes vs. Intégration, comparaisons franco-britanniques (on British and French government discourse on urban rioting), and Getting Into Local Power, the Politics of Ethnic Minorities in British and French Cities.


Kong Chong Ho is an Associate Professor at the Department of Sociology, National University of Singapore. He is trained as an urban sociologist at the University of Chicago and his research interests are in the political economy of cities and higher education. His publications include "International Student Mobility and After-Study Lives: the portability and prospects of overseas education in Asia", Population, Space and Place (with Collins, Ishikawa and Ma); "Rethinking Spatial Planning for Urban Conviviality and Social Diversity: A Study of Nightlife in a Singapore Public Housing Estate Neighbourhood", Town Planning Review ( with Yeo and Heng); "Theories of Place and a Place for Theories" in Cities and Economic Change: Restructuring and Dislocation in the Global Metropolis, and "The University's Place in Asian Cities" Asia Pacific Viewpoint. Kong Chong is an editorial board member of Pacific Affairs and the International Journal of Comparative Sociology.


Section 1 Introduction.- 1.The Rise of Progressive Cities East and West.- 2.Progressive Cities for Human and Planetary Flourishing.- Section 2 Progressive Moments and Movements.- 3.Progressive City in the Making? The Seoul Experience.- 4.Toward the Progressive Science: Creative Activism in Marseille and Istanbul.- 5.Cities of Protest and Cities of Progress.- Section 3 Constructing Progressive Cities from Collaborative Partnerships.- 6.Constructing Progressiveness: The Complexity of Progressive Cities in Surakarta and Surabaya.- 7.Governance with a Creative Citizenry: Public Art Projects for Cultural Vitality in Japanese Cities.- 8.Participative Budgeting and Progressive cities: are London and Paris listening to their own voices?.- 9.Towards a Progressive Chengdu: Land Reform, Participatory Budgeting and Rescaling state-civil relations.- Section 4 Urban Challenges and the Impediments to Sustaining Progressive Agendas.- 10.Migration and inclusion in the European city: the cautionary tale of British cities.- 11.Progressive solutions to urban woes?: Arts and culture as a tool for urban regeneration in Busan, South Korea.- 12.Tackling In-Work Poverty: How Progressive is the London Living Wage?.- 13.Towards a Metropolitan Social Revolution? The Promises and Pitfalls of US Labor Ordinances.- 14.Housing policies in London: policies for a progressive world city?.
versandkostenfreie Lieferung
---
106,99 €

(inkl. MwSt.)
sofort versandfertig, Lieferfrist: 1-3 Werktage
---
Webcode: sack.de/vtj3b
Bitte ändern Sie das Passwort