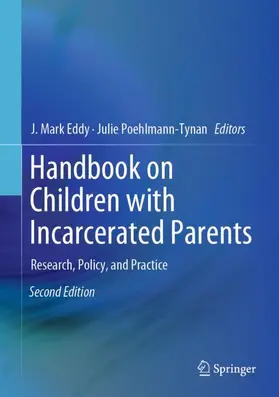 Eddy / Poehlmann-Tynan
Handbook on Children with Incarcerated Parents
Research, Policy, and Practice
2. Auflage 2019
ISBN: 978-3-030-16706-6
Verlag: Springer, Berlin
Seite exportieren
---
Buch, Englisch,
386 Seiten, Gebunden, HC runder Rücken kaschiert, Format (B × H): 179 mm x 323 mm, Gewicht: 984 g
Erhältlich auch als
Research, Policy, and Practice
2. Auflage 2019, 386 Seiten, Gebunden, HC runder Rücken kaschiert, Format (B × H): 179 mm x 323 mm, Gewicht: 984 g
ISBN: 978-3-030-16706-6
Verlag: Springer, Berlin
Seite exportieren
---
(inkl. MwSt.)
versandkostenfreie Lieferung
Lieferfrist: bis zu 10 Tage
---
---
---
---
---
---
---
The second edition of this handbook examines family life, health, and educational issues that often arise for the millions of children in the United States whose parents are in prison or jail. It details how these youth are more likely to exhibit behavior problems such as aggression, substance abuse, learning difficulties, mental health concerns, and physical health issues. It also examines resilience and how children and families thrive even in the face of multiple challenges related to parental incarceration. Chapters integrate diverse; interdisciplinary; and rapidly expanding literature and synthesizes rigorous scholarship to address the needs of children from multiple perspectives, including child welfare; education; health care; mental health; law enforcement; corrections; and law. The handbook concludes with a chapter that explores new directions in research, policy, and practice to improve the life chances of children with incarcerated parents.

Topics featured in this handbook include:

- Findings from the Fragile Families and Child Wellbeing Study.

- How parental incarceration contributes to racial and ethnic disparities and inequality.

- Parent-child visits when parents are incarcerated in prison or jail.

- Approaches to empowering incarcerated parents of color and their families.

- International advances for incarcerated parents and their children.

The second edition of the Handbook on Children with Incarcerated Parents is an essential reference for researchers, professors, clinicians/practitioners, and graduate students across developmental psychology, criminology, sociology, law, psychiatry, social work, public health, human development, and family studies.




"This important new volume provides a cutting-edge update of research on the impact of incarceration on family life. The book will be an essential reference for researchers and practitioners working at the intersections of criminal justice, poverty, and child development."

Bruce Western, Ph.D., Columbia University



"The comprehensive, interdisciplinary focus of this handbook brilliantly showcases the latest research, interventions, programs, and policies relevant to the well-being of children with incarcerated parents. This edition is a 'must-read' for students, researchers, practitioners, and policy-makers alike who are dedicated to promoting the health and resilience of children affected by parental incarceration."

Leslie Leve, Ph.D., University of Oregon
Herausgeber


Eddy, J. Mark
J. Mark Eddy, Ph.D., received a bachelor's degree in psychology at Texas A&M University. He then completed a master's and doctorate in clinical psychology at the University of Oregon, a clinical internship at the University of Colorado Health Sciences Center, and served as a senior research principal at the Attention Deficit Disorders Clinic, Western Psychiatric Institute and Clinic, University of Pittsburgh Medical Center. Dr. Eddy worked for 25 years as a Senior Scientist and licensed psychologist at the Oregon Social Learning Center, where he was a member of the Oregon Prevention Research Center and the Latino Research Team. For several years, Dr. Eddy joined the School of Social Work at the University of Washington as Director of Research for Partners for Our Children, a research, practice, and policy center focused on child and family well-being within the context of the child welfare system. Dr. Eddy now is a Senior Scientist at New York University. He specializes in conducting rigorous longitudinal research studies of prevention and intervention programs intended to benefit children and families. In recent years, his work has centered on the conduct of randomized controlled trials (RCTs) within school systems, the juvenile justice system, and the adult corrections system as well as with nonprofits working as partners with these and other social service systems.
Julie Poehlmann-Tynan, Ph.D., earned her doctorate in child clinical psychology from Syracuse University in 1995. She worked as a licensed psychologist in the Department of Family Medicine at the State University of New York for several years before starting a postdoctoral fellowship in Developmental Psychopathology at the Waisman Center at the University of Wisconsin. Dr. Poehlmann-Tynan has been a professor in the Human Development and Family Studies department at UW-Madison since 1999. She currently holds the Dorothy A. O'Brien Professorship in Human Ecology at the School of Human Ecology and Center for Healthy Minds at the University of Wisconsin-Madison. Her research focuses on the role of family relationships in the development of resilience in high-risk infants, toddlers, and preschoolers, especially as captured using observational methods. Dr. Poehlmann-Tynan has more than 60 peer-reviewed publications, mostly articles in high impact journals such as Child Development, Developmental Psychology, Pediatrics, American Psychologist, Development and Psychopathology, and Family Psychology as well as book chapters and 4 edited volumes, including a Monograph for the Society for Research in Child Development. She has served as PI on $3 million in grants, mostly from NIH, in addition to serving as a consultant on an additional $4 million in grants. Dr. Poehlmann-Tynan also served as an adviser to Sesame Street on their Emmy-nominated initiative for children with incarcerated parents. She has consulted with Wisconsin Public Television on an outreach effort for families struggling with methamphetamine addiction and worked with Madison Area Urban Ministry to evaluate their mentoring program for children of incarcerated parents. She is particularly interested in improving the self-regulation and empathy of high-risk children and their parents. Toward this end, Dr. Poehlmann-Tynan is currently conducting randomized controlled trials of interventions using contemplative practices for preschoolers and parents of young children.



Section I: Current Trends and New Findings .- Chapter 1. Interdisciplinary Perspectives on Research and Intervention with Children with Incarcerated Parents.- Chapter 2. Measuring the Exposure of Parents and Children to Incarceration.- Chapter 3. Parental Criminal Justice Involvement.- Chapter 4. Racial/Ethnic Disparities.- Chapter 5. Parental Incarceration and Children's Wellbeing: Findings from the Fragile Families and Child Wellbeing Study.- Chapter 6. Effects of Parental Incarceration on Children: Lessons from International Research.- Section II: Developmental and Family Research .- Chapter 7. Infants and Young Children with Incarcerated Parents.- Chapter 8. Parental Incarceration during Middle Childhood and Adolescence.- Chapter 9. A Family Perspective: Caregiving and Family Contexts of Children with an Incarcerated Parent.- Chapter 10. Parent-Child Visits When Parents are Incarcerated in Prison or Jail.- Chapter 11. Qualitative Research on Children with Incarcerated Parents: Findings, Challenges and Future Directions.- Section III: Intervention Research .- Chapter 12. Interventions in Prison Nurseries.- Chapter 13. Parenting Programs for Incarcerated Fathers and Mothers: Current Research and New Directions.- Chapter 14. Mentoring Interventions for Children with Incarcerated Parents.- Chapter 15. Theory-Based Multimodal Parenting Intervention for Incarcerated Parents and Their Children.- Chapter 16. Can Alternatives to Incarceration Enhance Child Well-being?.- Section IV: Perspectives .- Chapter 17. Empowering Incarcerated Parents of Color and their Families using Community-Based Participatory Research.- Chapter 18. From Research to Reform: Improving the Experiences of Children and Families with Incarcerated Parents in Europe.- Chapter 19. The Interface of Child Welfare and Parental Criminal Justice Involvement: Policy and Practice Implications for Children with Incarcerated Parents.- Chapter 20. Addressing the Needs of Parents in Juvenile Justice: Systems Change from the Perspectives of Two Change Leaders.- Chapter 21. About Us, For Us, With Us: Collaboration as the Key to Progress in Research, Practice, and Policy.- Section V: Future Directions .- Chapter 22. Policies and Practices for Children with Incarcerated Parents: Summarizing What We Know and Do Not Know.- Chapter 23. Separation and Detention of Parents and Children at the Border: Lessons from Impacts of Parental Incarceration on Children and Families.- Chapter 24. A Research and Intervention Agenda for Children with Incarcerated Parents and Their Families.- Chapter 25. Reflections and Conclusions.


versandkostenfreie Lieferung
---
171,19 €

(inkl. MwSt.)
Lieferfrist: bis zu 10 Tage
---
Webcode: sack.de/ga3wf
Bitte ändern Sie das Passwort