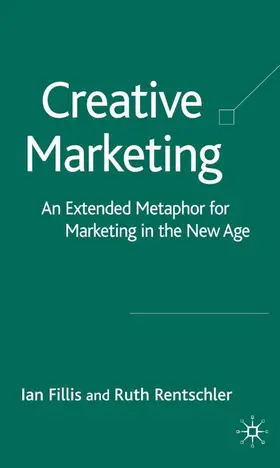 Fillis / Rentschler
Creative Marketing
An Extended Metaphor for Marketing in a New Age
2006
ISBN: 978-1-4039-4190-9
Verlag: Springer Palgrave Macmillan
Seite exportieren
---
Buch, Englisch,
161 Seiten, Gebunden, Book, Format (B × H): 145 mm x 224 mm, Gewicht: 375 g
Erhältlich auch als Buch
An Extended Metaphor for Marketing in a New Age
2006, 161 Seiten, Gebunden, Book, Format (B × H): 145 mm x 224 mm, Gewicht: 375 g
ISBN: 978-1-4039-4190-9
Verlag: Springer Palgrave Macmillan
Seite exportieren
---
(inkl. MwSt.)
versandkostenfreie Lieferung
Lieferfrist: bis zu 10 Tage
---
---
---
---
---
---
---
Creative Marketing has been written in response to the continued failure to address the theory/practice gap in marketing management. The art world is full of creativity, yet existing marketing theory continues to prescribe formulaic, stepwise processes for marketing success. Rather than perpetuating the belief in the value of traditional marketing frameworks, this book draws on a diverse range of disciplines to inspire entrepreneurial thinking and practice among those marketers who wish to push the boundaries of knowledge and convention. Creative Marketing gets back to how best to support individuals as well as small, medium and micro-enterprises through new marketing approaches.
Autoren


Fillis, Ian
IAN FILLIS is Lecturer in Marketing in the Department of Marketing, Faculty of Management at the University of Stirling, Scotland. His main research interests focus on the relationship between marketing, art and creativity, small business marketing, international and export marketing, e-business and supplier development. He has published widely in European, American and Asian journals and has contributed to a number of edited volumes. He is Chair of the Academy of Marketing Special Interest Group in Entrepreneurial and Small Business Marketing, Member of the Academy of Marketing Special Interest Group in Arts and Heritage Marketing and a Senior Editor of the Journal of Research in Marketing and Entrepreneurship.

RUTH RENTSCHLER is the Executive Director of the Centre for Leisure Management Research at Deakin University, Australia. She is author and editor of a number of books, articles and guest editor of special issues of journals. Publications include the Cultural and Entertainment Industries Handbook, Shaping Culture and Innovative Arts Marketing and The Entrepreneurial Arts Leader. She is on the editorial board of the Australasian Journal of Arts and Culture and the International Journal of Nonprofit and Voluntary Sector Marketing.



List of Tables List of Figures The Authors Preface Acknowledgements PART 1: AN INTRODUCTION TO CREATIVE MARKETING The Study Book Outline PART 2: THE EMERGENCE OF CREATIVE MARKETING Development of Marketing Theory and Practice Creative Marketing The Creative Industries and the Value of Creative Knowledge Elements of Creative Marketing Six Perspectives on Creative Marketing The Need for a Shift in Marketing Thinking PART 3: EUREKA! CREATIVITY RESEARCH THEN AND NOW Introduction What is Creativity? How is Creativity Defined? The Six Ps of Creativity Creativity and Business Planning Conclusions PART 4: ARTISTIC BIOGRAPHY AS INSIGHT INTO CREATIVE MARKETING Development of the Art Metaphor Researching Art and Creativity The Contribution of Semiotics to Understanding Marketing in Art The Artistic Biography as Insight into Creative Marketing Biography One: Salvador Dali Biography Two: Vincent Van Gogh Biography Three: Andy Warhol Biography Four: Pablo Picasso Conclusions PART 5: CREATIVITY, MEASUREMENT AND MYTH The Schools of Marketing Research Complexity of Measuring the Intangible Measuring and Testing Creativity Why is Creativity of Interest to Marketing Management? Truth is a Number Approaches to Measuring and Testing Creativity Conclusions PART 6: ENTREPRENEURSHIP AND THE CREATION OF NEW MARKETING METAPHORS Historical Roots of Creativity in Marketing Marketing as Passion Marketing as Jazz improvisation Marketing as Ideopolis Advertising Creativity Creativity and Product Development Creating an Entrepreneurial Future in Marketing Creativity, Intuition and Marketing Segmentation Creativity Training and Testing in Marketing Creativity and Competitive Advantage Creative Business: Leadership and Competencies Conclusions PART 8: A PLEA FOR THE DIAGHILEV PRINCIPLE IN MARKETING The Diaghilev Principle The Emergence of the Creative Marketing Paradigm Conceptualising the Creative Marketing Paradigm The' Kantian Turn' Re-modelling Creativity Beyond the 6Ps Definitions of Creativity: Creativity as Conceptual Space Creativity and the Manifesto The Creative Marketing Manifesto Implementation of Creative Marketing Conclusing Thoughts Notes References Index
versandkostenfreie Lieferung
---
117,69 €

(inkl. MwSt.)
Lieferfrist: bis zu 10 Tage
Aufgrund der Corona-Krise kann es in Einzelfällen zu deutlich längeren Lieferzeiten kommen.
---
Webcode: sack.de/i8hyl
Bitte ändern Sie das Passwort