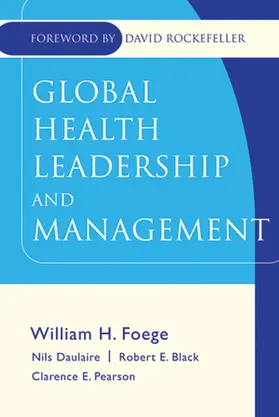 Foege / Daulaire / Black
Global Health Leadership
---
(inkl. MwSt.)
versandkostenfreie Lieferung
Lieferfrist: bis zu 10 Tage
---
---
---
---
---
---
Written by an international panel of distinguished global health experts, this book distills valuable lessons from a wide variety of successful health programs that have been implemented around the world. Global Health Leadership and Management gives practical suggestions for enhancing and developing the essential skills of leadership, management, communication, and project planning for health care leaders. The book will assist health leaders to work well within their communities and effectively plan, direct, implement, and evaluate effective programs and activities. Global Health Leadership and Management outlines and describes such core competencies as
* Identifying challenges and developing and managing policy
* Developing strategies, pathways, and solutions
* Creating networks and partnerships and planning for change
* Learning from experience to build a generation of leaders
* Leading and managing teams by recognizing and celebrating success
Autoren

Herausgeber

weitere Mitwirkende


Foege
William H. Foege, M.D., M.P.H., is senior medical advisor for the Bill and Melinda Gates Foundation. He is Presidential Distinguished Professor of International Health at the Rollins School of Public Health, Emory University in Atlanta. He served as director for the Centers for Disease Control and Prevention from 1977 to 1983 and then as the executive director of the Carter Center and the executive director of the Task Force for Child Survival and Development.

Nils Daulaire, M.D., M.P.H., is president and chief executive officer of the Global Health Council, the world's largest membership alliance dedicated to advancing policies and programs to improve health throughout the world. He has worked for two decades in health care in developing countries and served as the deputy assistant administrator for policy and program coordination at the United States Agency for International Development. A Phi BetaKappa and summa cum laude graduate of Harvard College, Boston, Daulaire received his medical degree from Harvard Medical School and his master's in public health from Johns Hopkins University in Baltimore. He is a member of the National Academy of Science's Institute of Medicine.

Robert E. Black, M.D., M.P.H., is the Edgar Berman Professor and Chair of the Department of International Health of the Johns Hopkins University Bloomberg School of Public Health. Dr. Black is trained in internal medicine, preventive medicine, infectious diseases, and epidemiology. He has served as a medical epidemiologist at the U.S. Centers for Disease Control and worked at institutions in Bangladesh and Peru on research related to childhood infectious diseases and nutritional problems. He is also involved in the use of evidence in policy and programs, the development of research capacity, and the strengthening of public health leadership in developing countries.

Clarence E. Pearson, M.S.P.H., is senior advisor to the World Health Organization Office at the United Nations. He was formerly president and chief executive officer of the National Center for Health Education and served as vice president of the Peter Drucker Foundation for Nonprofit Management and vice president and director of health and safety for Metropolitan Life Insurance Company. Pearson conceived and serves as executive editor of a series of books on global health published by Jossey-Bass. Along with C. Everett Koop, M.D., he coedited the first in the series, Critical Issues in Global Health.


About the Global Health Council.

Foreword (David Rockefeller).

Preface (William H. Foege).

Acknowledgments.

Editors.

Contributors.

Part One: Identifying Challenges and Developing and Managing Policy.

1. First Annual Gates Award for Global Health (Melinda French Gates).

2. A New Role for Corporate America: Partners in Global Health and Development (Raymond V. Gilmartin).

3. From Challenges to Policy (Lee Jong-wook).

4. Managing Health, Health Care, and Aging (William D. Novelli).

Part Two: Developing Strategies, New Pathways, and Solutions.

5. Leadership, Equity, and Global Health (Harlan Cleveland).

6. HIV/AIDS: Lessons from Brazil (Susan Dentzer).

7. Corruption and Health Care: Need for New Solutions (Peter Eigen).

8. Business Approach to HIV/AIDS Crisis in Africa (Spencer T. King).

9. Health in the Developing World: Achieving the Millennium Development Goals (Jeffrey D. Sachs).

Part Three: Creating Networks and Partnerships and Planning Change from Within.

10. Leadership and Management for Improving Global Health (Frances Hesselbein).

11. Creating Public Health Alliances: The American Cancer Society Experience (John R. Seffrin).

Part Four: Learning from Experience and Building a Generation of Leaders.

12. Leadership Development for Global Health (Jo Ivey Boufford).

13. Challenges to Health in Eastern Europe and the Former Soviet Union: A Decade of Experience (Martin McKee).

14. Building the Next Generation of Leaders (Joy Phumaphi).

15. Creating Public Health Leaders: Public Health Leadership Institutes (William L. Roper and Janet Porter).

Part Five: Leading and Managing Teams While Recognizing and Celebrating Success.

16. Leading for Success (Nils Daulaire).

17. Epilogue: The Road Ahead (Kofi A. Annan).

Index.
versandkostenfreie Lieferung
---
70,40 €

(inkl. MwSt.)
Lieferfrist: bis zu 10 Tage
Aufgrund der Corona-Krise kann es in Einzelfällen zu deutlich längeren Lieferzeiten kommen.
---
Webcode: sack.de/ayo4i
Bitte ändern Sie das Passwort