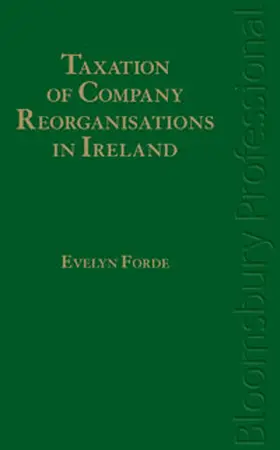 Forde
Taxation of Company Reorganisations in Ireland
---
Buch, Englisch,
600 Seiten, Gebunden, Format (B × H): 156 mm x 248 mm
1. Auflage 2011, 600 Seiten, Gebunden, Format (B × H): 156 mm x 248 mm
ISBN: 978-1-84766-377-1
Verlag: Bloomsbury
Seite exportieren
---
---
---
---
---
---
---
This unique new title is the only Irish tax publication which provides an in-depth and comprehensive analysis of the Irish tax issues arising in company reorganisations and reconstructions. The book adopts a practical approach to examining the principal considerations arising from the types of reorganisations typically undertaken by Irish companies. The text includes a number of worked examples, case studies and tax planning points relevant to this complex area.

Providing a comprehensive analysis of relevance to tax practitioners in both large and small tax firms, it considers the practical application of tax law in key areas, including:- Restructurings in the context of incorporation - Group reorganisations/reconstructions - Restructurings for sale - Share capital reorganisations - Earn outs and long term incentive schemes - Anti-avoidance - An introduction to relevant company law and accounting issues is also included.
Autoren


Forde, Evelyn
Evelyn Forde is the European Head of Tax and Treasury at Kellogg's with significant expertise in the area of corporate reorganisations having for many years advised a broad range of multinational clients. She was the International Tax Director on the team at Deloitte's which won Mergers and Acquisitions Tax Transaction of the Year as awarded by the International Tax Review in 2009. A law and accounting graduate of the University of Limerick with a Masters in Accounting from University College Dublin, she is an Associate of the Irish Taxation Institute and a Chartered Accountant. She has written articles for the Irish Taxation Review and International Tax Review.


1 Introduction;

Part 1: General Considerations and Definitions:

2 Outline of Tax-Neutral Reorganisations Transactions; 3 Pattern of Domestic Reorganisation Reliefs in Irish Tax System; 4 Company Reorganisations - Key Definitions;

Par 2: Direct Tax Treatment of Relevant Parties:

5 Overview; 6 Tripartite Reorganisations: Tax on Capital Gains; 7 Tripartite Reorganisations - Corporation Tax Issues; 8 Bipartite Reorganisations; 9 Takeovers; 10 Single Company Reorganisations;

Part 3: Other Taxes/Issues and Pre-Sale Reorganisations:

11 Other Taxes, 'Checklist' Issues and Specific Aspects of Pre-Sale Reorganisations; 12 Anti-Avoidance; 13 Multinational Reorganisations.
Irish company tax practitioners