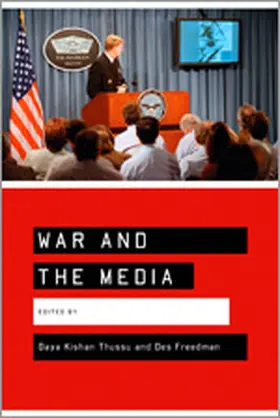 Freedman / Thussu
War and the Media
Reporting Conflict 24/7
1. Auflage 2003
ISBN: 978-0-7619-4313-6
Verlag: SAGE Publications Ltd
Seite exportieren
---
Buch, Englisch,
266 Seiten, Kartoniert, Paperback, Format (B × H): 156 mm x 234 mm, Gewicht: 433 g
Erhältlich auch als Buch
Reporting Conflict 24/7
1. Auflage 2003, 266 Seiten, Kartoniert, Paperback, Format (B × H): 156 mm x 234 mm, Gewicht: 433 g
ISBN: 978-0-7619-4313-6
Verlag: SAGE Publications Ltd
Seite exportieren
---
(inkl. MwSt.)
versandkostenfreie Lieferung
Lieferfrist: bis zu 10 Tage
---
---
---
---
---
---
`No book is more timely than this collection, which analyses brilliantly the Western media's relentless absorption into the designs of dominant, rapacious power' - John Pilger `A most timely book, with many valuable insights' - Martin Bell O.B.E `It has long been known that the outcome of war is deeply influenced by the battle to win 'hearts and minds'. This book provides a stimulating set of perspectives which combine the analyses of prominent academics with the experiences of leading journalists' - Professor Tom Woodhouse, University of Bradford `This volume represents an all-star cast of authors who have a tremendous amount of knowledge about media and world conflict. One of its strengths is that it doesn't focus entirely narrowly on media, but puts the discussion of media issues in the context of changes in the world order in military doctrine' - Professor Daniel C. Hallin, University of California `This book comes just in time. A coherent and wide-ranging collection of data, analyses and insights that help our understanding of the complex interaction between communication and conflict. A major intellectual contribution to critical thinking about the early 21st century' - Cees J Hamelink, Professor International Communication, University of Amsterdam With what new tools do governments manage the news in order to prepare us for conflict? Are the media responsible for turning conflict into infotainment? Is reporting gender specific? How do journalists view their role in covering distant wars? This book critically examines the changing contours of media coverage of war and considers the complexity of the relationship between mass media and governments in wartime. Assessing how far the political, cultural and professional contexts of media coverage have been affected by 9/11 and its aftermath, the volume also explores media representations of the `War on Terrorism' from regional and international perspectives, including new actors such as the Qatar-based Al-Jazeera - the pan-Arabic television network. One key theme of the book is how new information and communication technologies are influencing the production, distribution and reception of media messages. In an age of instant global communication and round-the-clock news, powerful governments have refined their public relations machinery, particularly in the way warfare is covered on television, to market their version of events effectively to their domestic as well as international viewing public. Transnational in its intellectual scope and in perspectives, War and the Media includes essays from internationally known academics along with contributions from media professionals working for leading broadcasters such as BBC World and CNN.
Herausgeber


Freedman, Des
Des Freedman is Professor of Media and Communications at Goldsmiths, University of London. He is the author of 'The Contradictions of Media Power' (2014) and the 'The Politics of Media Policy' (2008) and co-author (with James Curran and Natalie Fenton) of 'Misunderstanding the Internet' (2016). Co-edited collections include 'Media and Terrorism: Global Perspectives; (2012) and 'War and the Media: Reporting Conflict 24/7' (2003) with Daya Thussu; 'Strategies for Media Reform: International Perspectives' (2016) with Jonathan Obar, Cheryl Martens and Robert McChesney; and 'The Assault on Universities: A Manifesto for Resistance' (2011) with Michael Bailey.

He is an editor of the Sage journal 'Global Media and Communication', a founding member of the Media Reform Coalition and the project lead for the Inquiry into the Future of Public Service Television chaired by Lord Puttnam.

Thussu, Daya
Daya Kishan Thussu is Professor of International Communication and Co-Director of India Media Centre at the University of Westminster in London. A PhD in International Relations from Jawaharlal Nehru University, New Delhi, he is the founder and Managing Editor of Global Media and Communication, a journal published by SAGE. He has authored and edited as many as 17 books. Among his key publications are: Mapping BRICS Media (co-edited with Kaarle Nordenstreng, 2015); Media and Terrorism: Global Perspectives (co-edited with Des Freedman, 2012); Internationalizing Media Studies (2009); News as Entertainment: The Rise of Global Infotainment (2007); Media on the Move: Global Flow and Contra-Flow (2007); International Communication: Continuity and Change, third edition (forthcoming); and Electronic Empires: Global Media and Local Resistance (1998). In 2014, he was honored with a "Distinguished Scholar Award" by the International Studies Association, a first for a non-Western scholar in the field of International Communication.


Introduction - Daya Kishan Thussu and Des Freedman
PART ONE: COMMUNICATING CONFLICT IN A GLOBAL WORLD
Contextualizing Conflict - Aijaz Ahmad
The US `War on Terrorism'
Watching What we Say - Ted Magder
Global Communication in a Time of Fear
Understanding not Empathy - Jean Seaton
PART TWO: NEW DIMENSIONS OF MANAGING CONFLICT
Information Warfare in an Age of Globalization - Frank Webster
The Counter-Revolution in Military Affairs - John Downey and Graham Murdock
The Globalization of Guerilla Warfare
Spinning the War - Robin Brown
Political Communications, Information Operations and Public Diplomacy in the War on Terrorism
`We Know Where You Are' - Philip Taylor
Psychological Operations Media During /f003Enduring Freedom
PART THREE: REPORTING CONFLICT IN AN ERA OF 24//7 NEWS
Live TV and Bloodless Deaths - Daya Kishan Thussu
War, Infotainment and 24//7 News
Israel//Palestinian Conflict - Greg Philo, Alison Gilmour, Susanna Rust, Etta Gaskell and Lucy West
TV News and Public Understanding
Mapping the /f003Al-Jazeera/f001 Phenomenon - Noureddine Miladi
PART FOUR: REPRESENTATIONS OF CONFLICT - 9//11 AND BEYOND
War and the Entertainment Industries - Jonathan Burston
New Research Priorities in an Era of Cyber-Patriotism
The New Media Environment, Internet Chatrooms and Public Discourse After 9//11 - Bruce A Williams
The Media, `War on Terrorism', and the Circulation of Non-Knowledge - Cynthia Weber
Icons and Invisibility - Jayne Rodgers
Gender, Myth, 9//11
PART FIVE: CONFLICT AND THE CULTURES OF JOURNALISM
Journalists under Fire - Howard Tumber and Marina Prentoulis
Subcultures, Objectivity and Emotional Literacy
Journalists and War - Nik Gowing
The Troubling New Tensions Post 9//11
Conflict and Control-Afghanistan and the 24-hour News Cycle - Kieran Baker
In the Fog of War. - Yvonne Ridley
Need for Context - Gordon Corera
The Complexity of Foreign Reporting
versandkostenfreie Lieferung
---
65,50 €

(inkl. MwSt.)
Lieferfrist: bis zu 10 Tage
Aufgrund der Corona-Krise kann es in Einzelfällen zu deutlich längeren Lieferzeiten kommen.
---
Webcode: sack.de/2he0z
Bitte ändern Sie das Passwort