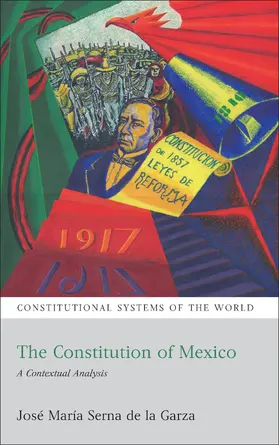 Garza
The Constitution of Mexico
A Contextual Analysis
1. Auflage 2013
ISBN: 978-1-84946-288-4
Verlag: Hart Publishing
Seite exportieren
---
---
---
---
---
---
This book provides an overview of Mexico's political evolution since it became independent from Spain in 1821, and its current constitutional arrangements, principles and structures. The aim is to explain this evolution as the result of struggles between the interests and ideologies of different groups within Mexican society, each with a different political vision of how the State should be organised. Chapter 1 reviews Mexico's constitutional trajectory, and explains why democracy, republicanism, federalism, separation of state and church, protection of fundamental rights and the Nation's ownership of mineral resources first became constitutional principles. Chapters 2, 3, 4 and 5 deal respectively with democracy and the electoral system, and the legislative, executive and judicial branches of federal government. Chapter 6 introduces the institutional structure of Mexico's federal system, while Chapter 7 discusses the rules, principles and institutions for the protection of human rights. Chapter 8 examines the constitutional regime of Mexico's economy. The conclusion explains how a series of factors has combined to produce a gap between the formal Constitution and what can be seen as the living Constitution; bridging that gap presents Mexican politics and society with one of its great contemporary challenges.
Autoren


Garza, José María Serna de la
José María Serna de la Garza is a Researcher at the Institute of Legal Research and Professor at the Law School, both of the National University of Mexico.


1: Mexico's Constitutional Trajectory
I. Introduction
II. Democracy
III. Republicanism
IV. Federalism
V. Separation of State and Church
VI. Fundamental Rights
VII. The Nation's Ownership of Mineral Resources
VIII. Conclusion
2: Democracy and the Electoral System
I. Introduction
II. Institution-building and the Transition to Democracy
III. The Judicialisation of the Electoral-Political Process
IV. The Impact of the Inter-American System on Human Rights
V. Conclusion
3: The Legislative Branch of Government
I. Introduction
II. Bicameralism
III. Rules on the Integration of the Two Chambers of Congress
IV. Organising the Work of Both Chambers of Congress
V. The Committee System of Congress
VI. Parliamentary Groups in Congress
VII. The Permanent Committee of Congress
VIII. The Powers of Congress
IX. The Legislative Process
X. Congress's Powers to Check the Executive
XI. Jurisdictional-like Functions of Congress
XII. The 'Superior Audit of the Federation'
XIII. Conclusion
4: The Executive Branch of Government: Presidencialismo
I. Introduction
II. The Formation of the Tradition of a Strong Executive Power
III. Social Change, Economic Reorganisation and Constitutional Reform: The End of the Hegemonic Party System
IV. Election of the President and his Position as Both Head of State and Head of Government
V. The President and the Legislative Process
VI. The President and the Fiscal Process
VII. Conclusions
5: The Judicial Branch of Government: Courts and Judicial Review
I. Introduction
II. The Structure and Organisation of the Judicial Power in Mexico
III. Judicial Power, Control of Constitutionality and the Writ of Amparo in Mexico
IV. Backlog as the Consequence of the Amparo Casacion: 'The Impossible Task of the Court'
V. Towards a Constitutional Court: The Reform of 1994
VI. The Court's Article 97 Investigative Power
VII. Conclusion
6: The Federal System
I. Introduction
II. The Constitutional Formula for Allocating Legislative Competences
III. Fiscal Federalism
IV. Mechanisms of Collaboration in Mexico's Federal System
V. Municipal Government
VI. The Constitutional Status of the Federal District
VII. Recent Developments in State Constitutionalism
VIII. Conclusion
7: The Protection of Human Rights
I. Introduction
II. Domestic and International Pressures and the Shift Towards a New Human Rights Policy in Mexico
III. Changes in the Supreme Court's Interpretation of Human Rights
IV. Constitutional Reform Relative to the Criminal Justice System
V. The Emergence of a New Paradigm on Human Rights
VI. Freedom of Religion and the Separation of State and Church
VII. Conclusion
8: The Constitution and the National Economy
I. Introduction
II. The Constitutional Regime of Property Rights in Mexico
III. Public Property
IV. Planning
V. Agrarian Reform and Social Property
VI. Expropriation of the Oil Industry
VII. The Electric Power Sector
VIII. Conclusion
Concluding Thoughts: Democratic Transition and Constitutional Change in Mexico