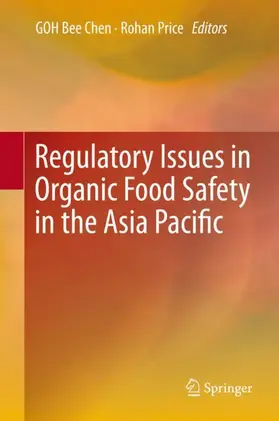 GOH / Price
Regulatory Issues in Organic Food Safety in the Asia Pacific
---
Buch, Englisch,
277 Seiten, Gebunden, HC runder Rücken kaschiert, Format (B × H): 160 mm x 241 mm, Gewicht: 551 g
1. Auflage 2020, 277 Seiten, Gebunden, HC runder Rücken kaschiert, Format (B × H): 160 mm x 241 mm, Gewicht: 551 g
ISBN: 978-981-1535-79-6
Verlag: Springer, Berlin
Seite exportieren
---
(inkl. MwSt.)
versandkostenfreie Lieferung
Lieferfrist: bis zu 10 Tage
---
---
---
---
---
---
The book seeks to address the intersection of food organics and the emergence of a new contractualism between producers, distributors and consumers, and between nation states. Additionally, it seeks to cater to the needs of a discerning public concerned about how its own country aims to meet their demands for organic food quality and safety, as well as how they will benefit from integration in the standard-setting processes increasingly occurring regionally and internationally. This edited volume brings together expert scholars and practitioners and draws on their respective insights and experiences in the field of organics, food and health safety. The book is organized in three parts. Part I outlines certain international perspectives; Part II reflects upon relevant histories and influences and finally, Part III examines the organic food regulatory regime of various jurisdictions in the Asia Pacific.
Herausgeber


GOH, Bee Chen
Goh, Bee Chen A former Malaysian Rhodes Scholar, Professor Bee Chen Goh is Professor of Law, and Director of the Centre for Peace and Social Justice, School of Law and Justice, Southern Cross University, Australia. She is a Director and Fellow of the Australian Academy of Law, Fellow of Cambridge Commonwealth Society, and Fellow of the Society for Advanced Legal Studies in London. Bee Chen's current collaborative research project deals with organic food safety in China. Her scholarly interests include Mediation and ADR, especially on Cross-Cultural (Sino-Western) Dispute Resolution, and International Law of Peace. Her publications include Negotiating with the Chinese (Dartmouth/Routledge, 1996), Law Without Lawyers, Justice Without Courts: On Traditional Chinese Mediation (Ashgate/Routledge, 2002), and Goh, Offord and Garbutt (eds) Activating Human Rights and Peace: Theories, Practices and Contexts (Ashgate/Routledge, 2012).
Price, Rohan A lecturer in the Southern Cross University School of Law and Justice, Dr Rohan Price has established a reputation as a foremost historian of the role of nationalism in the British/Chinese colonial encounter. Rohan was awarded a Doctor of Philosophy from the University of New England (Australia) for his thesis on the use of property law to encourage civic loyalty to colonial Hong Kong between the world wars. His books including Reading Colonies: Property and Control of the British Far East and Resistance in Colonial and Communist China (1950-1963) are based on extensive archival and digital repository research. His books have been described in reviews as "passionate", containing "argumentative strength and forthright originality" and "enormous attention to historic, theoretical and political detail". Rohan has enjoyed lengthy stints as a visiting profssor in three Chinese universities over the last decade, teaching in fields including common law history, maritime law and the law of trusts. His interest on Chinese food safety issues was prompted by a friend in Hong Kong who, in 2008, casually mentioned he should not to buy the same brand of noodles every time he went to the supermarket.


CHAPTER SYNOPSES Chapter 1 Goh, Bee Chen and Price, Rohan Introduction: Organic Food Safety and Regulatory Framework in the Asia Pacific PART I INTERNATIONAL PERSPECTIVES ON ORGANICS REGULATORY FRAMEWORK Chapter 2 Leifert, Carlo, Willson, Adam and Paynter, Greg HACCP-based quality assurance systems for the organic food sector; the need to cover food quality, safety and security The price premium achieved by organic foods is based on consumer perceptions that organic crop and livestock production protocols deliver significant environmental, biodiversity, ethical and food quality, and security gains. Auditing based organic certification and HACCP-based food safety assurance systems that are currently used for quality assurance in primary food production focus primarily on ensuring (a) that 4 farmers do not use prohibited inputs such as synthetic chemical fertilisers, pesticides, hormones, and food additives that are of concern to consumers, (b) the absence of potentially harmful microbial, chemical and physical hazards and (c) traceability of foods throughout the supply chain. In contrast, quality assurance systems for environmental, biodiversity and in particular nutritional quality and food security gains associated with organic production systems are relatively poorly developed. Also, while animal health and welfare is a major objective of organic standards/certification schemes, current standards/auditing systems are thought to be inefficient with respect to ensuring (a) the ethical treatment of farm workers and (b) "fair trade"/ethical relationships between supply chain actors. This chapter will therefore review the results of recent meta-analyses of the agronomic and supply chain factors responsible for (a) differences in nutritional quality between organic and conventional foods, and (b) positive environmental, biodiversity and food security impacts of organic farming practices. Approaches/strategies which could be taken to expand organic certification schemes to cover nutritional, environmental, ethical and food security-related "quality" parameters are discussed. Chapter 3 Shen, Ying Chinese Organic Food Law and Its Impact on Climate Change China is among the world's largest producers in organics and its organic agriculture has been boosting since the turn of the Millennium with the rapid development of both domestic and international production and trade in organic food. To instil transparency and trust among stakeholders, the Chinese government has issued a series of new regulations relating to food safety and organic certification. Organic agriculture ensured by these regulations is not only affected by climate change but also contributes to it, both adapting to changes and offering options for mitigation (i.e. reducing greenhouse gas emissions and storing carbon). This chapter aims to provide an overview of Chinese organic food law and investigate its impact on climate change. Through investigating stakeholders involved in and regulations relating to organics, challenges to the enforcement of food safety law as well as organic certification issues are identified and analysed. Particularly, the impact of these regulations on climate change mitigation and adaptation is discussed as an outlook on the development of organic agriculture in China. Chapter 4 Goh, Bee Chen COOL Organic Trade - Organic Food Certification Influencing Asian Consumerism, with a special reference to China and Thailand Consumers are interested in buying organic food products from countries where there is a reputation for organic quality and standard through the certification process. Countries like Australia, New Zealand and Canada have been well-known generally for high-quality organic food production and distribution through maintaining stringent standards in organic accreditation and certification from paddock-to-plate, or farm-to-table. It appears that an unconscious factor is also at play in influencing consumer motivation and behaviour
versandkostenfreie Lieferung
---
139,09 €

(inkl. MwSt.)
Lieferfrist: bis zu 10 Tage
Aufgrund der Corona-Krise kann es in Einzelfällen zu deutlich längeren Lieferzeiten kommen.
---
Webcode: sack.de/lgp1m
Bitte ändern Sie das Passwort