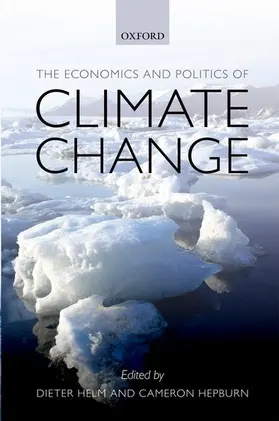 Helm / Hepburn
The Economics and Politics of Climate Change
---
Buch, Englisch,
566 Seiten, Kartoniert, 49:B&W 6.14 x 9.21 in or 234 x 156 mm (Royal 8vo) Perfect Bound on White w/Gloss Lam, Format (B × H): 156 mm x 234 mm, Gewicht: 848 g
Erhältlich auch als Buch
Erscheinungsjahr 2013, 566 Seiten, Kartoniert, 49:B&W 6.14 x 9.21 in or 234 x 156 mm (Royal 8vo) Perfect Bound on White w/Gloss Lam, Format (B × H): 156 mm x 234 mm, Gewicht: 848 g
ISBN: 978-0-19-960627-6
Verlag: OUP UK
Seite exportieren
---
(inkl. MwSt.)
versandkostenfreie Lieferung
Lieferfrist: bis zu 10 Tage
---
---
---
---
---
---
---
The international framework for a climate change agreement is up for review as the initial Kyoto period to 2012 comes to an end. Though there has been much enthusiasm from political and environmental groups, the underlying economics and politics remain highly controversial. This book takes a cool headed look at the critical roadblocks to agreement, examining the economics of climate change, the incentives of the main players (the US, EU, China) and examines the
policies governments can put in place to reduce greenhouse gas emissions, and ultimately shift our economies onto a low-carbon path. The volume brings together leading climate change policy experts to set out the economic analysis and the nature of the negotiations at Copenhagen and beyond. In addition to
reviewing the main issues discussed above, a number of the articles question the basis of much of the climate change consensus, and debate the Stern Report's main findings.

The book is in four parts. Following an overview of the main issues, the first part is a reassessment of the economics of climate change. This is fundamental to the rest of the volume, and it contains new material which goes well beyond what might be called the new conventional wisdom. The second part looks at the geography of the costs and benefits of climate change - the very different perspectives of Africa, China, the US and Europe. These chapters provide a building block to considering the
prospects for a new global agreement - the very different interests that will have to be reconciled at Copenhagen and beyond. The third part looks at policy instruments at the global level (whereas much of the literature to date is nationally and regionally based). Trading and R&D feature in the
chapters, but so too do more radical unilateral options, including geo-engineering. Part four turns to the institutional architecture - drawing on evidence from previous attempts in other areas, as well as proposals for new bodies.
Autoren

Herausgeber


Helm, Dieter
Dieter Helm holds a number of advisory board appointments, including Chairman of the Academic Panel of the Department of Environment, Food and Rural Affairs and member of the Advisory Panel on Energy and Climate Security, Department for Energy and Climate Change. He was a member of the DTI Sustainable Energy Policy Advisory Board 2002-7 and of the Prime Minister's Council of Science and Technology 2004-7. He is an associate editor of the Oxford Review of Economic
Policy. Dieter Helm's career to date has spanned academia, public policy, and business. He founded Oxera in 1982 and has published extensively on environmental, energy, infrastructure, and regulation topics.

Cameron Hepburn has advised several governments and international institutions on climate and environmental policy, and he currently serves on UK Defra's Academic Panel. He is an Associate Editor of the Oxford Review of Economic Policy, a Research Fellow at New College, Oxford, and he has over a decade's experience working on environmental issues and climate change, with a particular focus on emissions trading and carbon markets. He holds a DPhil (PhD) in economics from Oxford, and
undergraduate degrees in law and engineering from the University of Melbourne.


1: Dieter Helm and Cameron Hepburn: Introduction
Part One: Revisiting the Economics of Climate Change
2: Dieter Helm: Climate-change policy: why has so little been achieved?
3: Cameron Hepburn and Nicholas Stern: The global deal on climate change
4: Scott Barrett: Climate treaties and the imperative of enforcement
5: Ross Garnaut, Stephen Howes, Frank Jotzo and Peter Sheehan: The implications of rapid development for emissions and climate-change mitigation
6: Kjell Arne Brekke and Olof Johansson-Stenman: The behavioural economics of climate change
Part Two: The Global Players and Agreements
7: Paul Collier, Gordon Conway and Anthony Venables: Climate change and Africa
8: Jiahua Pan, Jonathan Phillips and Ying Chen: China's balance of emissions embodied in trade: approaches to measurement and allocating international responsibility
9: Vijay Joshi and Urjit R. Patel: India and climate-change mitigation
10: Robert N. Stavins: Addressing climate change with a comprehensive US cap-and-trade system
11: Dieter Helm: EU climate-change policy: a critique
Part Three: Low-carbon Technologies
12: Dieter Helm: Nuclear power, climate change, and energy policy
13: Howard Herzog: Carbon dioxide capture and storage
14: Richard Green: Climate-change mitigation from renewable energy: its contribution and cost
15: Krister P. Andersson, Andrew J. Plantinga, and Kenneth R. Richards: The national inventory approach for international forest-carbon sequestration management
16: David G. Victor: On the regulation of geo-engineering
17: Steven Sorrell: Improving energy efficiency: hidden costs and unintended consequences
Part Four: National and International Instruments
18: Cameron Hepburn: Carbon taxes, emissions trading and hybrid schemes
19: Gernot Wagner, Nathaniel Keohane, Annie Petsonk, and James S. Wang: Docking into a global carbon market: Clean Investment Budgets to finance low-carbon economic development
20: Cameron Hepburn: International carbon finance and the Clean Development Mechanism
Part Five: Institutional Architecture
21: Joanna Depledge and Farhana Yamin: The global climate-change regime: a defence
22: Arunabha Ghosh and Ngaire Woods: Governing climate change: lessons from other governance regimes
Bibliography
Academics, researchers and students in politics, economics, environmental and climate studies. NGOs and policymakers.
versandkostenfreie Lieferung
---
41,50 €

(inkl. MwSt.)
Lieferfrist: bis zu 10 Tage
---
Webcode: sack.de/wnz8h
Bitte ändern Sie das Passwort