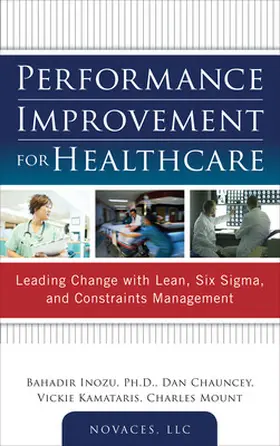 Inozu / Chauncey / Kamataris
Performance Improvement for Healthcare: Leading Change with Lean, Six Sigma, and Constraints Management
Erscheinungsjahr 2011
ISBN: 978-0-07-176162-8
Verlag: MCGRAW HILL BOOK CO
Seite exportieren
---
Buch, Englisch,
352 Seiten, Gebunden, Format (B × H): 159 mm x 243 mm, Gewicht: 603 g
Erscheinungsjahr 2011, 352 Seiten, Gebunden, Format (B × H): 159 mm x 243 mm, Gewicht: 603 g
ISBN: 978-0-07-176162-8
Verlag: MCGRAW HILL BOOK CO
Seite exportieren
---
(inkl. MwSt.)
versandkostenfreie Lieferung
Lieferfrist: bis zu 10 Tage
---
---
---
---
---
---
Publisher's Note: Products purchased from Third Party sellers are not guaranteed by the publisher for quality, authenticity, or access to any online entitlements included with the product.

PROVEN STRATEGIES FOR REVOLUTIONIZING HEALTHCARE SYSTEMS"If I had to sum up this book in one word, the word would be 'brilliant'! This is one of the most insightful books on TOC, not just for healthcare, that I have ever read."
--BOB SPROULL, author of The Ultimate Improvement Cycle: Maximizing Profits through the Integration of Lean, Six Sigma, and the Theory of ConstraintsPerformance Improvement for Healthcare: Leading Change with Lean, Six Sigma, and Constraints Management lays out an integrated approach for using three industrially based methods to transform hospital operations in terms of patient outcomes and experience, financial viability, and employee satisfaction. This pioneering guide presents a scalable strategy for managing bottlenecks, eliminating waste, reducing errors, and containing costs in healthcare organizations, as well as sustaining the gains achieved. Real-world case studies illustrate successful performance improvement implementations that have realized breakthrough operational and financial results.COVERAGE INCLUDES: - Constraints Management applications in healthcare
- The NOVACES SystemCPI--an integrated performance improvement deployment approach
- Three-part assessment--strategic gap analysis, system-level value stream analysis, and system constraint analysis
- Planning a performance improvement program deployment to ensure timely and consistent execution
- Applying the right tool to the right problem from a system perspective
- Sustaining gains achieved by the performance improvement team
- Defining a path to self-sufficiency
Autoren


Inozu, Bahadir
Bahadir Inozu, Ph.D., is a Founding Partner and the Chief Executive Officer of NOVACES, LLC, a leading provider of continuous process improvement consulting and training services. He is a Lean Six Sigma Master Black Belt and a Theory of Constraints Jonah. Dr. Inozu has been teaching undergraduate, graduate, and adult education courses on Process Improvement, Lean, Six Sigma, Reliability and Maintenance Management, Marine Engineering, and Executive Leader Training courses on CPI for over 20 years.Dan Chauncey is the Director of Deployment Services for NOVACES where he has served as the technical program manager for the deployment of CPI across patient care in the U.S. Navy Medical Enterprise. He also leads a team of five Master Black Belts embedded at mid-level commands across the Navy and led the CPI Deployment at United Health Services. Vickie Kamataris is the Director of Commercial Healthcare Services for NOVACES. She is a registered nurse with more than twenty years of clinical experience, Vickie earned her BSN from Southwestern College where she graduated Valedictorian in 1988. She has achieved multiple specialty certifications including CPHQ and is a Lean Six Sigma Master Black Belt. As a NOVACES Master Black Belt for healthcare, Vickie provides Lean Six Sigma expertise and leadership to develop and guide Lean Six Sigma deployment strategies, develop and deliver training, lead complex, enterprise-level projects and events, and mentor Black Belt and Master Black Belt candidates. In her role as Quality Leader for General Electric Corporate Healthcare and Medical Programs, Vickie developed and deployed a balanced scorecard across GE's network of more than 240 clinics in 34 nations. She led multi-disciplinary, cross-functional global teams to improve mean performance related to cost/productivity, compliance, and medical quality indicators and led key global initiatives including implementation of an electronic health record, emergency medical response, travel medicine, health promotion and wellness, medical surveillance assurance, disability case management, and development of clinical protocol. She has extensive experience as an educator, serving as hospital education coordinator and adjunct faculty in the Biology department at Cowley College. She has presented at national and international venues and authored journal articles and papers on clinical and change leadership and quality-related topics including Lean, Six Sigma, TRIZ, and balanced scorecard. Vickie is a co-author of Leading Change with Lean, Six Sigma, and Constraints Management. Vickie has more than 30 years of experience leading clinical, business, and military teams and has received multiple academic and professional awards. She served as a noncommissioned officer in the US Air Force. Vickie is a member of Sigma Theta Tau International, National Association for Healthcare Quality, the American Society for Quality, the American College of Healthcare Executives, the Pennsylvania Organization of Nurse Leaders, and the International Society of Six Sigma Professionals.Charles Mount, CAPT, USN (Ret.) is the Director of Government Healthcare Services and an ASQ-certified Lean Six Sigma Black Belt for NOVACES, LLC. He oversees the company's services in Lean Six Sigma and Leadership programs to improve patient care, safety and satisfaction. He has 40 years experience serving defense & security organizations, as well as 28 years experience in Performance Improvement, leadership, management, and professional development. After almost 39 years on active duty, he retired from the military as a Captain from the Navy Medical Department. While in the Navy, CAPT Mount was Commanding Officer and Executive Officer of the Naval Schools of Health Sciences Training in Portsmouth, VA and San Diego, CA. At the Navy's largest medical center in San Diego, Charles spearheaded the training, coaching, and implementation of Total Quality Management (


Chapter 1. Performance Improvement in Healthcare
Chapter 2. Constraints Management Applications in Healthcare
Chapter 3. An Integrated Approach to Deploying Performance Improvement
Chapter 4. Assessment
Chapter 5. Planning for Deployment
Chapter 6. Application of the Right Tool to the Right Problem
Chapter 7. Sustainment
Appendix. Reliability and Validity of Assessment Measures
versandkostenfreie Lieferung
---
64,00 €

(inkl. MwSt.)
Lieferfrist: bis zu 10 Tage
Aufgrund der Corona-Krise kann es in Einzelfällen zu deutlich längeren Lieferzeiten kommen.
---
Webcode: sack.de/kl4gt
Bitte ändern Sie das Passwort