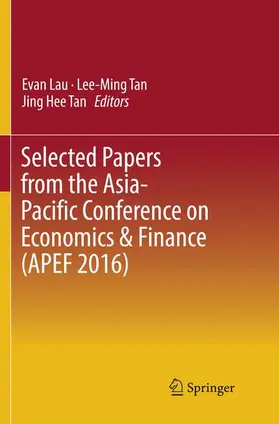 Lau / Tan / Tan
Selected Papers from the Asia-Pacific Conference on Economics & Finance (APEF 2016)
Softcover Nachdruck of the original 1. Auflage 2017
ISBN: 978-981-10-9907-6
Verlag: Springer, Berlin
Seite exportieren
---
Buch, Englisch,
143 Seiten, Kartoniert, Previously published in hardcover, Format (B × H): 155 mm x 235 mm, Gewicht: 2817 g
Erhältlich auch als Buch
Softcover Nachdruck of the original 1. Auflage 2017, 143 Seiten, Kartoniert, Previously published in hardcover, Format (B × H): 155 mm x 235 mm, Gewicht: 2817 g
ISBN: 978-981-10-9907-6
Verlag: Springer, Berlin
Seite exportieren
---
(inkl. MwSt.)
versandkostenfreie Lieferung
Lieferfrist: bis zu 10 Tage
---
---
---
---
---
---
---
This book features the best papers presented at the Asia-Pacific Conference on Economics & Finance in 2016. Chapters include research conducted by experts in the field of Economics, Finance and Business from the region. Put together by East Asia Research, East Asia Institute of Management & Universiti Malaysia Sarawak (UNIMAS) , this book serves as a useful resource for educators, researchers, thought leaders, policy makers, and economists.
Herausgeber


Lau, Evan
Evan Lau is a well-trained Universiti Putra Malaysia graduate with vast experience and research excellence covering the areas of International Economics with numerous applications of econometrics techniques. Recently he ventured into socioeconomic discipline including Economics of Crime and Suicide. He joined Faculty of Economics and Business Universiti Malaysia Sarawak (UNIMAS) in 2005 soon after completing his Ph.D in 2004. He servicing as Associate Professor since June 2014 and the Managing Editor of International Journal of Business and Society (IJBS), an internationally refereed journal indexed in SCOPUS bibliographic database, Emerging Sources of Citation Index (ESCI), Malaysian Citation Centre (MCC), ProQuest publisher, Ulrich's Periodicals Directory, Cabell's Directories (Economics, Finance and Management) and EBSCO Host Publishing. He is the director of Centre of Excellence for Business, Economics and Finance Forecasting (BEFfore), UNIMAS which among other serves as a platform and reference point for business, economic and finance forecasting. He was the Visiting Scholar in Faculty of Economics in University of Cambridge from October 2013 - April 2014. Mr. Lee-Ming is the founder of East Asia Research and he obtained his Master of Applied Finance from the University of Adelaide. He is deeply interested in how humans function and react with each other. An insight into how people's minds think and how they work together is invaluable in just about every field. Outside of work, he enjoys outdoor activities and occasional computer games. Dr. Tan Jing Hee is an Executive Director of East Asia Institute of Management as well as the Chairman of its Academic Board. He has worked as a Retail Manager, a Senior Science Master of a government secondary school, and as a Merchandising Manager of Robinsons Departmental Store, with responsibilities in its Menswear Division. In 1973, he joined the Singapore Institute of Management, eventually becoming its Chief Operating Officer. In 1994, he wrote doctoral thesis on Developing a Factor Model of Management Work in Singapore, for which he was awarded his Ph.D. from Henley Management College/Brunel University.


Evaluation of cluster development strategic outlooks using book value and revenue multiples.- Disposition Effect on Investment Decision Making: Regulatory Focus Theory Explanation.- Prospect for Mutual Fund Industry in India: A comparative study with respect to US.- Social marketing activities to augment the brands of faith in diversified marketing in India.- Determinant Factors for the Formation and Development of a Smart Territory.- Application Review Authority to the concept of formal and becoming a new concept of Human Talent.- A study on the Human resource practices and challenges confronted by Human resource experts in Indian IT firm, Bangalore .- Current issues of the labour market in the Slovak Republic with an emphasis on the trends in migration policy .- Portion of foreign ownership and efficiency of bank in Indonesia.-Study on the Green Banking Practices in Sri Lankan Context: A Critical Review.
versandkostenfreie Lieferung
---
171,19 €

(inkl. MwSt.)
Lieferfrist: bis zu 10 Tage
Aufgrund der Corona-Krise kann es in Einzelfällen zu deutlich längeren Lieferzeiten kommen.
---
Webcode: sack.de/ku60g
Bitte ändern Sie das Passwort