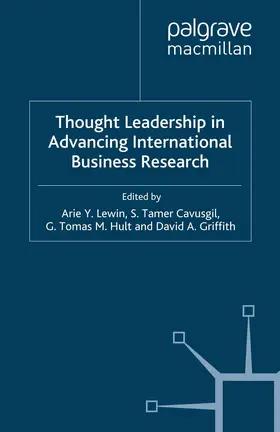 Lewin / Cavusgil / Hult
Thought Leadership in Advancing International Business Research
1. Auflage 2008
ISBN: 978-1-349-30403-5
Verlag: Springer Palgrave Macmillan
Seite exportieren
---
Buch, Englisch,
258 Seiten, Kartoniert, Book, Format (B × H): 140 mm x 216 mm
Erhältlich auch als Buch
1. Auflage 2008, 258 Seiten, Kartoniert, Book, Format (B × H): 140 mm x 216 mm
ISBN: 978-1-349-30403-5
Verlag: Springer Palgrave Macmillan
Seite exportieren
---
(inkl. MwSt.)
versandkostenfreie Lieferung
Lieferfrist: bis zu 10 Tage
---
---
---
---
---
---
---
This volume is devoted to those areas that can advance our understanding of international business. It contains contributions from intellectual leaders of the field, using cutting edge research to explore frontier topics in international business, and to look at where international business is going.
Autoren


Lewin, Arie Y.

S. TAMER CAVUSGIL is Fuller E. Callaway Professorial Chair and Director of the Institute of International Business at Georgia State University, USA. He serves as an elected Fellow of the Academy of International Business. His areas of interest include emerging markets, international marketing strategy, and early internationalization.

DAVID A. GRIFFITH is an Associate Professor of Marketing at the Eli Broad Graduate School of Management at Michigan State University, where he also serves as Director of the Ph.D. Program. Dr. Griffith specializes in marketing strategy and international marketing with a focus on intra- and inter-organizational governance. He has served on faculty at the University of Hawai'i at Manoa, the Japan-America Institute of Management Science, Wirtschaftsuniversität Wien, and University of Oklahoma.

G. TOMAS M. HULT is Director of the Broad International Business Center and Professor of Marketing and International Business in the Eli Broad Graduate School of Management at Michigan State University. He is also the Executive Director of the Academy of International Business. Professor Hult has published more than 70 articles on marketing management, strategic marketing/management, supply chain management, and international marketing/business.

ARIE Y. LEWIN is Professor of Business Administration and Sociology at the Fuqua School of Business, Duke University. He is the Director of the Center for International Business Education and Research (CIBER). He leads a cross-national research collaboration (Denmark, Japan, Korea, Netherlands, Sweden, Switzerland, United Kingdom, and the United States) research consortium - New Organization Forms for the Information Age (NOFIA) - involving a longitudinal comparative study of strategic re-orientations and organization restructurings and international competitiveness.



Introduction: A.Y.Lewin, S.T.Cavusgil, G.T.M.Hult& D.A.Griffith A Discourse Analysis of Knowledge Creation in International Business Research: Jibs 1970-2005: M.Söderqvist& B. Toyne Multinationality of the Firm: Conceptualization and Measurement: A.H.Kirca Mode Configuration Diversity: A New Perspective on Foreign Entry Mode Choice: B.Petersen, G.R.G.Benito, L.S.Welch& C.G.Asmussen Value Creation in International Electronic Markets: A Conceptual Framework: S.Samiee, P.G.P.Walters& L.Yip Decision Factors Influencing MNES Regional Headquarters Location Selection Strategies: J.Holt, W.R.Purcell, S.J.Gray& T.Pedersen A Signaling Theory Investigation of How to Overcome Negative Country of Origin Effects: L.E.Brouthers, J.W.Story& J.Hadjimarcou Institutions and Organizational Socialization: Integrating Employees in Cross-border Mergers and Acquisitions: R.V.Aguilera, J.C.Dencker& Z.Y.Yalabik Multi-firm Collaboration and International Competitive Dynamics: C.Crossland, D.J.KetchenJr.& C. C.Snow Establishing the Moral Basis of Global Capitalism: Implications for MNEs in Emerging Markets: E.Yin The Study of Fit in International Business Research: Methodological and Substantive Issues: M.B.Myers& D.A.Griffith
versandkostenfreie Lieferung
---
106,99 €

(inkl. MwSt.)
Lieferfrist: bis zu 10 Tage
Aufgrund der Corona-Krise kann es in Einzelfällen zu deutlich längeren Lieferzeiten kommen.
---
Webcode: sack.de/2xymt
Bitte ändern Sie das Passwort