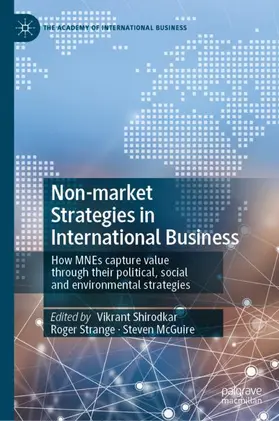 McGuire / Shirodkar / Strange
Non-market Strategies in International Business
How MNEs capture value through their political, social and environmental strategies
1. Auflage 2020
ISBN: 978-3-030-35073-4
Verlag: Springer, Berlin
Seite exportieren
How MNEs capture value through their political, social and environmental strategies
1. Auflage 2020, 249 Seiten, Gebunden, HC runder Rücken kaschiert, Format (B × H): 157 mm x 243 mm, Gewicht: 564 g Reihe: The Academy of International Business
ISBN: 978-3-030-35073-4
Verlag: Springer, Berlin
Seite exportieren
---
(inkl. MwSt.)
versandkostenfreie Lieferung
Lieferfrist: bis zu 10 Tage
---
---
---
---
---
---
---
The Academy of International Business (UK and Ireland Chapter)

Published in association with the UK and Ireland Chapter of the Academy of International Business.

This book provides theoretical and empirical insights into non-market political and social strategies that firms use when conducting international business. Political strategies include activities such as lobbying, campaign contributions, and using political ties and connections as a means of influencing policy making. Likewise, firms also engage in various social responsibility activities to maintain a good image in society and to improve their legitimacy and reputation when operating globally. Multinational enterprises (MNEs) face various challenges in implementing non-market strategies due to institutional differences between their home and host contexts. Presenting fresh perspectives from a cast of international contributors, this book offers academics, students, and practitioners a greater understanding of how non-market strategies can be effective in international business.
Herausgeber


McGuire, Steven

Vikrant Shirodkar is Senior Lecturer in International Business at the University of Sussex Business School, UK. His research has appeared in leading journals, such as the British Journal of Management, International Business Review, Management International Review, Journal of International Management, and Journal of Business Ethics. Vikrant is a Fellow of the Higher Education Academy and an Executive Committee Member of the Academy of International Business UK and Ireland (AIB UK&I) chapter.

Steven McGuire is the Dean Professor of Business and Public Policy at the University of Sussex Business School, UK. He taught at Aberystwyth University, the University of Bath, and has been a Visiting Professor at the College of Europe. Professor McGuire is currently researching the impact of the European Union's trade agreements as part of a major Horizon 2020 project, RESPECT.

Roger Strange is a Professor of International Business at the University of Sussex Business School, UK, having previously been a Professor of International Business at King's College London. His research has appeared in leading journals, such as the Journal of International Business Studies, Journal of World Business, International Business Review, Management International Review, and Journal of Management Studies.



Introduction (by Vikrant Shirodkar, Steven McGuire and Roger Strange)

 

Part A: Political Risk and Political Strategies in International Business

 

Chapter 1: Political strategy building within conflicting pressures - the case of western multinationals in a post-socialist context

 

Author: Dorottya Sallai, University of Greenwich, UK 

 

The chapter investigates how multinational subsidiaries develop their political strategies within the conflicting pressures of the host country's institutional context and the MNE's parent strategies within a high risk, emerging market host country context. The chapter links the literatures on institutional duality and corporate political activity (CPA) and makes three distinct theoretical contributions. First, it transfers the analysis of nonmarket strategies from the institutional to the firm level, by opening the black box of how subsidiaries develop host country strategies. Second, by focusing on the process of how subsidiaries turn external and internal resources into political capabilities, it argues that institutional duality should be viewed as an endogenous aspect of the institutional framework, which equips firms with political capabilities, rather than an exogenous factor that constraints companies and disadvantage them in the host environment. Third the chapter contributes to the theory of MNE parent-subsidiary management literature by extending our knowledge on how parent strategies affect the development of subsidiary's political strategies.

 

Chapter 2: Political strategies of multinational companies in managing uncertainty: Lessons from Brexit

 

Author: Dzulfian Syafrian, Durham University, UK

 

This chapter examines the role of corporate power in shaping a company's nonmarket political strategies under situations of uncertainty. Four types of political strategies derived from prior literature on how companies adopt them to cope with uncertainty, namely: passive, collective-defence, supportive, and individual-defence, are discussed. These strategies are argued to depend on two factors: the level of corporate bargaining power and the potential impact of uncertainty on the company. Using the case study of Nissan in the context of Brexit, this chapter argues that corporate political strategy under uncertainty depends on its relative bargaining power which determines how a company exercises the power to manage uncertain environments and its relationship with stakeholders. This includes, in particular, business-government relationship and some benefits from the 'blessing in disguise' situation.

 

Chapter 3: Organizational political ideology, Host country institutions, and Impact on Employee outcomes

 

Authors: Dawn Yi Lin Chow (Singapore University of Social Sciences, Singapore), Xiwen Chan (RMIT University, Australia), and Evelyn Micelotta (University of New Mexico)

 

The chapter draws on an institutional perspective to suggest that (mis) alignment between characteristics of the acquiring organization (i.e., the acquirer's organizational political ideology) and the institutional environment of the host country (i.e. employment regulations, in particular) have an effect on employee outcomes as a consequence of the M&A process. Prior research on cross-border mergers and acquisitions (M&As) tends to adopt an overtly economic, or cultural, approach, to explain the outcomes of cross-border M&As. Research in corporate governance and other cognate fields, however, shows the fruitfulness of a multi-level processual lens to understand the impact of these deals on organizations. This conceptual chapter aims to extend this body of work by drawing on the role theory perspective to theorize how employees may be affected by cross-border M&As and illuminates the consequences of this mismatch at different levels of the organization.

 

 

Chapter 4: Balancing to Utopia: Multinationals in Oligarchies

 

Authors: Camilla Jensen (Roskilde University (RUC), Denmark, and Peter Zamborsky (University of Auckland, New Zealand)

 

The chapter extends the obsolescing bargaining model (OBM) (associated with international joint ventures in authoritarian states) to show how it is relevant to multinational companies (MNCs) operating in evolving non-democratic oligarchic regimes. Using four critical cases from international business in Turkey and Russia, the chapter demonstrates how the economic and attempted political transitions lead up to an international environment of heightened political risk. The heightened risk can be explained by the embeddedness of the original OBM in a triadic relationship between the MNC, the host government and a local (private) business partner. This increased complexity in the foundational nature of the OBM is what exposes international businesses to many more threat points. These could be increasing with democratisation, making the business environment less predictable thus more uncertain for managers to navigate in. 'Balancing to utopia' or maintaining stable positive relations in the triad (MNC-host government-local business partner) as prescribed by network theory may be the best strategy in oligarchies towards reducing political risk.

 

 

 

PART B: Corporate Social Responsibility in International Business

 

Chapter 5: Tracing the global diffusion of corporate social responsibility: The example of Business in the Community's CSR Framework

 

Author: Lutz Preuss, Kedge Business School, France.

 

Management ideas and practices, such as corporate social responsibility (CSR), are spreading around the globe; yet our knowledge of how these processes unfold is still incomplete. To shed new light on this issue, this chapter borrows a research method from the social sciences that has hardly been used in the context of business studies, namely the trace measure method, to examine the global diffusion of one specific CSR framework. The CSR framework in question was released by UK-based CSR organization Business in the Community (BITC) in November 2000, and by December 2018 it had become adopted verbatim by a total of 353 private, public and non-profit sector organizations in 38 countries (note that verbatim adoption is usually not required for CSR tools, neither for management ideas and practices more generally). Tracing the spread of the framework, the study draws out key aspects of a successful diffusion of a CSR framework. Furthermore, the study develops how CSR - parallel to a conceptualization of management as being common to all forms of organizing- becomes extended to social responsibility as general organizing principle for organizations from any sector.

 

 

Chapter 6: Shifting paradigms in the Postnational constellation: A deliberative view on the role of the firm

 

Author: Ulf-Henning Richter, Centrum Católica, Pontificia Universidad Católica del Perú, Perú

 

MNCs have become powerful actors, in particular in developing countries, assuming a range of political and economic functions that have traditionally been state duties. Many domains of the public sector around the world have been privatized including telecommunications, logistics, transport, education, public health and hospital care. Furthemore, in their attempt to deal with government failures (including the non-existence or the lack of enforcement of governmental policies), MNCs have started to assume basic governmental functions and engage in acts of self-regulation. In this chapter, the author analyzes the debate on the changing role of the multinational corporation in a globalizing world. The chapter discusses the implications of globalization, in particular, the increasing power of multinational corporations (MNCs) and the rise of civil society. It provides a comprehensive historical overview of the appearance of MNCs as a political and social actor. Finally, the chapter outlines why the concept of corporate responsibility remains blurry and highly debated.

 

 

Chapter 7: Impact of adoption of environmental standards on firm value in the Chinese market

 

Authors: Abubakr Saeed (COMSATS University, Pakistan) and Muhammad Sameer (Bedfordshire University, UK)

 

Firms are seen to use corporate environmental responsibility as a nonmarket strategy to attain legitimacy. Keeping in view the fact that previous studies have failed to establish a conclusive relationship till date; this chapter employs the adoption of ISO 14001 by firms as a nonmarket social strategy and analyzes how firms can enhance their market performance using effective environmental management. Using an event study methodology in conjunction with a practice-based view, this study seeks comparison between ISO 14001 certified and non-certified firms using multiple matching criteria: Return on assets, size and industry. Findings report that ISO 14001 as a nonmarket strategy is negatively valued by the investors. This study has important policy implications for management, regulators and NGOs. 

 

 

Chapter 8: Ecological Innovations through Strategic Alliance: Cultural Diversity, Configurations of Alliances, and Ecological Innovation Performance Outcomes

 

Author: Huu Le Nguyen, University of Vaasa, Finland

 

In increasing global competition and customers' awareness of global warming and environmental protection, firms involve in international strategic alliance to join their resources and capabilities to create competitive advantage through ecological innovations. In this chapter, the author analyzes the influence of cultural diversity and alliance types on ecological innovation performance of MNEs. In addition, the author discusses the moderating role of parent control on these relationships. The arguments are based on dynamic capability theory. The analysis shows that exploration, foreign market focused, legitimacy oriented, non-related business, equity alliances tend to be associated with more ecological innovation than exploitation, domestic market focused,  business related, competency oriented, and non-equity alliances. Furthermore, cultural diversity can lead the alliance to have more ecological innovation, if the result of cultural diversity creates cultural synergy. On the other hand, if the result of cultural diversity is cultural conflict, cultural diversity leads the alliance to have less ecological innovation. In addition, the chapter concludes that right control by partner firms can strengthen the relationship between alliance types, cultural diversity and ecological innovation.

 
versandkostenfreie Lieferung
---
117,69 €

(inkl. MwSt.)
Lieferfrist: bis zu 10 Tage
---
Webcode: sack.de/u3x4s
Bitte ändern Sie das Passwort