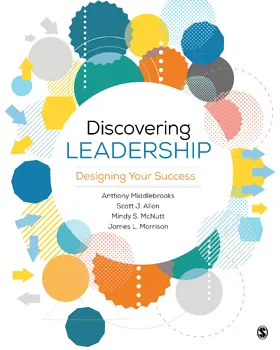 Middlebrooks / Allen / McNutt
Discovering Leadership
Designing Your Success
1. Auflage 2019
ISBN: 978-1-5063-3682-4
Verlag: SAGE PUBN
Seite exportieren
---
Buch, Englisch,
504 Seiten, Kartoniert, Format (B × H): 203 mm x 251 mm, Gewicht: 1021 g

Designing Your Success

1. Auflage 2019, 504 Seiten, Kartoniert, Format (B × H): 203 mm x 251 mm, Gewicht: 1021 g
ISBN: 978-1-5063-3682-4
Verlag: SAGE PUBN

Seite exportieren
---
(inkl. MwSt.)
versandkostenfreie Lieferung
Lieferfrist: bis zu 10 Tage
---
---
---
---
---
---
An introductory leadership textbook that guides students through the concept of leadership by design, a theory that involves planning each step of their leadership development, focusing on practical skills and valuable attributes that will maximize their leadership success now and into the future.



Organized around five major design challenges, each challenge is explored in a stand-alone module. Students begin the leadership journey with themselves, understanding their own strengths, styles, and skills. The text moves on to relationships, exploring how leadership is a process that involves values, decision-making, motivation, and power. A module on others' success unpacks the most effective practices of leadership and management, this is followed by a module on leading culture, teams, and community, before concluding with a section on how leaders can create lasting, positive change.



The book covers foundational leadership topics with a strong emphasis on skill building and helping develop CORE competencies: confidence, optimism, resiliency, and engagement. Students are encouraged to develop these skills through experiential learning, with multiple features in each chapter such as reflective and scenario-based exercises, and case studies of internationally recognized companies like Amazon and Proctor & Gamble, along with interviews with Fortune 500 Company CEOs.



There are online resources for instructors and students, which include: Test bank, PowerPoint slides, an instructor manual, teaching tips, answers to in-text questions, multimedia resources, quiz questions, and flashcards.

Suitable reading for first and second year undergraduates on Leadership, Introduction to Leadership, and Leading Organizations courses
Autoren


Middlebrooks, Anthony E.
Tony Middlebrooks, Ph.D. creates tools, explores and teaches at the intersection of leadership, innovation, creativity and design as Associate Professor and Director of Graduate Programs for Horn Entrepreneurship at the University of Delaware. Dr. Middlebrooks has created and taught more than 35 different courses for all collegiate levels, as well as numerous experiential abroad programs. He presently teaches leadership theory and practice, decision-making, creativity and innovation, and social entrepreneurship. He received both the University of Delaware Excellence in Teaching and Excellence in Advising Awards, and regularly helps faculty develop their teaching.

Previously Dr. Middlebrooks co-developed the Organizational and Community Leadership program at UD, the doctoral program in leadership as a professor at Cardinal Stritch University, and spent ten years prior in non-profit leadership positions.

Dr. Middlebrooks has published numerous articles and book chapters, and has delivered hundreds of presentations. He is co-author of Public Sector Leadership, co-creator of the Idea Fan Deck and Design Thinking Cards, and has served as Symposium Editor for the Journal of Leadership Studies since 2011.

A firm believer that leadership learning can benefit everyone and can make a difference, Dr. Middlebrooks consults and facilitates workshops for a wide variety of organizations and audiences. His current scholarly interests focus on methods of leadership education and the integration of leadership, creativity, and design thinking. Dr. Middlebrooks has a Ph.D. in Educational Psychology from the University of Wisconsin at Madison. He resides in Wilmington, Delaware with his wife and collaborator Dr. Jules Bruck.

Allen, Scott J.
Scott J. Allen, Ph.D., is the Standard Products—Dr. James S. Reid Chair in Management at John Carroll University. Allen is an associate professor and teaches courses in leadership, management skills, and executive communication. In 2008, he was voted the favorite teacher and in 2014 he was awarded the Wasmer Outstanding Teaching Award for his work in the classroom. Scott served as a Mulwick Scholar in the Boler School of Business and his primary stream of research focuses on leadership development. Scott has published more than 50 book chapters and peer-reviewed journal articles. He is the co-author of The Little Book of Leadership Development: 50 Ways to Bring Out the Leader in Every Employee and A Charge Nurse's Guide: Navigating the Path of Leadership. Scott is also a co-author of Emotionally Intelligent Leadership: A Guide for College Students. In addition to writing and speaking, Scott consults, facilitates workshops, and leads retreats across industries. Scott is the chair and co-founder of the Collegiate Leadership Competition and has served on the board of the International Leadership Association, Association of Leadership Educators, and OBTS Teaching Society for Management Educators. He resides in Chagrin Falls, Ohio with his wife, Jessica, and three children - Will, Kate & Emily.

McNutt, Mindy S. (Sue)
Mindy S. McNutt, Ph.D. is an Associate Professor of Leadership at Wright State University in Dayton, Ohio. She earned her B.A. in Communication, M.S. in Personnel Counseling, and Ed.S. in Educational Leadership from Wright State; and her Ph.D. in Higher Education Administration from Bowling Green State University. Currently she teaches in all three leadership programs at Wright State, the undergraduate program in Organizational Leadership, the Master of Science in Leadership Development, and the Doctorate in Organizational Studies.


Dr. McNutt has engaged in leadership curriculum development for over 30 years for high school youth, undergraduate curricular and extra-curricular programs, and most recently served with several faculty colleagues to write the proposal for the Doctorate in Organizational Studies. At Wright State and at several area community colleges, she has held a variety of leadership positions including, among others, academic vice president, campus dean, and dean of student services and institutional advancement. Additionally, Dr. McNutt is or has been involved in a number of boards and committees at the local, state, and national levels.
Among her varied research interests are leadership education, transformational leadership, women in leadership, leader values, and a current project examining the relationship between values and organizational culture. She has been involved in several projects of significance: serving as an Associate Editor of the International Leadership Association Building Leadership Bridges book entitled LEADERSHIP 2050: Contextualizing Global Leadership Processes for the Future; and collaborating with a nation-wide team to create and serve as faculty for the international Leadership Education Academy.

Morrison, James L.
Dr. Morrison is currently a professor of Organizational and Community Leadership in the School of Urban Affairs and Public Policy at the University of Delaware in Newark, DE. His research interest focuses on issues surrounding senior leadership accountability. Currently, he is researching the effectiveness of CEOs in preparing for the possibility of a natural disaster. He has published two books and over 80 manuscripts in a variety of professional journals. In addition, Dr. Morrison has presented over 90 papers at regional, national, and international conferences. He is currently serving on 3 refereed editorial boards for academic journals as well as the executive editor of the Journal of Education for Business. He has been the recipient of 7 outstanding teaching awards in the College of Education and the College of Human Resources at the University of Delaware. Within the leadership major at the University of Delaware, his teaching focuses on preparing future leaders to initiate change within organizations by adopting a new set of principles and practices that have emerged in recent years.


Chapter 1. A Framework for Leadership Success: Design and Your CORE
MODULE 1. DESIGN LEADERSHIP SELF
Chapter 2. Designing Your Perceptions of Leaders and Leadership
Chapter 3. Designing Your Leadership Capacity
Chapter 4. Your Values and Ethical Actions
MODULE 2. DESIGN LEADERSHIP RELATIONSHIPS
Chapter 5. Design Thinking and Brain Leading
Chapter 6. Decision-Making
Chapter 7. Influence, Power, and Motivation
MODULE 3. DESIGN OTHERS' SUCCESS
Chapter 8. Creativity, Problem-Solving, and Idea-Generating
Chapter 9. Effective Practices for Leading Others to Success
Chapter 10. Utilizing Change Processes Effectively
MODULE 4. DESIGN CULTURE AND COMMUNITY
Chapter 11. Culture
Chapter 12. Leading a Team
Chapter 13. Designing a Culture That Cares
MODULE 5. DESIGN THE FUTURE
Chapter 14. Creating a Culture of Innovation by Jules Bruck, PhD
Chapter 15. Entrepreneurial Leadership by Tony Middlebrooks, PhD, and Dan Freeman, PhD
Chapter 16. Systems and Sustainability
versandkostenfreie Lieferung
---
76,00 €

(inkl. MwSt.)
Lieferfrist: bis zu 10 Tage
Aufgrund der Corona-Krise kann es in Einzelfällen zu deutlich längeren Lieferzeiten kommen.
---
Webcode: sack.de/9fev3
Bitte ändern Sie das Passwort