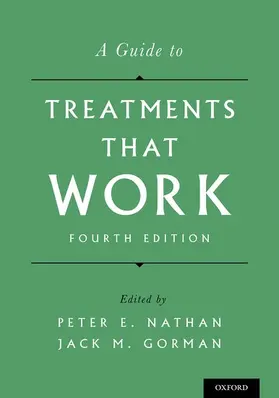 Nathan / Gorman
GT TREATMENTS THAT WORK REV/E
---
Buch, Englisch,
992 Seiten, Gebunden, Format (B × H): 191 mm x 254 mm, Gewicht: 1882 g
Revised, 992 Seiten, Gebunden, Format (B × H): 191 mm x 254 mm, Gewicht: 1882 g
ISBN: 978-0-19-934221-1
Verlag: OXFORD UNIV PR
Seite exportieren
---
(inkl. MwSt.)
versandkostenfreie Lieferung
Lieferfrist: bis zu 10 Tage
---
---
---
---
---
Like its predecessors, this fourth edition of A Guide to Treatments That Work offers detailed chapters that review the latest research on pharmacological and psychosocial treatments that work for the full range of psychiatric and psychological disorders, written in most instances by clinical psychologists and psychiatrists who have been major contributors to that literature. Similarly, the standards by which the authors were asked to evaluate the
methodological rigor of the research on treatments have also remained the same.

Each chapter in A Guide to Treatments That Work follows the same general outline: a review of diagnostic cues to the disorder, a discussion of changes in the nomenclatures from DSM-IV to DSM-5, and then a systematic review of research, most of which has been reported within the last few years, that represents the evidence base for the treatments reviewed. In all, 26 of the volume's 28 chapters review the evidence base for 17 major syndromes. Featuring this coverage is
a Summary of Treatments that Work, an extended matrix offering a ready reference by syndrome of the conclusions reached by the chapter authors on treatments that work reviewed in their chapters. New to this edition are two chapters at the beginning of the book. Chapter 1 details two perplexing issues raised by critics of
DSM-5: the unrealized potential of neuroscience biomarkers to yield more accurate and reliable diagnoses and the lingering problem of conflicts of interest in pharmaceutical research. Chapter 2 contrasts Native American and western ways of identifying effective treatments for mental and physical disorders, concluding that "evidence-informed culture-based" interventions sometimes constitute best practices in Native communities. Two chapters detailing pharmacological treatments for
pediatric bipolar disorder (Chapter 9) and pediatric depressive disorder (Chapter 12) have also been added. More than three quarters of the chapters are written by colleagues who also contributed to most or all of the previous editions. Hence, this new edition provides up-to-date information on the quality of
research on treatment efficacy and effectiveness provided by individuals who know the research best.
Herausgeber


Nathan, Peter E.
Peter E. Nathan, PhD, received his PhD in Clinical Psychology from Washington University in 1962. After spending two years as a research fellow, he then joined the Harvard psychiatry service at Boston City Hospital. In 1969, he became a Professor of Psychology and Director of Clinical Training at Rutgers University, later serving as Henry and Anna Starr Professor and Director of the Rutgers Center of Alcohol Studies. In 1990 he accepted the position
of Provost and Distinguished Professor of Psychology at the University of Iowa and became Emeritus in 2007.

Jack M. Gorman, MD, received his medical degree from the College of Physicians and Surgeons of Columbia University in 1977 and did residency and fellowship training in the Columbia University Department of Psychiatry/New York Psychiatric Insitute program. He remained on the fac ulty of Columbia University's Department of Psychiatry for the next 25 years, eventually serving as Lieber Professor of Psychiatry. He then became the Esther and Joseph Klingenstein Professor and Chair
of Psychiatry and Professor of Neuroscience at the Mount Sinai School of Medicine. He is currently CEO and Chief Scientific Officer, Franklin Behavioral Health Consultants.


versandkostenfreie Lieferung
---
136,50 €

(inkl. MwSt.)
Lieferfrist: bis zu 10 Tage
Aufgrund der Corona-Krise kann es in Einzelfällen zu deutlich längeren Lieferzeiten kommen.
---
Webcode: sack.de/nyl9b
Bitte ändern Sie das Passwort