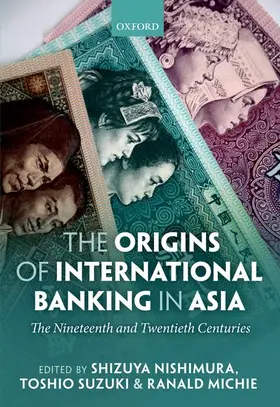 Nishimura / Suzuki / Michie
The Origins of International Banking in Asia
The Nineteenth and Twentieth Centuries
1. Auflage 2012
ISBN: 978-0-19-964632-6
Verlag: OXFORD UNIV PR
Seite exportieren
---
Buch, Englisch,
280 Seiten, Gebunden, Format (B × H): 163 mm x 234 mm, Gewicht: 544 g
The Nineteenth and Twentieth Centuries
1. Auflage 2012, 280 Seiten, Gebunden, Format (B × H): 163 mm x 234 mm, Gewicht: 544 g
ISBN: 978-0-19-964632-6
Verlag: OXFORD UNIV PR
Seite exportieren
---
(inkl. MwSt.)
versandkostenfreie Lieferung
Lieferfrist: bis zu 10 Tage
---
---
---
---
---
---
---
Without a means of crediting and debiting accounts worldwide and the non-physical transfer of funds, the rapid global economic integration of the late nineteenth and early twentieth centuries would have been impossible. It is the globalization of the banking system, much of which, particularly in Asia, had its roots in the nineteenth century, that helped facilitate increased human mobility, the exchange of commodities and manufactures, and the simplified transfer of
funds.

This volume examines the origins, growth, and business practices of European banks in Asia, and the development of Asian (notably Japanese and Hong Kong) banks, and their operations on an international stage, and in doing so, provides important new detail and analysis of economic globalization. It draws on the archival documentation of main British, French, and Japanese banks involved and provides analysis from a range of historical viewpoints, including global banking strategy, monetary
regimes, financial markets, international trade, labour immigration, and the development of communication tools.
Herausgeber


Nishimura, Shizuya
Shizuya Nishimura is Professor Emeritus at Hosei University, Tokyo, Japan. He studied at the Faculty of Economics at the University of Tokyo, and gained his PhD in Economics from the London School of Economics and Political Science. He has also been a Visiting Fellow in the Clare Hall College, University of Cambridge. His books include The Decline of Inland Bills of Exchange in the London Money Market, 1855-1913 and Pacific Banking 1859-1959: East meets West (co-edited with Olive Checkland and Norio Tamaki).

Suzuki, Toshio
Toshio Suzuki is Professor of Business History, Faculty of Economics, Tohoku University graduated from the Faculty of Commerce, Keio University and obtained his PhD in Economics from the London School of Economics and Political Science. His books include Japanese Government Loan Issues on the London Capital Market 1870-1913.

Michie, Ranald C.
Ranald C. Michie is Professor of History, University of Durham, and is recognised as one of the leading financial historians in the world, with a career spanning over 30 years of research and writing on the subject. His particular speciality is the history of securities markets, particularly stock exchanges, on which he has written numerous books and articles. These include work not only on the London Stock Exchange but also New York as well as investigations into the development of securities markets in Canada and Continental Europe. He has also written extensively on the City of London as a financial centre and his work has been translated into German. His books include The London Stock Exchange: A History, The British Government and the City of London in the Twentieth Century (edited with P. A. Williamson), and The Global Securities Market: A History.


1: Ranald Michie: The City of London as a Centre for International Banking: The Asian Dimension in the 19th and 20th Centuries
2: Shizuya Nishimura: British International Banks in Asia, 1870-1914: An Introductory Essay
3: Toshio Suzuki: The Rise and Decline of the Oriental Bank Corporation, 1842-1884
4: Shizuya Nishimura: The Hongkong and Shanghai Banking Corporation, 1870-1913
5: Hubert Bonin: French Banking in Hong Kong: From the 1860s to the 1950s
6: Kazuhiko Yago: The Russo-Chinese Bank (1896-1910): an International Bank in Russia and Asia
7: Makoto Kasuya: The Overseas Expansion of Japanese Banks, 1880-2006
8: Takeshi Nishimura: The Activities of the Yokohama Specie Bank in the Foreign Trade Financing Operations for Raw Cotton before the First World War
9: Makoto Kasuya: The Activities of Japanese Banks in Interwar Financial Centres: The Cases of the Yokohama Specie Bank's Offices in London and New York
10: Simon Mollan: International Correspondent Networks: Asian and British banks in the Twentieth Century
Academics, researchers, and graduate students in Banking, Business, Financial, and Economic History
versandkostenfreie Lieferung
---
108,50 €

(inkl. MwSt.)
Lieferfrist: bis zu 10 Tage
Aufgrund der Corona-Krise kann es in Einzelfällen zu deutlich längeren Lieferzeiten kommen.
---
Webcode: sack.de/yck0g
Bitte ändern Sie das Passwort