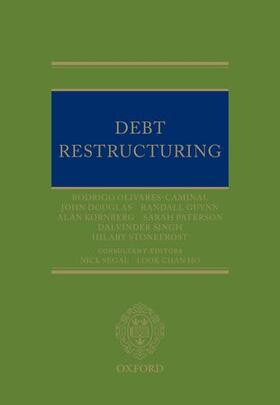 Olivares-Caminal / Douglas / Guynn
Debt Restructuring
1. Auflage 2011
ISBN: 978-0-19-957969-3
Verlag: Oxford University Press
Seite exportieren
---
Buch, Englisch,
520 Seiten, Gebunden, Format (B × H): 181 mm x 254 mm, Gewicht: 1032 g
1. Auflage 2011, 520 Seiten, Gebunden, Format (B × H): 181 mm x 254 mm, Gewicht: 1032 g
ISBN: 978-0-19-957969-3
Verlag: Oxford University Press
Seite exportieren
---
(inkl. MwSt.)
versandkostenfreie Lieferung
Lieferfrist: bis zu 10 Tage
---
---
---
---
---
---
---
The only work to consider bank, corporate and sovereign restructuring in one volume
Considers the position under English and New York law with reference to EU regulation, the UNCITRAL
model law and other jurisdictions where relevant to illustrate points discussed
Provides a toolkit of practical options to consider for advisers of both creditor and debtor
Extremely topical work as it discusses the effects of the credit crisis and resulting regulation
Experienced author team draw on their experience of cases to provide real insight into law and
practice in this area

Debt Restructuring provides a legal analysis of international corporate, banking and sovereign debt restructuring from both the creditors' and debtors' perspective. It provides a practical guide for creditors holding distressed debt, debtor options in a distressed scenario and the necessary steps for the parties to achieve their goals.

Written by an expert author team of leading practitioners and academics, the legal analysis is supported by case studies and draft clauses. This topical work is divided into three parts: corporate debt restructuring; bank resolution; and sovereign debt restructuring.

Aimed at lawyers working in international finance, banking, insolvency or financial services regulation, as well as regulatory agencies, central banks, banking supervisors, accountants and investment banks, Debt Restructuring can be used as a tool for international practitioners policy makers and academics to understand the current trends in debt restructuring in order to provide a solution to their clients.
Autoren

weitere Mitwirkende


Olivares-Caminal, Rodrigo
Edited by Nick Segal, Freshfields Bruckhaus Deringer, and Look Chan Ho, Freshfields Bruckhaus Deringer

Rodrigo Olivares-Caminal is an Assistant Professor in the University of Warwick specialising in insolvency and financial law. He is Associate Editor-in-Chief of International Corporate Rescue (Chase Cambria).

Richard Adkins QC is at 3-4 South Square with a particular specialisation in banking and insolvency work including corporate insolvency law and reconstructions. Hilary Stonefrost is also at 3-4 South Square and specialises in insolvency law and banking.

Look Chan Ho is an attorney-at-law and solicitor in the restructuring and insolvency group at Freshfields Bruckhaus Deringer and specialises in corporate insolvency.

Randall Guynn is head of Davis Polk & Wardwell's Financial Institutions Group. His practice focuses on providing strategic bank regulatory and enforcement advice.

Alan Kornberg is a partner and chair of the bankruptcy and corporate reorganization department at Paul Weiss in New York.

Sarah Paterson is a partner at Slaughter & May LLP. She advises on corporate recovery and insolvency matters and has worked on both international and domestic restructurings.

Nick Segal is a partner in Freshfields' restructuring and insolvency group, having been a partner at Davis Polk & Wardwell in their New York office for three years and Allen & Overy in London for 15 years. Nick's experience includes advising on restructurings in the UK, US, Russia, Continental Europe, the Middle East and Asia and he is a leading practitioner in the international field.


PART I: CORPORATE DEBT RESTRUCTURINGAlan Kornberg and Sarah Paterson:

1: Insolvency in the UK and the US
2: The EC Regulation on Insolvency Proceedings
3: Out-of-court vs. Court-supervised Restructuring
4: UNCITRAL's Model Law on Cross-Border Insolvencies

PART II: BANK RESOLUTIONJohn Douglas, Randall Guynn, Dalvinder Singh and Hilary Stonefrost:

5: Legal Aspects of Banking Regulation in the UK and USA
6: Banks in Distress
7: Bank Restructuring and Insolvency Procedures
8: Resolution of US Banks and other Financial Institutions

PART III: SOVEREIGN DEBT RESTRUCTURINGRodrigo Olivares-Caminal:

9: An Introduction to Sovereign Debt Restructuring
10: Litigation Aspects of Sovereign Debt
11: Transactional Aspects of Sovereign Debt Restructuring
The primary market is law firms with an insolvency, international finance, banking, restructuring or financial services regulation practice; regulatory agencies such as the FSA and SEC; central banks and banking supervisors; global accountancy firms; investment banks; insolvency NGOs; development banks; and law and business schools worldwide.
versandkostenfreie Lieferung
---
186,11 €

(inkl. MwSt.)
Lieferfrist: bis zu 10 Tage
Aufgrund der Corona-Krise kann es in Einzelfällen zu deutlich längeren Lieferzeiten kommen.
---
Webcode: sack.de/4xxs5
Bitte ändern Sie das Passwort