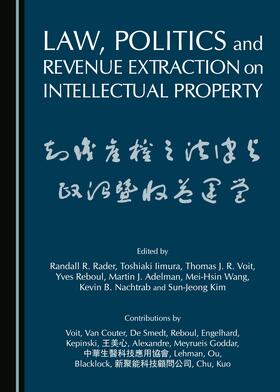 Rader / Iimura / Voit
Law, Politics and Revenue Extraction on Intellectual Property
1. Auflage 2015
ISBN: 978-1-4438-7199-0
Verlag: Cambridge Scholars Publishing
Seite exportieren
---
Buch, Englisch,
240 Seiten, Gebunden
1. Auflage 2015, 240 Seiten, Gebunden
ISBN: 978-1-4438-7199-0
Verlag: Cambridge Scholars Publishing
Seite exportieren
---
(inkl. MwSt.)
versandkostenfreie Lieferung
Lieferfrist: bis zu 10 Tage
---
---
---
---
---
This book examines numerous pressing issues on intellectual property rights, such as the updated legal framework on technology transfers in Europe and the US; developments in the unified courts and unitary patent system in Europe; neighboring rights and royalty collection in China; patent securitization; and compulsory licensing. These analyses are complemented by in-depth case studies, and demonstrations of how companies can benefit enormously from an integrated application of all kinds of intellectual property rights, and how they can profit from patent licensing and acquisition. This book is essential reading for anyone involved or interested in intellectual property law, and will also appeal to those in the business world concerned with managing intellectual property and confronting competition with smart strategies.


Herausgeber


Rader, Randal R.
After retiring as Chief Judge of the United States Court of Appeals for the Federal Circuit, Professor Randall Rader currently conducts complex arbitrations and teaches Patent Law at George Washington University Law School, the University of Washington, and Tsinghua University. In addition, Professor Rader teaches shorter courses at the Munich Intellectual Property Law Center, Tokyo University, and at several US law schools. Judge Rader was recently appointed counsellor of the Japan Intellectual Property.

Former Chief Judge Toshiaki Iimura graduated from Tokyo University, before serving as a judge in Sapporo District Court, Supreme Court, the Intellectual Property Division in Tokyo District Court, the Ministry of Justice, and Tokyo High Court. He also served as the Head of the Intellectual Property Division of Tokyo District Court and as Chief Judge of the Intellectual Property High Court until his retirement.

Judge Thomas Voit is the presiding judge in the German Federal Patent Court, responsible for administrative activities, patent nullity cases, jurisdiction, trademark matters and court decisions. Professor Voit previously worked as a public prosecutor and a Judge in District Court München II, dealing with unfair competition, intellectual property, and white-collar crime.

Professor Yves Reboul worked as the Director General of CEIPI at the University of Strasbourg until his retirement. He was awarded the Légion d'honneur and the Commandeur dans l'ordre des Palmes académiques by the French Government.

Professor Mei-Hsin Wang received her PhD in Chemistry from Imperial College London and her LLM from SooChow University. She is a Fellow of Royal Society of Chemistry (UK), and the founder and CEO of BioMedical Technology Applications Association. She is the Visiting Professor at National Law University Jodhpur and Delhi, India, and Adjunct Researcher at Hunan Provincial Intellectual Information Service Center.

Professor Kevin Nachtrab is the Senior IP Attorney for Johnson and Johnson and Academic Chair of Licensing Executives Society International (LESI). Professor Nachtrab is the Honorary International Chair Professor at National Taipei University of Technology, and a Visiting Professor at National Law University Delhi and at many law schools in China.

Professor Martin Adelman is currently the Theodore and James Pedas Family Professor of Intellectual Property and Technology Law, Co-Director of the Intellectual Property Program and Co-Director of the Dean Dinwoodey Center for Intellectual Property Studies at the George Washington University Law School. Professor Adelman previously worked as a Professor at Wayne State University Law School and a patent attorney in the Detroit area.

Professor Sun-Jeong Kim is a tenured faculty member at Dongguk University and was the Dean of the Graduate School of Social Science and a Visiting Scholar at Northwestern University School of Law in Chicago. He is the chairman of the Korean Copyright Association and the Korea Commercial Cases Association, and an arbitrator of the Korean Commercial Arbitration Board.




versandkostenfreie Lieferung
---
55,82 €

(inkl. MwSt.)
Lieferfrist: bis zu 10 Tage
Aufgrund der Corona-Krise kann es in Einzelfällen zu deutlich längeren Lieferzeiten kommen.
---
Webcode: sack.de/7xubu
Bitte ändern Sie das Passwort