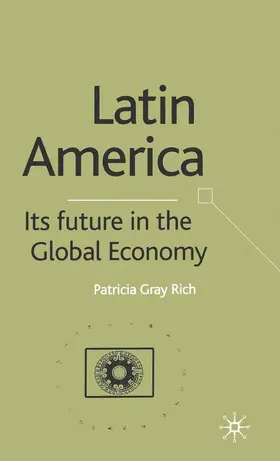 Rich
Latin America: Its Future in the Global Economy
1. Auflage 2002
ISBN: 978-1-349-42542-6
Verlag: Springer Palgrave Macmillan
Seite exportieren
---
Buch, Englisch,
282 Seiten, Kartoniert, Book, Format (B × H): 140 mm x 216 mm
Erhältlich auch als Buch
1. Auflage 2002, 282 Seiten, Kartoniert, Book, Format (B × H): 140 mm x 216 mm
ISBN: 978-1-349-42542-6
Verlag: Springer Palgrave Macmillan
Seite exportieren
---
(inkl. MwSt.)
versandkostenfreie Lieferung
Lieferfrist: bis zu 10 Tage
---
---
---
---
---
---
---
Latin America: It's Future in the Global Economy is a timely contribution to the effort to meet the complex challenges entailed in Latin America's increasing participation in world markets. Taking into account the recent changes in the region and a future WTO conference, twelve economists and two international trade lawyers provide a framework for the analysis of trade negotiations by identifying key points of disagreement among trading partners, and discuss controversial issues such as the environment, labour and agriculture, exceptional protection, investment, services, e-commerce and the efficiency of the dispute settlement mechanism. The contributors identify the optimum approach for Latin America to take in protecting its interests and enhancing its advantages in global trade, and assess the various tools that negotiators might use during the forthcoming round of multilateral negotiations. They make concrete recommendations concerning trade strategy, policy, implementation and management together with suggestions as to how Latin America and other developing countries can increase their bargaining power in order to deal with new circumstances as they arise.
Herausgeber


Rich, P.
DIETER W. BENECKE Director, Center for Latin American Studies, Konrad Adenauer Foundation, Buenos Aires LUIS FERNANDO JARAMILLO CORREA President, ODINSA Group S.A. Colombia, and Convener, Council of Representatives and Chairman of the Board of Directors, South Center, Geneva JAMES R. HOLBEIN International lawyer and adjunct professor at American University, Washington College of Law, and Georgetown University Law Center ROBERTO LAVAGNA Professor of Economics, University of Buenos Aires and Ambassador for Argentina in the European Union and Geneva CONSTANTINE MICHALOPOULOS Senior Economic Advisor, World Bank, Brussels DENNIS R. NUXOLL International lawyer, Stewart and Stewart, Washington SARATH RAJAPATIRANA Visiting Scholar, American Enterprise Institute PATRICIA GRAY RICH Economic Affairs Officer, Economic Commission for Latin America LUIS A. RIVEROS President, University of Chile and Director, Chilean-Pacific Foundation MARYSE ROBERT Senior Trade Specialist, Trade Unit, Organization of American States (OAS) JOSE-MANUEL SALAZAR-XIRINACHS Director, Trade Unit, Organization of American States and Lecturer, Georgetown University SIR HANS W. SINGER Professor Emeritus, Institute of Development Studies, UK SHERRY M. STEPHENSON Deputy Director, Trade Unit, Organization of American States ANABELLE ULATE Professor of Economics, University of Costa Rica ALBERTO VALDES Consultant, Santiago


Foreword; Sir H.W.Singer Globalization and the World Trade Organization: Latin America at a cross-roads; L.F.Jaramillo Correa Latin America in the WTO; C.Michalopoulos Different Paths Towards Integration; R.Lavagna Exceptional Protection: The Way Ahead A Developing Country Perspective; S.Rajapatirana Is the WTO Dispute Resolution System Serving the Developing World's Interests?; J.R.Holbein & D.R.Nuxoll The Growing Participation in Multilateral Services Liberalization by Latin America and the Caribbean; S.M.Stephenson E-Commerce, Latin America and the WTO; P.G.Rich Moving Toward a Common Set of Multilateral Investment Rules: Lessons From Latin America; M.Robert WTO Negotiations and Agricultural Trade Liberalization in Latin America; A.Valdes Trade and Environment: A Challenging Agenda for Latin America; A.Ulate Labor Markets and Trade Reforms in Latin America: The Challenge for the Future; L.A.Riveros The Trade-Labor Nexus: Latin America's Perspective; J-M.Salazar-Xirinachs Beyond Seattle, Davos and Porto Alegre: World Trade and Second Generation Reforms in Latin America; D.W.Benecke
versandkostenfreie Lieferung
---
85,59 €

(inkl. MwSt.)
Lieferfrist: bis zu 10 Tage
Aufgrund der Corona-Krise kann es in Einzelfällen zu deutlich längeren Lieferzeiten kommen.
---
Webcode: sack.de/kfre4
Bitte ändern Sie das Passwort