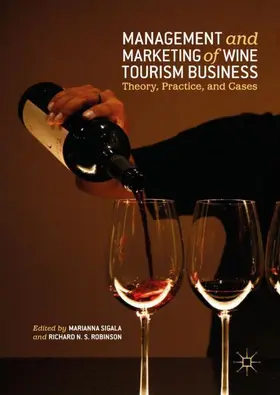 Sigala / Robinson
Management and Marketing of Wine Tourism Business
Theory, Practice, and Cases
1. Auflage 2019
ISBN: 978-3-319-75461-1
Verlag: Springer, Berlin
Seite exportieren
---
Buch, Englisch,
388 Seiten, Gebunden, Book, Format (B × H): 151 mm x 218 mm, Gewicht: 664 g
Erhältlich auch als Buch
Theory, Practice, and Cases
1. Auflage 2019, 388 Seiten, Gebunden, Book, Format (B × H): 151 mm x 218 mm, Gewicht: 664 g
ISBN: 978-3-319-75461-1
Verlag: Springer, Berlin
Seite exportieren
---
(inkl. MwSt.)
versandkostenfreie Lieferung
sofort versandfertig, Lieferfrist: 1-3 Werktage
---
---
---
---
---
---
---
This book links research in wine marketing/management and wine tourism, offering international and multidisciplinary perspectives. Addressing the evolving nature of the wine tourism industry and market, the book brings in new research streams and technology advances such as; social media, customer empowerment and engagement, co-creation, social / responsible marketing and wine consumption. Each section includes an introductory chapter written by the editors discussing the aims and the chapters of the section. Section chapters provide theoretical and research based insights with practical implications, while every section is also complemented with case studies that further enrich the practice and industry implications of theory. Researchers will find in this book a holistic analysis of research and cases relating to the management and marketing of wine tourism businesses and visitors.
Herausgeber


Sigala, Marianna
Marianna Sigala is Professor of Tourism at the University of South Australia.
Richard N. S. Robinson is Senior Lecturer at the University of Queensland Business School, Australia.


1.      1. WINE TOURISM: definitions, evolution The business of wine tourism: evolution and challenges Cristina Santini Abstract: The wine business has evolved over the years; wine tourism has evolved, too. New challenges have emerged from the market and the wine tourism as a product has been reshaped in order to meet tourists' demand. Thus, what are the strategies that companies can pursue in wine tourism? This chapter will describe how wineries have changed their approach to tourists and it will highlight pro e cons of emerging business strategies. Data and information will be collected from academic and professional sources. A background literature will be provided in order to motivate research designing in data collection and to offer a theoretical framework for the work. Transforming wine tourism and destinations: the implications of co-creation on empowering wine tourists and wine communities Marianna Sigala, University of South Australia  Case studies: Make-your-own wine at Pasadena winery: from wine consumers to wine makers Marianna Sigala, University of South Australia  The Wine Foundry: bringing wine communities, wine experts and wine consumers together to co-create wine experiences   Marianna Sigala, University of South Australia 2.      2. WINE TOURISTS: profile, needs, behavior Uncorking the Potential of Wine Language for Young Wine Tourists Dr Allison Creed and Assoc. Prof Peter McIlveen University of Southern Queensland Abstract Effective communication with consumers underpins growth in wine knowledge that, in turn, contributes to growth in wine consumption (Knott, 2004).  Yet wine language is full of fuzzy concepts (Ballester, Patris, Symoneaux, & Valentin, 2008) and the very act of naming sensory experiences can be an act of categorisation, demarcation, separation, or rejection. Indeed, wine consumers experience more of the intrinsic characteristics of a wine after they receive product information (Henley, Fowler, Yuan, Stout, & Goh, 2011).  In this chapter, we consider the language used to talk about wine, specifically the personification of wine (e.g., powerful, fleshy, sexy).  We demonstrate that metaphoric language is integral to the experience of wine.  We conclude that metaphoric language is a platform for engaging younger wine tourists in the cellar door experience, which is a significant revenue source for micro, small, and medium wineries (Dodd, 2000).Factors Influencing Consumer Wine Choice - The Case of Wine Tourism Margaret Connolly MARGARET CONNOLLY Dublin Institute of Technology Using Importance-Performance Analysis to Understand the Wine Tourism Experience of Generation Z Dimitrios Stergiou, Greek Open University, Greece CASES case study : "Profiling winery tourists in Southern Greece"  Dr. Panagiotis Tataridis, Technological Educational Institution of Athens (TEI of Athens) 3.     3.  WINE EXPERIENCES: experience design, product development, product innovation and differentiation, wine and wine experiences , wine tourism events "Maximizing wine tourism experience in the winery" Dr. Panagiotis Tataridis, Assistant Professor Department of Enology & Beverage Technology Technological Educational Institution of Athens (TEI of Athens)  Innovation in Food & Wine Tourism Related Businesses: "Turning Ashes to Gold" Dimitris Karagiannis PhD Researcher, Department of Economics,  University of Thessaly Mr Theodore Metaxas, Assistant Professor, Department of Economics,  University of Thessaly Contribution of Research and Development in Oenology to Wine Tourism Maroula Dimopoulou, Ph.D., Oenology University of Bordeaux, France Wine tourism starts to gain a sophisticated profile as the consumers become more educated and exigent. Tourists are attracted by the authentic nature and the quality of the product as well as by the terroir experience. The greek wine is receiving recognition at international level but a greater effort and more research should be carried out in this context. The field of research and development (R&D) in Oenology can largely contribute to the identification of the greek wine sensorial attributes and further promote the viticulture heritage. More specifically, the analysis of the aromatic profile of indigenous grape varieties, the identification of the indigenous microflora, the adaptation of the winemaking techniques, are examples which could highlight the originality and quality of greek wines. Wine tourism is for sure more attracted by 'high recognition' products, which respect the tradition and foster at the same time local development. In the competitive context of wine tourism at an international level, the R&D in Oenology should be part of the greater strategy for tourism promotion via wine terroir experience. CASES Case study: Oinoxeneia: a wine tourism event in Aegialeia, Peloponesse Maria Tsoukala, municipality of Aigialeia, Peloponnese, Aigio, Greece case study - Transforming wine tourism experience: The role of wine entrepreneurs' identity Aise Kim, School of Management, University of South Australia Abstract - Wine entrepreneur's identity plays a critical role as a mediator in transforming wine branding and winery-based place making process. Such story telling of wine entrepreneur's identity can make a stronger connection to creating memorable and unique wine tourism experience. Yet, there has been little research on how wine entrepreneurs' unique identity is shaped by various factors - their connection to the local culture and place, their vision for creating innovative wine making process, and their personal life story as wine entrepreneurs' success and hardship. This chapter will focus on exploring different aspects of wine entrepreneur's identity and their impacts on tourists' wine tourism experience, using different case studies in South Australia (e.g. Jacob Creek winery, Yalumba winery, and Wolf Brass winery).Authenticity in Artisan Wine Tourism? The case of the Basket Ranges, Adelaide Hills Jonathan Staggs, UQ Business School Abstract: Basket Ranges is a sub-region within the Adelaide Hills that currently leads the way in Australian artisan wine production. The Basket Ranges has a unique micro-climate that plays an important role in the production of wines of critical acclaim. But it is a collective of artisan winemakers who call the Basket Range home are re-shaping the Australian wine identity, both in domestic and key export markets, through their authenticity and non-conformist approaches to winemaking, (and life). The terroir of the Basket Range and the narratives of this artisan collective has the potential to have a 'Mecca effect' on food and wine tourists who seek experiences that are commensurate with their food and wine involvement.  This case study explores themes of authenticity and integrity at the Basket Range's inaugural festival. This festival provides a unique opportunity to explore how these artisans can authentically enact a tourist event, and on the other side of the coin, the opportunity to capture tourist impressions of the festival. 4.      4. WINE DESTINATIONS: infrastructure development, wine routes, wine itineraries development, industry collaboration and synergies Wine tourism destination development: the case of Granite Belt Arwen McGregor1 & Richard Robinson, Queensland Wine Industry Association Abstract: Adapting Wang and Xiang's Destination Marketing Alliance theory framework (2007) this chapter seeks to identify collaboration networks factors within an emerging wine tourism region and identify destination development processes. This case study used interviews with winery owners in Queensland's Granite Belt to determine what the stakeholders' critical success factors were in regional collaboration. The findings showed that stakeholders needed commitment, and communication, from collaborative organisations, plus trust for a positive perception of a regional collaboration. Interestingly, the study showed that many industry stakeholders did not see themselves in the tourism industry. Implications for practice are the importance of certain collaborative practices between stakeholders in the successful development of nascent wine tourism destinations. CASES Case study: wine tourism and legislation issues: the case of ktima Zacharioudaki - Crete ANTHI Kampilafka anthi17@hotmail.com  Case study: Building successful websites for wine tourism destinations: the case of https://www.napavalley.com/ and http://www.sonomacounty.com/social-hub#/boards/ Marianna Sigala, University of South Australia 5.     5.  WINE TOURISM & DESTINATION MARKETING: online and offline marketing strategies and practices, branding, image, pricing, distribution strategies 'Red Ocean' to 'Blue Ocean': Developing a typology of wine innovation Dr David Priilaid, University of Cape Town Abstract The wine industry is constantly over-traded, with many producers struggling to remain profitable.  Such market conditions have been described as typical of a "red ocean", where producers are forced to trade on price, and profits are competed away (see Kim and Mauborgne, 2005).  Within this context, this chapter explores the rationale for innovation, and examines a number of so-called "blue-ocean" innovations occurring in the South African and New Zealand wine industries.  In South Africa, these include the development of a unique coffee flavoured pinotage, a rooibos tea flavoured merlot, the use of clay pots as a replacement of oak barrels, and the production of wine flavoured ice-lollies.  From New Zealand the development of an innovative wine-buyers' club, and the sale of varietal-specific grape juice is showcased. A consequent typology of wine innovation is proposed, with suggestions as to where further innovation may be anticipated. Social Media and wine tourism marketing Marianna Sigala, University of South Australia The chapter will review the various social media tools and marketing practices used in wine tourism. The chapter will discuss both wine tourism demand and supply issues, i.e.: 1) how wine consumers and wine tourists are empowered to participate in wine (tourism) marketing; and 2) how wine destinations and wineries can exploit social media for developing new distribution and sales channels and engaging their customers more actively in wine tourism marketing.  E-storytelling and wine tourism branding: Insights from the "Wine roads of Northern Greece" Dr Christina Bonarou, Panteion University of Social and Political Sciences, Athens, Greece Prof. Paris Tsartas, Harokopio University, Athens, Greece CASES CASE STUDY:  Developing a wine tourism marketing plan: A study in the regions of Kilkis, Thessaloniki and Chalkidiki    - Alexia Aslanidou, Greece CASE STUDY - Effects of the World Heritage Label in Champagne Region. Dr Fabrice Thuriot, University of Reims Champagne-Ardenne, France. Case study: social marketing in wine tourism: educating wine tourists about responsible wine consumption by the Wine association in South Australia Marianna Sigala, University of South Australia
versandkostenfreie Lieferung
---
128,39 €

(inkl. MwSt.)
sofort versandfertig, Lieferfrist: 1-3 Werktage
---
Webcode: sack.de/0ah7f
Bitte ändern Sie das Passwort