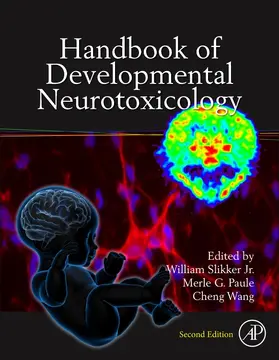 Slikker, Jr. / Paule
Handbook of Developmental Neurotoxicology
2 ed
ISBN: 978-0-12-809405-1
Verlag: Elsevier Science Publishing Co Inc
Seite exportieren
---
Buch, Englisch,
616 Seiten, Gebunden, Format (B × H): 284 mm x 227 mm, Gewicht: 1922 g
2 ed, 616 Seiten, Gebunden, Format (B × H): 284 mm x 227 mm, Gewicht: 1922 g
ISBN: 978-0-12-809405-1
Verlag: Elsevier Science Publishing Co Inc
Seite exportieren
---
(inkl. MwSt.)
versandkostenfreie Lieferung
Lieferfrist: bis zu 10 Tage
---
---
---
---
---
---
Handbook of Developmental Neurotoxicology, Second Edition, provides a comprehensive view of the fundamental aspects of neurodevelopment, the pathways and agents that affect them, relevant clinical syndromes, and risk assessment procedures for developmental neurotoxicants. The editors and chapter authors are internationally recognized experts whose collaboration heralds a remarkable advance in the field, bridging developmental neuroscience with the principles of neurotoxicology. The book features eight new chapters with newly recruited authors, making it an essential text for students and professionals in toxicology, neurotoxicology, developmental biology, pharmacology, and neuroscience.



- Presents a comprehensive, up-to-date resource on developmental neurotoxicology with updated chapters from the first edition
- Contains new chapters that focus on subjects recent to the field
- Includes well-illustrated material, with diagrams, charts, and tables
- Contains compelling case studies and chapters written by world experts
Herausgeber


Slikker, Jr., William
Dr. Slikker is the Director of FDA's National Center for Toxicological Research (NCTR). He received his Ph.D. in Pharmacology and Toxicology from the University of California at Davis. Dr. Slikker holds Adjunct Professorships in the Departments of Pediatrics, and Pharmacology and Toxicology at the University of Arkansas for Medical Sciences. He has held committee chairmanships or elected offices in several scientific societies, including the Teratology Society (serving as President) and the American Society for Pharmacology and Experimental Therapeutics (Chair, Developmental Pharmacology Section and member of the Program Committee) and co-founder and past President of the MidSouth Computational Biology and Bioinformatics Society. He is currently Associate Editor for NeuroToxicology and Toxicological Sciences and is the past President of The Academy of Toxicological Sciences, the Society of Toxicology (Presidential term ended 2013), recipient of the 2014 George H. Scott Memorial Award from The Toxicology Forum and invited to present the Warkany Lecture at the 2015 annual meeting of the Teratology Society. Dr. Slikker has authored or co-authored over 300 publications in the areas of transplancental pharmacokinetics, developmental neurotoxicology, neuroprotection, systems biology, and risk assessment. He has also served on several national/international advisory panels for the International Life Sciences Institute (ILSI)/Health and Environmental Sciences Institute (HESI), Chemical Industry Institute of Toxicology (CIIT) Centers for Health Research, Environmental Protection Agency (EPA), National Institute of Environmental Health Sciences (NIEHS), National Academy of Sciences (NAS), National Institutes of Health (NIH) and World Health Organization (WHO).

Paule, Merle G.
Dr. Paule received his B.S. in Biochemistry and his Ph.D. in Pharmacology and Toxicology at the University of California at Davis. In 1983 he began work at the FDA's National Center for Toxicological Research in Jefferson, Arkansas, where he remains today. He attained certification as one of FDA's Senior Biomedical Research Scientists in 2000 and in 2005 became the Director of the Division of Neurotoxicology at NCTR. Dr. Paule has played a major role in developing an automated system for monitoring multiple complex brain functions in nonhuman primates, children, and rodents. Utilization of similar or identical behavioral tasks across species serves to facilitate the interspecies extrapolation of exposure data and, thus, the risk assessment process. He is past President of the Behavioral Toxicology Society, the Neurobehavioral Teratology Society and the Neurotoxicology Specialty Section of the Society of Toxicology and Associate Editor for the journals NeuroToxicology and Neurotoxicology and Teratology. Dr. Paule has published over 225 research articles and 30 book chapters and holds Adjunct Professorships at the University of Arkansas for Medical Sciences in the Departments of Pharmacology and Toxicology and in Pediatrics. He is an elected Fellow in the Academy of Toxicological Sciences and in the International Behavioral Neuroscience Society.


PART I. CELLULAR AND MOLECULAR MORPHOGENESIS OF THE NERVOUS SYSTEM PART II. DEVELOPMENTAL NEUROBIOLOGY/TOXICOLOGY PART III. SYNAPTOGENESIS AND NEUROTRANSMISSION PART IV. NUTRIENT AND CHEMICAL DISPOSITION PART V. BEHAVIORAL ASSESSMENT PART VI. CLINICAL ASSESSMENT AND EPIDEMIOLOGY PART VII. SPECIFIC NEUROTOXIC SYNDROMES PART VIII. RISK ASSESSMENT
versandkostenfreie Lieferung
---
217,50 €

(inkl. MwSt.)
Lieferfrist: bis zu 10 Tage
Aufgrund der Corona-Krise kann es in Einzelfällen zu deutlich längeren Lieferzeiten kommen.
---
Webcode: sack.de/n3wgd
Bitte ändern Sie das Passwort