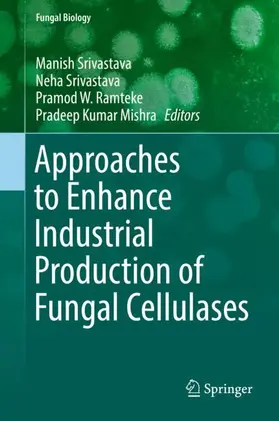 Srivastava / Srivastava / Mishra
Approaches to Enhance Industrial Production of Fungal Cellulases
---
Buch, Englisch, Reihe:
Fungal Biology
209 Seiten, Gebunden, Book, Format (B × H): 160 mm x 239 mm, Gewicht: 500 g
1. Auflage 2019, 209 Seiten, Gebunden, Book, Format (B × H): 160 mm x 239 mm, Gewicht: 500 g Reihe: Fungal Biology
ISBN: 978-3-030-14725-9
Verlag: Springer, Berlin
Seite exportieren
---
(inkl. MwSt.)
versandkostenfreie Lieferung
sofort versandfertig, Lieferfrist: 1-3 Werktage
---
---
---
---
---
---
---
Cellulase is a key enzyme of industrial interest and plays a crucial role in the hydrolysis of cellulose, a prime component of plant cell walls. Cellulase covers a broad area in the global market of industrially important enzymes and it is considered as the third largest industrial enzyme globally. Additionally, cellulase contributes about 20% of the total enzyme market globally because of its massive demand in various industries such as in biofuel production, pulp, paper, textile, food, and beverages, as well as in detergent industries. Among these, the demand of cellulase may become frequently selected in the commercial production of biofuels in the future and thus will further increase demand of cellulase in the biofuel industry. Because biofuel production is still not realized in a cost-effective, practical implementation due to its high cost (the higher cost of biofuels is due to higher production costs of enzymes), there is a need to introduce these types of approaches, which will help to lower the cost of enzyme production for developing overall economic biofuel production.
Herausgeber


Srivastava, Manish
Manish Srivastava is working as DST INSPIRE faculty in the Department of Physics and Astrophysics, University of Delhi, India. He has published 41 research articles in peer reviewed journals, authored several book chapters and filed 1 patent. He worked as a post doctorate fellow in the Department of BIN Fusion Technology, Chonbuk National University from August 2012 to August 2013. He was an Assistant Professor in the Department of Physics, DIT School of Engineering, Greater Noida, from July 2011 to July 2012. He received his Ph. D. in Physics from the Motilal Nehru National Institute of Technology (MNNIT), Allahabad, India in 2011. Presently, he is working on the synthesis of graphene based metal oxide hybrids and their applications as catalysts. His area of interest is synthesis of nanostsructured materials and their applications as catalyst for development of electrode materials in energy storage, biosensors and biofuels production.
Neha Srivastava is currently working as Post-doctorate fellow in Department of Chemical Engineering and Technology, IIT (Banaras Hindu University) Varanasi, India. She has published 26 research articles in the in peer reviewed journals and have 03 patents. She has been completed her PhD from Department of Molecular and Cellular Engineering, SHUATS, India in 2016 in the area of bioenergy. She has been received 06 Young Scientist Awards. Presently, she is working on biofuels production (Cellulase enzymes; production and enhancement, biohydrogen production from waste biomass, bioethanol production).
P. K. Mishra is currently Professor and Head in the Department of Chemical Engineering & Technology, Indian Institute of Technology (BHU), Varanasi, India. He obtained his PhD degree in Chemical Engineering from Institute of Technology (Banaras Hindu University) in 1995. He has authored/co-authored over 60 technical papers published in reputed national/international journals and supervised more than 20doctoral students. He has received several awards and hounours and has 5 patents. He is Fellow of Institution of Engineers India. He has received several awards and honours at National/International levels. He has also made significant contribution towards development of entrepreneurship ecosystem in Eastern part of the country. He is coordinator Technology Business Incubator at the Institute and member Executive committee NISBUD, Ministry of Skill Development, Government of India.
Pramod W. Ramteke is presently Dean of Post Graduate Studies and Heads of Departments of Biological Sciences and Genetics & Plant Breeding at San Higginbottom University of Agriculture, Technology and Sciences (SHUATS), Allahabad, India. He is elected Fellow of National Academy of Agricultural Sciences, National Academy of Biological Sciences, The Linean Society of London, Academy of Microbial Sciences India (AMI), The Biotech Research Society of India, Society for Plant Protection Sciences, Mycological Society of India, Uttar Pradesh Academy of Agricultural Sciences, Maharashtra Academy of Sciences, Association for Biotechnology and Pharmacy, Society of Biological Sciences and Rural Development and The Academy of Environmental Biology. He is recipient of J.C. Bose Gold Medal, SCON Memorial Award for Excellence in Science, Dr. J. C. Edward Medal, Prof. K. S. Bilgramy Memorial Award, Er. V. S. Chauhan Gold Medal, Biotechnology Overseas Associateship and International Fellowship by Biotechnology and Biology Research Council, UK. He is member of editorial board of several journals He has been a visiting Scientist to Hacettepe University, Turkey; Institute of Food Research, UK; University of Liege, Belgium; Korea Institute of Science and Technology, South Korea, University of Szeged, Hungary and Hydrobiological Institute, Czech Republic. In addition to three patents, three books and over 150 research papers are to his credit. He has implemented 7 major projects from DBT, DST, CSIR, UPCAR and CST,UP and supervised 21 PhDs and mor


Preface 1. Role of solid state fermentation to improve cost economy of cellulase production
Prof. Murthy Sango, IIT Bombay, India; murthy.che12@gmail.com
2. Submerged  fermentation for fungal cellulase production
Susana Rodríguez-Couto; srodriguez@ceit.es
3. Significance of process parameters to improve cellulase system; role of non-enzymatic protein to improve cellulose hydrolysis
Anindita Biswas, SHUATS, Allahabad, India; ianindita@gmail.com
4. Assessment of thermophilic/thermostable cellulase for industrial purpose
Indu Bhushan Sharma, University of Jammu, India; ibhushanap@gmail.com5. How purity alter cellulase and its cost in industries
Vinod Kumar, CIAB, Mohali, India; vkumar26@gmail.com
6. Efficiency analysis of crude verses pure cellulase in industries
Sanket J. Joshi, College of Science, Sultan Qaboos University, Muscat, Oman; sanketjj@gmail.com / sanket@squ.edu.om 
7. Cost effective techniques for cellulase purification for industries; a rollback analysis
Deepika Kushwaha, IIT (BHU) Varanasi, India; dkushwaha04@gmail.com8. Strategies to reuse cellulase; immobilization of enzymes
Deepika Gupta, Alligarh Muslim University, India; Dg001@gmail.com
9. Significance of feedstock on industrial cellulases
Pardeep Singh, University of Delhi, India; psingh.rs.apc@itbhu.ac.in10. Current advancements in recombinant technology for industrial cellulasesPaushpi Diwedi, IIT (BHU) Varanasi, India11. Novel metagenomics, genomics, and secretomics approaches underway to identify improved sources of cellulasesManish Srivastava; 84.srivastava@gmail.com; poushpid.pf.chy17@itbhu.ac.Index 
Additional List of Potential Contributors: Dr. Francesco Vinale
Protezione Sostenibile delle Piante
(IPSP-CNR), Via Università
f.vinale@ipp.cnr.it
 
Dr. Hubertus Haas
Division of Molecular Biology/ Biocenter, Innsbruck Medical University
hubertus.haas@i-med.ac.at
Dr. Elzbieta Gumienna-Kontecka
 
Faculty of Chemistry, University of Wroclaw, Wroclaw, Poland
elzbieta.gumienna-kontecka@chem.uni.wroc.pl
Dr. Kuang-Ren Chung
 
Citrus Research and Education Center, Institute of Food and Agricultural Sciences (IFAS), University of Florida
krchung@ufl.edu
Prof. Holger B. Deising
 
Martin-Luther-Universität Halle-Wittenberg Institut
holger.deising@landw.uni-halle.de
Dr. Peter Punt
Leiden University
peter.punt@tno.nl
Dr. Eric Pearlman
Department of Ophthalmology and Visual Sciences, Case Western Reserve University, Cleveland
Eric.Pearlman@case.edu
Dr. Manoj Kumar Solanki
National Bureau of Agriculturally Important Microorganisms
mkswings321@gmail.com
Dr. Gérald Larcher
Département Pharmacie Biochimie  University of Angers
gerald.larcher@univ-angers.fr
Dr. Francesco Vinale
CNR - Istituto per la Protezione delle Piante (IPP-CNR), Via Università, Naples, Italy
f.vinale@ipp.cnr.it
Dr. Rajinder K. Gupta
University School of Biotechnology, Guru Gobind Singh Indraprastha University
rkg67ap@yahoo.com
Dr. Weizhen Qi
College of Life Science, Shandong Normal University, Jinan, Shandong, China
qwz0221@live.cn
Dr. Lei Zhao
Shandong Normal University, China
zhaolei@sdu.edu.cn
Prof. Günther Winkelmann
Institute of Microbiology and Biotechnology
University of Tübingen, Germany
winkelmann@uni-tuebingen.de
Dr. Célia Maria de Almeida Soares
Laboratório de Biologia Molecular, Instituto de Ciências Biológicas, Universidade Federal de Goiás
cmasoares@gmail.com
Dr. Anil Kumar Chhillar
Centre for Biotechnology, M.D. University, Rohtak
anil.chhillar@gmail.com
Dr. Sabiha Yasmin
Division of Molecular Biology, Biocenter, Innsbruck Medical University
dr.sabiha.yasmin@gmail.com
Dr. Linda Johnson
AgResearch Limited, Grasslands Research Centre, Palmerston North, New Zealand
Linda.Johnson@agresearch.co.nz
Dr. Sébastien Rigali
Centre for Protein Engineering, University of Liège, Institut de Chimie
srigali@ulg.ac.be
Dr. Erika Kothe
Microbial Communication, Institute of Microbiology, Faculty of Biology and Pharmacy Friedrich Schiller University
Erika.Kothe@uni-jena.de
Dr. Joanna C.Renshaw
Centre for Radio chemistry Research, Department of Chemistry, University of Manchester, Oxford Road
joanna.c.renshaw@man.ac.uk
Dr. Harald Oberegger
Institut für Molekular biologie Universität. Innsbruck
harald.oberegger@uibk.ac.at
Dr. Luis Antelo
IBWF Institut für Biotechnologie und Wirkstoff-Forschung
antelo@ibwf.de
Dr. Katrin Eisfeld
Institut für Biotechnologie und Wirkstoff-Forschung e.V., Erwin-Schrödinger-Str. 56, 67663 Kaiserslautern, Germany
katei@gmx.de
 
eisfeld@ibwf.de
Dr. Kai Welzela
Department of Entomology, University of California,
kwelz001@ucr.edu
donghwan.choe@ucr.edu
kwelz001@ucr.edu
Dr. Schrettl Markus
Division of Molecular Biology
 
markus.schrettl@i-med.ac.at
Dr. Zhiqiang An
IMM SRB
zhiqiang.an@uth.tmc.edu
Dr. Sally A. Leong
Department of Plant Pathology, University of Wisconsin
sal@plantpath.wisc.edu
Prof. J. McEvoy
Cornell University
mcevoyp@science.oregonstate.edu
Dr. Kurt Haselwandter
Institut für Mikrobiologie, Universität Innsbruck, Technikerstrasse
kurt.haselwandter@uibk.ac.at
Dr. G. Nicholson
 
Department of Microbiology, University of Innsbruck
g.nicholson@qut.edu.au
Dr. G. Winkelmann
Institut für Mikrobiologie und Biotechnologie
winkelmann@uni.tuebingen.de
Alvin L.Crumbliss
Department of Chemistry, Duke University, Durham, USA
alvin.crumbliss@duke.edu
Dr. Alison Butler
Department of Chemistry and Biochemistry, University of California, Santa Barbara
butler@chem.ucsb.edu
Dr. Linda J.Johnson
AgResearch Ltd., Grasslands Research Centre, Tennent Drive
linda.johnson@agresearch.co.nz
Dr. Elzbieta Gumienna-Kontecka
Faculty of Chemistry, University of Wroclaw
elzbieta.gumienna-kontecka@chem.uni.wroc.pl
Dr. Jioji N.Tabudravu
Marine Biodiscovery Centre, Department of Chemistry, University of Aberdeen
j.tabudravu@abdn.ac.uk
Dr. David P. Nicolau
Center for Anti-Infective Research and Development, Hartford Hospital
Division of Infectious Diseases, Hartford Hospital, Hartford
david.nicolau@hhchealth.org
Prof. Pascal Sonnet
Université de Picardie Jules Verne, Laboratoire de Glycochimie, des Antimicrobiens, et des Agroressources, UMR CNRS
pascal.sonnet@u-picardie.fr
Prof. Jin-HwanKwak
School of Life Science, Handong Global University, Pohang, Republic of Korea
jhkwak@handong.edu
Prof. Owen W. Duckworth
Department of Soil Science, North Carolina State University
owen_duckworth@ncsu.edu
Dr. Anna Maria Pirttilä
Department of Biology, University of Oulu
am.pirttila@oulu.fi
Dr. Zhen-MingChi
Unesco Chinese Center of Marine Biotechnology, Ocean University of China
zhenming@sdu.edu.cn
 
Dr. Isabelle J. Schalk
IREBS, ESBS, Blvd Sébastien Brant
isabelle.schalk@unistra.fr
 
Prof. Shaojie Li
State Key Laboratory of Mycology, Institute of Microbiology, Chinese Academy of Sciences
Lisj@im.ac.cn
 
Dr. Bruno Giuliano Garisto Donzelli
School of Integrative Plant Science - Plant Pathology and Plant-Microbe Biology Section
bdd1@cornell.edu
 
Dr. Laura E.Birch
Department of Biology, Clarke College, Iowa
laura.birch@clarke.edu
 
Dr. MacitIlkit
 
Division of Mycology, Department of Microbiology, Faculty of Medicine, University of Çukurova, Adana
milkit@cu.edu.tr
 

versandkostenfreie Lieferung
---
149,79 €

(inkl. MwSt.)
sofort versandfertig, Lieferfrist: 1-3 Werktage
---
Webcode: sack.de/5ksuv
Bitte ändern Sie das Passwort