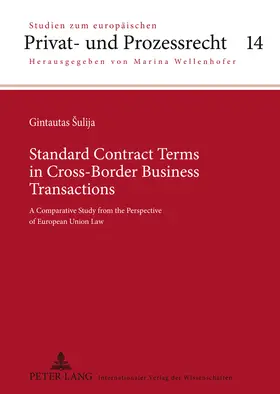 Sulija
Standard Contract Terms in Cross-Border Business Transactions
A Comparative Study from the Perspective of European Union Law
1. Auflage 2011
ISBN: 978-3-631-60343-7
Verlag: Peter Lang Frankfurt
Seite exportieren
---
---
---
---
---
This book presents an overview of regulation of standard form contracts in the selected jurisdictions of the European Union. Generally, the term 'regulation of standard form contracts' refers to the techniques and procedures that are established by the government and case law to control the fairness and reasonableness of contracting or contractual arrangements. The necessity of regulating standard form contracts is explained by arguing that absolute freedom of contract does not contribute enough to the welfare of society, even if we assume that such freedom exists in reality.

Four jurisdictions of the European Union - Germany, France, England, and Lithuania - have been selected for closer examination in order to build up a comprehensive view in the three major jurisdictions of the Union as well as in the 'new Europe'. Moreover, the study elucidates the links between national contract laws and the European Union law. In view of the obstacles a trader may face in abiding by unknown foreign regulations, the national regulations of standard form contract are assessed in the light of so-called 'indistinctly applicable measures' that are prohibited under the European Union law. Thus different options aimed at eliminating trade restrictions created by foreign regulations on standard form contracts are contemplated in this book.
Autoren


Sulija, Gintautas
Gintautas Sulija holds an LL.M. degree from Corpus Christi College at the University of Cambridge, a MA degree in Law from Vilnius University, and a doctoral degree from the Goethe University Frankfurt am Main. He was the DAAD scholar at the Goethe University Frankfurt am Main. Currently, the author is a partner at a law firm based in Vilnius and a member of the Lithuanian Bar Association. He has a transactional practice with an emphasis in finance working for reputable London and Vilnius law firms. He conducts researches and publishes on financial regulations, aviation law, and European private law.