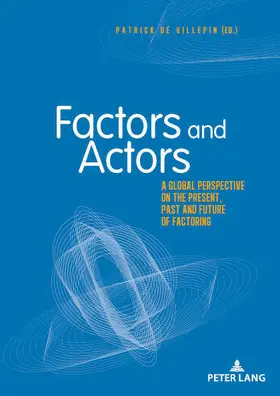 Villepin
Factors and Actors
A Global Perspective on the Present, Past and Future of Factoring
Neuausgabe 2018
ISBN: 978-2-8076-0683-8
Verlag: Peter Lang Ltd. International Academic Publishers
Seite exportieren
---
Buch, Englisch,
436 Seiten, Gebunden, Format (B × H): 150 mm x 220 mm, Gewicht: 738 g
A Global Perspective on the Present, Past and Future of Factoring
Neuausgabe 2018, 436 Seiten, Gebunden, Format (B × H): 150 mm x 220 mm, Gewicht: 738 g
ISBN: 978-2-8076-0683-8
Verlag: Peter Lang Ltd. International Academic Publishers
Seite exportieren
---
(inkl. MwSt.)
versandkostenfreie Lieferung
sofort versandfertig, Lieferfrist: 1-3 Werktage
---
---
---
---
---
---
Fifty years after the creation of Factors Chain International (FCI), the worldwide association of 400 factors in 90 countries, this book intends to fill a significant gap: cover a global perspective on the past, present & future of factoring, bringing together excellent historians with the top experts in the field, unifying these specialists around a shared academic and professional approach, producing a single vision of past legacies, current developments and future possibilities.The collaborative Factors & Actors project has been developed and fleshed out step by step. It has never been restricted to any particular region of the world, or any particular context or product. The collective work offered to the reader includes 30 contributions from 37 contributors who, each in their own way, cast a different eye over the birth of the global organization, the origins of such a type of financing, its 50 years of emergence and its future development against a backdrop of ever stricter regulation, compliance and risk management and in an environment of increasing technological innovation.The objective of this project is to increase awareness about a very special financing activity and its numerous virtues supporting the real economy, via both history and geography. Today factoring stands at the crossroads. Ten years after the start of an unprecedented financial crisis, the time is ripe to promote this new form of sound, secure and innovative financing.
Herausgeber


Villepin, Patrick
Ph-D in History (Sorbonne University), Patrick de Villepin is Global Head of Factoring BNP Paribas with 15 years of experience in the Industry. He is also chairman of the French Factors Association.


Contents: Patrick de Villepin: Introduction: Factoring at a Crossroads - Patrick de Villepin: Prologue: Strength of a Multilateral Organisation - Peter Mulroy: FCI, a New Chain for Tomorrow - Erik Timmermans: IFG, Developing the Factoring Industry Worldwide - John Gielen/Erik Timmermans: EU Federation, Defending Factoring and Commercial Finance in Europe - Daniela Bonzanini: New Trends in Worldwide Factoring - Patrick de Villepin: Introduction (Past - Factoring Roots and Evolution (3 rd Century BC to 20 th Century AD)) - Damien Agut/Véronique Chankowski/Laetitia Graslin Thomé: Factoring: Origins Rooted in Ancient Times - Gérard Minaud: Getting Cash from Receivables in Ancient Rome - Armand Jamme/Enza Russo: Factors in the Middle Ages, Credit and Society at the Dawn of a New Profession - Michael Bickers: Blackwell Hall Factors in England, the Beginning of the Story - David B. Tatge/Jeremy B. Tatge: Early Growth of Factoring in America from 1628 to 1960 - Patrick de Villepin: Introduction (Present - Emerging of Modern Factoring (1960s to Present)) - Jeff Longhurst: Factoring in the UK, the Rise of Invoice Finance and ABL in Europe's Most Mature Market - Stuart Brister/Brian Martin: Factoring in the United States since 1960 - Patrick de Villepin: Secured and Highly Regulated, the French Factoring Model - Joachim Secker: Prussian Thinking as the Basis of Made in Germany - Mario Petroni/Liliana Innocenti: The Italian Way, a Creative Business under Legal and Regulatory Constraints - Patrick de Villepin: Introduction (Future - Factoring Tomorrow (the 21 st Century)) - Ilyas Khan: Factoring in Asia, a Promising Future - Jiang Xu: Factoring in China, an Ambitious Tiger - Andrew Tananbaum: Future Trends for Factoring and Commercial Finance in America - Alberto Wyderka: Factoring in Latin America and the Caribbean, a Sleeping Region - Mikhail Treyvish: Factoring in Russia, a Self Sufficient Market - Margrith Lütschg Emmenegger: Factoring in Emerging Countries - Çagatay Baydar: Turkey, Bridging the Continents via Factoring - Fatma Bouraoui/Alexandre de Fournoux/Haitham AlRefaie: Factoring in Maghreb and the Middle East, still a limited Market - Benedict Oramah: Factoring in Africa, an Emerging Continent - Patrick de Villepin: Epilogue: Disruption and New Environments in a Dangerous World - Adrian Rigby: Factoring vs. Invoice Discounting - Josep Sellés: Reverse Factoring and Confirming - John Brehcist: Asset Based Lending (ABL) - John Brehcist: Fintech, between Innovation and Regulation - Diego Tavecchia/Magdalena Wessel: From National Laws to European Supervision, Factors in a Varied and Changing Regulatory Landscape - Peter Ball: Compliance, a Necessary Constraint - Patrick de Villepin/Peter Mulroy: Risk Awareness to Tackle Fraud - Patrick de Villepin: Conclusion: Ten Proposals to Promote Factoring.
versandkostenfreie Lieferung
---
37,95 €

(inkl. MwSt.)
sofort versandfertig, Lieferfrist: 1-3 Werktage
---
Webcode: sack.de/bg4jw
Bitte ändern Sie das Passwort