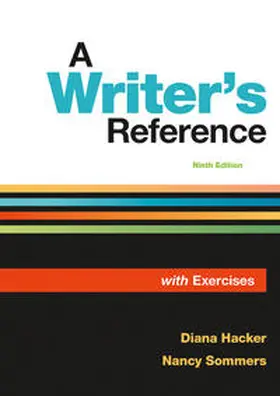 Hacker/Sommers
A Writer's Reference with Exercises
---
Buch,
608 Seiten, Spiralbindung, Format (B × H): 0 mm x 0 mm
Vorauflage:
A Writer's Reference with Exercises, 8th ed. 2019, 978-1-4576-8654-2
9th ed. 2018, 608 Seiten, Spiralbindung, Format (B × H): 0 mm x 0 mm
ISBN: 978-1-319-10696-6
Verlag: Bedford
Seite exportieren
---
---
---
---
---
For more than 25 years, this bestselling handbook has allowed students to build confidence and take ownership of their college writing experience. Emphasizing critical reading and writing, this how-to manual provides quick-access to the key answers, which helps students target their needs and see their successes. 
This is an ideal text for English Composition courses, foundation year modules, or English degree programmes.
A Writer's Reference is available with LaunchPad. LaunchPad combines an interactive ebook with high-quality multimedia content and ready-made assessment options, including LearningCurve adaptive quizzing. See 'Instructor Resources' and 'Student Resources' for further information.

Autoren


Hacker, Diana
Diana Hacker personally class-tested her handbooks with nearly four thousand students over thirty-five years at Prince George's Community College in Maryland, where she was a member of the English faculty. Hacker handbooks, built on innovation and on a keen understanding of the challenges facing student writers, are the most widely adopted in America. Hacker handbooks, all published by Bedford/St. Martin's, include The Bedford Handbook, Ninth Edition (2014); A Writer's Reference, Eighth Edition (2015); Rules for Writers, Eighth Edition (2016); and A Pocket Style Manual, Seventh Edition (2015)
Nancy Sommers, who has taught composition and directed composition programs for thirty years, now teaches writing and mentors new writing teachers at Harvard's Graduate School of Education.  She led Harvard's Expository Writing Program for twenty years, directing the first-year writing program and establishing Harvard's WAC program. A two-time Braddock Award winner, Sommers is well known for her research and publications on student writing. Her articles "Revision Strategies of Student and Experienced Writers" and "Responding to Student Writing" are two of the most widely read and anthologized articles in the field of composition.  Her recent work involves a longitudinal study of college writing to understand the role writing plays in undergraduate education. Sommers is the lead author on Hacker handbooks, all published by Bedford/St. Martin's, and is coauthor of Fields of Reading, Tenth Edition (2013)