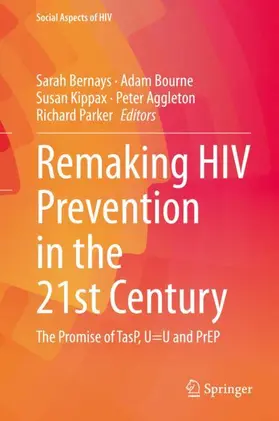 Bernays / Bourne / Kippax
Remaking HIV Prevention in the 21st Century
The Promise of TasP, U=U and PrEP
1. Auflage 2021
ISBN: 978-3-030-69818-8
Verlag: Springer, Berlin
Seite exportieren
---
Buch, Englisch, Reihe:
Social Aspects of HIV
Band: 5
260 Seiten, Gebunden, Book, Format (B × H): 155 mm x 235 mm
The Promise of TasP, U=U and PrEP
1. Auflage 2021, Band: 5, 260 Seiten, Gebunden, Book, Format (B × H): 155 mm x 235 mm Reihe: Social Aspects of HIV
ISBN: 978-3-030-69818-8
Verlag: Springer, Berlin
Seite exportieren
---
(inkl. MwSt.)
versandkostenfreie Lieferung
Lieferfrist: bis zu 10 Tage
---
---
---
---
---
---
---
This edited collection brings together the social dimensions of three key aspects of recent biomedical advance in HIV research: Treatment as Prevention (TasP), new technologies such as Pre-Exposure Prophylaxis (PrEP), and the Undetectable equals Untransmittable (U=U) movement. The growth of new forms of biomedical HIV prevention has created hope for the future, signalling the possibility of a world without AIDS. In this context, the volume discusses the profound social, political and ethical dilemmas raised by such advances, which are to do with readiness, access, equity and availability. It examines how HIV prevention has been, and is, re-framed in policy, practice and research, and asks: How best can new biomedical technologies be made available in a profoundly unequal world? What new understandings of responsibility and risk will emerge as HIV becomes a more manageable condition? What new forms of blame will emerge in a context where the technologies to prevent HIV exist, but are not always used? How best can we balance public health's concern for adherence and compliance with the rights of individuals to decide on what is best for themselves and others? Few of these questions have thus far received serious consideration in the academic literature.

The editors, all leaders in the social aspects of HIV, have brought together an innovative and international collection of essays by top thinkers and practitioners in the field of HIV. This book is an important resource for academics and professionals interested in HIV research.

Chapters "Anticipating Policy, Orienting Services, Celebrating Provision: Reflecting on Scotland's PrEP Journey" and "How the science of HIV treatment-as-prevention restructured PEPFAR's strategy: The case for scaling up ART in 'epidemic control' countries" are available open access under a Creative Commons Attribution 4.0 International License via link.springer.com.
Herausgeber


Bernays, Sarah
Sarah Bernays holds a joint position as an associate professor at the London School of Hygiene and Tropical Medicine and a senior lecturer at University of Sydney. She is a medical anthropologist, specialising in sexual and reproductive health in east and southern Africa.

Adam Bourne is an associate professor of public health in the Australian Research Centre in Sex, Health and Society at La Trobe University, Melbourne, where he leads the LGBTIQ health and wellbeing research program. He has worked extensively in social and behavioural HIV prevention and care research among gay, bisexual and other men who have sex with men across Europe, Sub-Saharan Africa and South East Asia.

Susan Kippax is an emeritus professor in the Social Policy Research Centre at UNSW Sydney and a Fellow of the Academy of the Social Sciences of Australia.  For many years she was the director of the National Centre in HIV Social Research.  She is former joint Editor-in-Chief of the Journal of the International AIDS Society and her most recent book (with Niamh Stephenson) is Socialising the Biomedical Turn in HIV Prevention (2016, Anthem).

Peter Aggleton has worked internationally on the social aspects of HIV, sexuality, gender, health and rights for over 30 years. He is an emeritus professor at UNSW Sydney; a distinguished honorary professor at the Australian National University; and an honorary professor in the Centre for Gender and Global Health at UCL in London.  He is Editor-in-Chief of Culture, Health & Sexuality, Health Education Journal and Sex Education.

Richard Parker is a professor emeritus in sociomedical sciences and anthropology at Columbia University and a senior visiting professor in the Institute for the Study of Collective Health at the Federal University of Rio de Janeiro, as well as the director of ABIA (the Associação Brasileira Interdiscplinar de AIDS) and Editor-in-Chief of Global Public Health. His research has focused on the social and cultural construction of gender and sexuality, the social aspects of HIV, and the politics of global health.



Chapter 1. Introduction (Sarah Bernays, Adam Bourne, Susan Kippax, Peter Aggleton and Richard Parker).- Part I: Efficacy and Effectiveness: Shaping Policy and Informing Interventions.- Chapter 2. 'PrEP is a Programme': What does this mean for policy (Hakan Seckinelgin).- Chapter 3. Making the ideal real: Biomedical HIV prevention as social public health (Mark Davis).- Chapter 4. PrEP, HIV, and the Importance of Health Communication (Josh Grimm and Joseph Schwartz).- Chapter 5. Anticipating Policy, Orienting Services, Celebrating Provision: Reflecting on Scotland's PrEP Journey (Ingrid Young).- Chapter 6. Fighting for PrEP: The politics of recognition and redistribution to access AIDS medicines in Brazil (Felipe de Carvalho Borges da Fonseca, Pedro Villardi and Veriano Terto Jr.).- Part II: Pleasure, Agency and Desire.- Chapter 7. The Beatification of the Clinic: biomedical prevention 'from below' (Kane Race).- Chapter 8. New potentials for old pleasures: The role of PrEP in facilitating sexual well-being among gay and bisexual men (Bryan A. Kutner, Adam Bourne and Will Nutland).- Chapter 9. New hierarchies of desirability and old forms of deviance related to PrEP: Insights from the Canadian experience with an epilogue about the COVID-19 pandemic (Adrian Guta, Peter A. Newman and Ashley Lacombe-Duncan).- Chapter 10. Agency, Pleasure & Justice: A Public Health Ethics Perspective on the Use of PrEP by Gay and Other Homosexually-Active Men (Julien Brisson, Vardit Ravitsky and Bryn Williams-Jones).- Part III: Provision Politics and New Forms of Governmentality.- Chapter 11. The political life of PrEP in England: an ethnographic account (Sara Paparini).- Chapter 12. PrEP trials and the politics of provision (Catherine Dodds).- Chapter 13. The stigma struggles of biomedical progress: PrEP and the potential for community engagement (Andy Guise).- Chapter 14. How the science of HIV treatment-as-prevention restructured PEPFAR's strategy: The case for scaling up ART in 'epidemic control' countries (Ryan Whitacre).- Chapter 15. Getting real on U=U: Human rights and gender as critical frameworks for action (Laura Ferguson, William Jardell and Sofia Gruskin).- Chapter 16. Falling short of 90-90-90: how missed targets govern disease elimination (Kari Lancaster and Tim Rhodes).- Part IV: Anticipating and Understanding the Consequences of Biomedicine.- Chapter 17. Stigma and confidentiality indiscretions: Intersecting obstacles to the delivery of Pre-Exposure Prophylaxis to adolescent girls and young women in east Zimbabwe(Morten Skovdal, Phyllis Magoge-Mandizvidza, Rufurwokuda Maswera, Melinda Moyo, Constance Nyamukapa, Ranjeeta Thomas and Simon Gregson).- Chapter 18. Imagined futures and unintended consequences in the making of PrEP: an evidence-making intervention perspective (Martin Holt).- Chapter 19. The drive to take an HIV test in rural Uganda: a risk to prevention for young people? (Sarah Bernays, Allen Asiimwe, Edward Tumwesige and Janet Seeley).- Chapter 20.  Entangled bodies in a PrEP demonstration project (Lisa Lazarus, Robert Lorway and Sushena Reza-Paul).- Chapter 21. An unfinished history: a story of ongoing events and mutating HIV problems (Marsha Rosengarten).

versandkostenfreie Lieferung
---
117,69 €

(inkl. MwSt.)
Lieferfrist: bis zu 10 Tage
---
Webcode: sack.de/i1clh
Bitte ändern Sie das Passwort