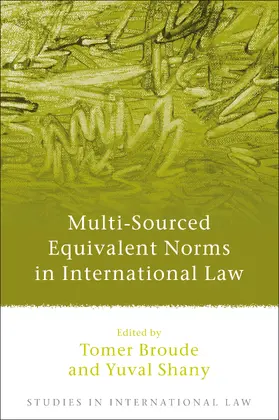 Broude / Shany
Multi-Sourced Equivalent Norms in International Law
---
(inkl. MwSt.)
versandkostenfreie Lieferung
Lieferfrist: bis zu 10 Tage
---
---
---
---
---
---
Recent decades have witnessed an impressive process of normative development in international law. Numerous new treaties have been concluded, at global and regional levels, establishing far-reaching international legal and regulatory regimes in important areas such as human rights, international trade, environmental protection, criminal law, intellectual property, and more. New political and judicial institutions have been established to develop, apply and adjudicate these rules. This trend has been accompanied by the growing consolidation of treaty norms into international custom, and increased references to international law in domestic settings. As a result of these developments, international relations have now reached an unprecedented level of normative density and intensity, but they have also given rise to the phenomenon of 'fragmentation'.

The debate over the fragmentation of international law has largely focused on conflicts: conflicts of norms and conflicts of authority. However, the same developments that have given rise to greater conflict and contradiction in international law, have also produced a growing amount of normative equivalence between rules in different fields of international law. New treaty rules often echo existing international customary norms. Regional arrangements reinforce undertakings that already exist at the global level; and common concerns and solutions appear in many international legal fields. This book focuses on such instances of normative parallelism, developing the concept of 'multisourced equivalent norms' in international law, with contributions by leading international law experts exploring the legal and political implications of the concept in a variety of contexts that span the full spectrum of international legal norms and institutions. By concentrating on situations governed by a multitude of similar norms, the book emphasizes the importance of legal contexts and institutional settings to international law-interpretation and application.
Herausgeber


Broude, Tomer
Tomer Broude is the Sylvan M. Cohen Chair in Law at the Faculty of Law and Department of International Relations, and the Academic Director of the Minerva Center for Human Rights at the Hebrew University of Jerusalem.

Shany, Yuval
Yuval Shany is the Hersch Lauterpacht Chair in Public International Law at the Faculty of Law of the Hebrew University of Jerusalem and a director in the Project on International Courts and Tribunals.


1 The International Law and Policy of Multi-Sourced Equivalent Norms
Tomer Broude and Yuval Shany
PART I
MSENS AND THE FRAGMENTATION OF INTERNATIONAL LAW
2 Conflict of Norms or Conflict of Laws? Different Techniques in the Fragmentation of International Law
Ralf Michaels and Joost Pauwelyn
3 The Power of Secondary Rules to Connect the International and National Legal Orders
André Nollkaemper
4 Multi-Sourced Equivalent Norms from the Standpoint of Governments
Erik Denters and Tarcisio Gazzini
PART II
MSENS IN JUDICIAL PRACTICE
5 Interpreting Multi-Sourced Equivalent Norms: Judicial Borrowing in International Courts
Benedikt Pirker
6 Jurisdictions and Applicable Law Clauses: Where does a Tribunal find the Principal Norms Applicable to the Case before it?
Lorand Bartels
7 The OSPAR Convention, the Aarhus Convention and EC Law: Normative and Institutional Fragmentation on the Right of Access to Environmental Information
Nikolaos Lavranos
8 EU Review of UN Anti-Terror Sanctions: Judicial Juggling in a Four-Layer, Multi-Sourced, Equivalent-Norms Scenario
Guy Harpaz
PART III
MSENS IN SPECIFIC NORMATIVE AND INSTITUTIONAL CONTEXTS
9 The Interaction between International Investment Law and Human Rights Treaties: A Sociological Perspective
Moshe Hirsch
10 Delineating Primary and Secondary Rules on Necessity at International Law
Jurgen Kurtz
11 Equivalent Primary Rules and Differential Secondary Rules: Countermeasures in WTO and Investment Protection Law
Martins Paparinskis
12 Multi-Sourced Equivalent Norms and the Legitimacy of Indigenous Peoples' Rights under International Law
Claire Charters
13 Multi-Sourced Equivalent Norms: Concluding Thoughts
Robert Howse
versandkostenfreie Lieferung
---
98,87 €

(inkl. MwSt.)
Lieferfrist: bis zu 10 Tage
Aufgrund der Corona-Krise kann es in Einzelfällen zu deutlich längeren Lieferzeiten kommen.
---
Webcode: sack.de/ef8k5
Bitte ändern Sie das Passwort