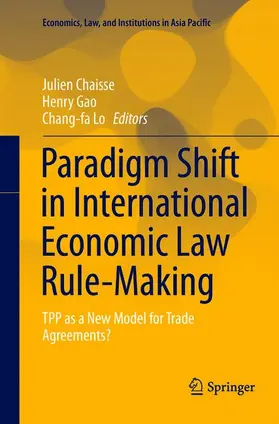 Chaisse / Gao / Lo
Paradigm Shift in International Economic Law Rule-Making
TPP as a New Model for Trade Agreements?
Softcover Nachdruck of the original 1. Auflage 2017
ISBN: 978-981-1349-40-9
Verlag: Springer, Berlin
Seite exportieren
---
(inkl. MwSt.)
versandkostenfreie Lieferung
Lieferfrist: bis zu 10 Tage
---
---
---
---
---
---
---
The TPP  was negotiated among 12 economically diverse countries, including some most highly developed and rich countries (i.e., the United States, Japan, Australia, Canada, New Zealand, and Singapore), some newly industrialized countries (i.e., Mexico and Malaysia), and some less-developed countries (i.e., Peru, Chile, and Vietnam). A new paradigm created in this context is that countries with vastly different economic developments can actually agree on a set of very high standards to regulate their economic activities, to liberalize their trade, and to protect intellectual property  and foreign investment. The contents of the TPP also reflect its status of being a "new paradigm" as the "21st-Century Trade Agreement"  and being a pioneer in rule making in many key regulatory areas. These include not only the improved and enhanced rules on traditional issues already covered by the WTO, such as goods, services, and IP rights, but also the carefully designed rules in areas that have never been addressed in the WTO or comprehensively covered in other FTAs, such as state-owned enterprises, electronic commerce, and labor and environmental issues. Although the United States has withdrawn from the TPP, the remaining countries are still putting efforts into establishing a TPP without the United States or a TPP with China. Economically speaking, the current 11 parties account for about 20 % of the global economy. If such agreement is put into force, there will be significant implications for the region, for the multilateral system, and even for other FTAs. The book addresses the potential of the TPP to change the ways trade and investments are conducted and argues for its potential to be the start of an international trade/economic law revolution. The book elaborates the relationship between the TPP and other existing trade agreements such as the WTO and other FTAs and explains how the TPP is to deal with traditional and new issues. Taken together, the authors argue that the implications of the TPP go beyond its current membership. It is hoped that the book will make an important contribution to the field of international economic law.
Herausgeber


Chaisse, Julien
Editors
Julien Chaisse is Professor at The Chinese University of Hong Kong (CUHK), Faculty of Law. He is an award-winning scholar of international law with a special focus on the regulation and development of economic globalization. His teaching and research include international trade/investment law, international taxation, law of natural resources, and Internet law. Prior to joining CUHK in 2009, Dr. Chaisse was a senior research fellow at the World Trade Institute (Switzerland). He also held an appointment as lecturer at elite school Sciences Po Aix (France) and served as a diplomat at the Embassy of France in New Delhi (India).Dr. Chaisse is frequently invited to lecture at many academic institutions and leading universities around the world, including Columbia University (U.S.), University of Oxford (U.K.), Melbourne University (Australia), Tokyo University (Japan), and Tsinghua University (China). Dr. Chaisse has published numerous well-regarded and widely-cited books and articles, such as "The Regulation of Global Water Services Market," Cambridge University Press (2017); "International Economic Law and Governance," Oxford University Press (2016); Shareholder Protection Reloaded, Stanford Journal of International Law (2016); Navigating the Expanding Universe of International Treaties on Foreign Investment, Journal of International Economic Law (2015); Maintaining the WTO's Supremacy in the International Trade Order, Journal of International Economic Law (2013); and Promises and Pitfalls of the European Union Policy on Foreign Investment, Journal of International Economic Law (2012).
In recognition of his outstanding academic performance, Dr. Chaisse received the CUHK Vice-Chancellor's Exemplary Teaching Award in 2015 and the CUHK Research Award in 2012. Dr. Chaisse has held the appointment of Director of the Centre for Financial Regulation and Economic Development at CUHK Law since 2013, and has established forward-looking legal projects and events at CUHK, including the series of "Asia FDI Forum," which has become the most prominent conference on foreign investment regulation in Asia.
In addition to his professorship, Dr. Chaisse is a well-experienced arbitrator and a leading consultant to international organizations, governments, multinational law firms, and private investors. He is also member of some of the world's foremost organizations, including the World Economic Forum's International Trade and Investment Council and the Internet Corporation for Assigned Names and Numbers (ICANN) in which Dr. Chaisse serves on the Working Group on gTLDs' rights protection mechanisms review and the Accountability and Transparency Review program.

Henry Gao is Associate Professor of law at Singapore Management University and Dongfang Scholar Chair Professor at Shanghai Institute of Foreign Trade. With law degrees from three continents, he started his career as the first Chinese lawyer at the WTO Secretariat. Before moving to Singapore in late 2007, he taught law at University of Hong Kong, where he was also the Deputy Director of the East Asian International Economic Law and Policy Program. He has taught at the IELPO program in Barcelona and the Academy of International Trade Law in Macau, and was the Academic Coordinator to the first Asia-Pacific Regional Trade Policy Course officially sponsored by the WTO. Widely published on issues relating to China and WTO, Prof. Gao's research has been featured in CNN, BBC, The Economist, Wall Street Journal and Financial Times. He has advised many national governments as well as the WTO, World Bank, Asian Development Bank, APEC and ASEAN on trade issues. He sits on the Advisory Board of the WTO Chairs Program, which was established by the WTO Secretariat in 2009 to promote research and teaching on WTO issues in leading universities around the world. He is also a member o


1 Introduction: Trade policies in the post-TPP era (Julien Chaisse, Henry Gao, Chang fa Lo).- Part 1 The Impact of TPP on International Economic Law Rule-Making.- 2 The Coherent Fragmentation of International Economic Law: Lessons from the Transpacific Partnership Agreement (Colin B. Picker).- 3 On Creating Negotiation Rounds Similar to Multilateral Regimes for the TPP for its Further Improvement (Chang-fa Lo).- 4 TPP Trade Remedy System: Development or Divergence from the WTO? (Dukgeun Ahn; Ji Yeong Yoo).- 5 Rules of Origin in the Trans-Pacific Partnership (Margaret Liang).- 6 Dispute Settlement in the TPP and the WTO: Which way will Asian TPP Members turn? (Lisa Toohey).- 7 Friends with Benefits? Amicus Curiae in the TPP Investor-state Dispute Settlement Mechanism (Fernando Dias Simões).- 8 Investment Arbitration under Mega-regional Free Trade Agreements: A 21st Century Model (Mark Feldman).- 9 Market Access for Goods in the TPP: The Good, the Bad, and the Ugly (Deborah Elms).- Part 2 New Issues and TPP: Revamping The International Economic Order.- 10 Competition Chapter in the Trans-Pacific Partnership Agreement: Developing a Template for a Multilateral Framework (Ma. Joy Abrenica; Johannes Bernabe).- 11 State-Owned Enterprises in the TPP Agreement (Mitsuo Matsushita).- 12 Anti-Corruption Provisions in the TPP: Innovation, effectiveness and Prospects (Chang-fa Lo).- 13 TPP Promoting Financial Services as an Investment Playground: Crystalizing a Change in Approach from GATS? (Antoine P. Martin; Bryan Mercurio).- 14 WTO to the TPP: Evolution of Environmental Provisions in Trade Agreements (R.V. Anuradha).- 15 Enhancing Labour Protection through TPP Labour and Investment Chapters (Tsai-yu Lin).- 16 TPP's coup de grâce: How the Trademark system prevailed as Geographical Indication system (Danny Friedmann).- 17 The Convergence or Divergence of China's FTAs and the TPP? A Case Study of the China-Korea FTA (Heng Wang).- 18 Government Procurement in TPP and its Implications for China's GPA Accession Negotiation (Xinquan TU; Na SUN).- 19 The TPP and Government Procurement in Malaysia (Haniff Ahamat; Nasarudin Abdul Rahman).- Part 3 The Regulation of E-Commerce in the TPP.- 20 The Regulation of Digital Trade in the TPP: From Trade Regulation to Digital Regulation (Henry Gao).- 21 Data protection in the TPP: more emphasis on the "use" than the "protection" (Nohyoung Park).- 22 Digital Copyright in the TPP (Jyh-An Lee).- 23 The TPP and the Digital Economy: The Agreement's Potential as a Benchmark for Future Rule-Making (Simon Lacey).- Part 4 The Implications of TPP on Asia and Beyond.- 24 Mega-FTAs and Plurilateral Trade Agreements: Implications for the Asia-Pacific (Meredith Kolsky Lewis).- 25 Accession to TPP: Veto Power and "Opt-out" Option (Shintaro Hamanaka).- 26 Memento Mori: Membership Issues Surrounding Entry into, Modification of, and Withdrawal from the TPP (Tomohiko Kobayashi).- 27 How Far can Indonesia Go? Utilizing TSIA on the Would-be TPP Impact for Indonesia (Riza N. Arfani; Poppy S. Winanti).- 28 Picking the Right Alternative: Should India participate in TPP instead of RCEP? (Debashis Chakraborty).- Index.
;
versandkostenfreie Lieferung
---
165,84 €

(inkl. MwSt.)
Lieferfrist: bis zu 10 Tage
Aufgrund der Corona-Krise kann es in Einzelfällen zu deutlich längeren Lieferzeiten kommen.
---
Webcode: sack.de/40za8
Bitte ändern Sie das Passwort