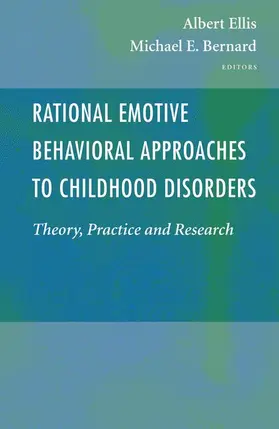 Ellis / Bernard
Rational Emotive Behavioral Approaches to Childhood Disorders
Theory, Practice and Research
1. Auflage. Softcover version of original hardcover Auflage 2006
ISBN: 978-1-4419-3886-2
Verlag: Springer, Berlin
Seite exportieren
---
Buch, Englisch,
474 Seiten, Kartoniert, Paperback, Format (B × H): 15 mm x 23 mm, Gewicht: 732 g
Erhältlich auch als
Theory, Practice and Research
1. Auflage. Softcover version of original hardcover Auflage 2006, 474 Seiten, Kartoniert, Paperback, Format (B × H): 15 mm x 23 mm, Gewicht: 732 g
ISBN: 978-1-4419-3886-2
Verlag: Springer, Berlin
Seite exportieren
---
(inkl. MwSt.)
versandkostenfreie Lieferung
Lieferfrist: bis zu 10 Tage
---
---
---
---
---
---
---
Since the groundbreaking first edition of Rational Emotive Approaches to the Problems of Childhood by Albert Ellis and Michael Bernard two decades ago, our understanding of the nature and treatment of children's problems has grown considerably. Now in a completely new volume, Albert Ellis and children's REBT specialist Professor Michael Bernard have revised and updated this pioneering volume to reflect both the latest in clinical practice and research.

Fourteen expert contributors (including many from the original) share with the editors a deep commitment to integrating REBT with other cognitive-behavioral methods, and to providing young people with developmentally appropriate care. Together they give readers a practical framework for conducting assessment, treatment, and prevention with individuals, clients and groups as well as in family and school settings.

Key features of this new edition include:

- Developmental considerations in using REBT with children and adolescents

- Specific chapters devoted to major disorders -- aggression, phobias anxiety, depression, academic underachievement, and ADHD

- Latest strategies for challenging and changing the irrational beliefs of young people

- Techniques for building key REBT skills: emotional resilience and frustration tolerance

- Extensive research findings on the efficacy of REBT with young people

- Brand-new material on special issues -- involving parents, conducting group sessions, and working with exceptional children

- An overview of Rational Emotive Education and You Can Do It! Education, school-based applications of REBT

With coverage this thorough, Ellis, Bernard, and collaborators have created a resource of immediate value to child and adolescent mental health practitioners including school psychologists, school counselors, school social workers, behavior therapists, and family therapists, and educators involved in helping young people overcome behavioral disorders.
Herausgeber


Ellis, Albert
Dr. Albert Ellis holds a Ph.D. in Clinical Psychology from Columbia University and is President of the Institute for Rational-Emotive Therapy in New York City. He is the founder of rational-emotive therapy (RET) and the grandfather of cognitive-behavior therapy (CBT). Several professional societies have honored him: He holds the Humanist of the Year Award of the American Humanist Association, the Distinguished Psychologist Award of the Academy of Psychologists in Marital and Family Therapy, and the Distinguished Practitioner Award of the American Association of Sex Educators, Counselors and Therapists. The American Psychological Association has given him its major award for Distinguished Professional Contributions to Knowledge (and the American Association for Counseling and Development has given him its major Professional Development Award.) He has published more than 70 books and over 700 articles on psychotherapy, sex, love, and marital relationships. Still going strong, he sees about 70 individual clients and conducts 5 group therapy sessions each week at the psychotherapy clinic of the Institute, supervises interns and postdoctoral fellows, and gives numerous talks and workshops in the United States and abroad.
Professor Michael E. Bernard is the Founder of You Can Do It! Education, a program for promoting student social-emotional well-being and achievement that is being used in over 6,000 schools in Australia, New Zealand, England and North America. After receiving his doctorate in educational psychology from the University of Wisconsin, Madison, he worked for 18 years in the College of Education, University of Melbourne, Australia. In 1983, he was appointed as Reader and Coordinator of the Master of Educational Psychology Program. From 1995-2005, he was a tenured professor in the Department of Educational Psychology, Administration and Counseling, College of Education, at California State University, Long Beach. Professor Bernard has worked as a consultant school psychologist helping families and schools address the educational and mental health needs of school-age children. He has spent extensive time counseling children with emotional, behavioral or academic difficulties. Professor Bernard is a co-founder of the Australian Institute for Rational Emotive Behavior Therapy and is the author of many books on REBT. For eight years, he was the editor-in-chief of the Journal of Rational-Emotive and Cognitive-Behavior Therapy. He is the author of over 50 books, 15 book chapters and 30 journal articles in the area of children's early childhood development, learning and social-emotional well-being as well as parent education, teacher professional development and school improvement. Today, Professor Bernard is an international consultant to universities, educational authorities, organisations and government. He is a professor at the University of Melbourne, Faculty of Education.


Section I. Introduction, Rationale, and Basic Issues:
Chapter 1. Rational Emotive Behavioral Approaches to Childhood Disorders: History, Theory, Practice and Research, Michael E. Bernard, Albert Ellis and Mark Terjesen. Chapter 2. REBT Assessment and Treatment with Children, Raymond DiGiuseppe and Michael E. Bernard. Chapter 3. REBT Assessment and Treatment with Adolescents, Howard Young. Chapter 4. Frustration Tolerance Training for Children and Adolescents, William J. Knaus. Chapter 5. Emotional Resilience Training for Children and Adolescents, Michael E. Bernard and Daniela Pires.
Section II. Disorders Of Childhood:
Chapter 6. A Developmental, Rational Emotive Behavioral Approach for Working with Parents, Marie Joyce. Chapter 7. Depression in Children and Adolescents: REBT Approaches to Assessment and Treatment, Ann Vernon. Chapter 8. Childhood Anxieties, Fears, and Phobias: A Cognitive-Behavioral, Psychosituational Approach, Russell Grieger and John Boyd. Chapter 9. Treating Aggressive Children: A Rational-Emotive Behavior Systems Approach, Raymond DiGiuseppe and Jill Kelter. Chapter 10. Rational Emotive Behavior Therapy and Attention Deficit Disorders, Kristene Doyle and Mark Terjesen. Chapter 11. Working with the Educational Underachiever: A Social and Emotional Developmental Approach, Michael E. Bernard.
Section III. Applications:
Chapter 12. Working with the Parents and Teachers of Exceptional Children, John McInerney and Bridget McInerney. Chapter 13. Rational Emotive Behavior Group Therapy with Children and Adolescents, MarkTerjesen and Maria A. Esposito. Chapter 14. Applications of REBT in Schools: Prevention, Promotion, Intervention, Ann Vernon and Michael Bernard.
Professional/practitioner
versandkostenfreie Lieferung
---
106,99 €

(inkl. MwSt.)
Lieferfrist: bis zu 10 Tage
Aufgrund der Corona-Krise kann es in Einzelfällen zu deutlich längeren Lieferzeiten kommen.
---
Webcode: sack.de/erqo2
Bitte ändern Sie das Passwort