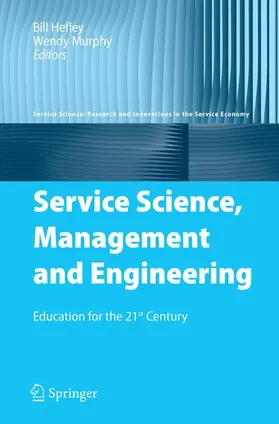 Hefley / Murphy
Service Science, Management and Engineering
Education for the 21st Century
Softcover Nachdruck of hardcover 1. Auflage 2008
ISBN: 978-1-4419-4568-6
Verlag: Springer, Berlin
Seite exportieren
---
(inkl. MwSt.)
versandkostenfreie Lieferung
Lieferfrist: bis zu 10 Tage
---
---
---
---
---
---
Papers in this unique volume were developed from the 2006 conference hosted by IBM, Service Science, Management, and Engineering (SSME) — Education for the 21st Century. The book incorporates a variety of perspectives, informed by an international background in SSME experience and education, including management, business, social science, computer science and engineering. Readers will derive an understanding of education needs and program offerings in SSME.
Herausgeber


Preface.- Executive Summary.- Conference Summary: A View from Palisades.- SSME Discipline: Legitimizing SSME in Academia: Critical Considerations and Essential Actions.- Holistic Trinity of Services Sciences: Management, Social, and Engineering Sciences.- SSME, Operations Research and Education.- A Designer's View of SSME.- SSME-Let's Not Forget About Customers and Revenue.- Psychology of the Experience: The Missing Link in Service Science.- Challenges of Industrial Service Business Development.- A Research Based Educational Initiative: The Institute for International Services Innovation at Trinity College Dublin.- Defining the Research Agenda: Technology Management as a Contributor to Service Sciences, Management and Engineering.- Actionable Process Theories: A Unique Selling Proposition for a Science of Services.- Quality System Management and Education in Service Environments.- Art of Service: Drawing the arts to inform service design and specification.- Service Science, Management and Engineering: A Way of Managing Sociotechnical Systems.- A Service Logic for Service Science.- The Service-Dominant Mindset.- An Integrated Approach to Service Innovation.- SSME Education: Moving the Service Science Concept to Curricular Reality.- Defining a Curriculum for Service Systems Engineering.- Educating the Service Manager in Europe - Assessing Gaps and Opportunities.- Service Science, Management and Engineering Curricula and Research at NC State University.- Bringing Service Sciences into the Curriculum.- Strategy for Inserting SSME into the Undergraduate Experience at a Minority Serving Institution.- Putting Requirements and Quality at the Core of Global Service Delivery: Current Efforts and Future Plans at Pace University.- Rochester Institute of Technology - Service Management .- Getting Students Excited About Services: Providing a Context for Applying Their Newly Acquired Knowledge.- Educating Services Science Leaders toThink Holistically About Enterprises .- Services Research Collaborations: Beyond the Ivory Tower.- Progress Report of Efforts Towards a Research and Education Agenda for Services Science in the EU and Greece.- A Master Program in Services Engineering and Management at the University of Porto.- Engineering of Digital Services - A New Degree that Integrates Business Process and Information Engineering.- SSME at Manchester: Bringing People, Business and Technology Together.- A Research & Educational Framework for ICT/S Service Management.- Education and Research of Service Science and Technology in Tsinghua University.- The Current State and Development Plan of Research and Education on SSME in Harbin Institute of Technology.- SSME Research: Services Science Journey: Foundations, Progress, and Challenges.- Service Supply Chain in the Department of Defense: Opportunities and Challenges.- The Global Information Economy, Service Industrialization and the UCLA BIT Project.- Data Support Design for Services Science Modeling.- Process and Services Fusion Impact Assessment: SSME Findings from Industry Collaboration and the Need for Competency Centers.- iLab.1: A University-Industry Collaboration to Enhance Health Plan Services.- SSME: How to Solve It.- Models, Contexts, and Value Chains for Services Sciences.- Complexity and the Services Science Agenda.- Service Science, Management, Engineering and eOrganisations.- Towards Customer Centric Physical and Virtual Environment - Platform for Services.- Constructing Service Machines - Global Sourcing of Knowledge-Intensive Services.- Service Engineering of Call Centers: Research, Teaching, and Practice.- Innovation in Services: From Service Concepts to Service Experiences.- Service Beyond - Enabling Technologies to Boost Service Business.- Bringing Service Design to Service Sciences, Management and Engineering.- Research and Education of SSME in Japanese Universities.- Service Science - A Japanese
versandkostenfreie Lieferung
---
149,79 €

(inkl. MwSt.)
Lieferfrist: bis zu 10 Tage
Aufgrund der Corona-Krise kann es in Einzelfällen zu deutlich längeren Lieferzeiten kommen.
---
Webcode: sack.de/04kee
Bitte ändern Sie das Passwort