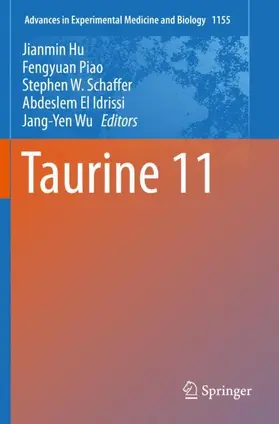 Hu / Piao / Schaffer
Taurine 11
---
Buch, Englisch, Reihe:
Advances in Experimental Medic
Band: 1155
1081 Seiten, Kartoniert, Book, Format (B × H): 158 mm x 51 mm, Gewicht: 1930 g
Erhältlich auch als
---
(inkl. MwSt.)
versandkostenfreie Lieferung
Lieferfrist: bis zu 10 Tage
---
---
---
---
---
---
---
This book gathers a selection of original articles and critical reviews presented at the 21st International Taurine Meeting, held in Shenyang, China in May 2018, which discussed and disseminated the latest findings on taurine, especially in human life. The book is divided into eight parts, which respectively address: Taurine and Metabolism, Taurine and Nutrition, Taurine and Organ Dysfunction, Taurine and Heart Health, Taurine and Anti-cancer, Taurine and Anti-oxidation / Anti-microbial, Taurine and Neuroprotection, and Taurine and Anti-inflammatory. These latest discoveries concerning the functions and advantageous effects of taurine on the health of various human body systems will not only advance the treatment of human diseases and the quality of human life, but also promote further research into the applications of taurine in human health.
Herausgeber


El Idrissi, Abdeslem
Jianmin Hu is a professor and president in College of Animal Science and Veterinary Medicine, Shenyang Agricultural University. He is also the member of the board of directors of Animal Physiology and Biochemistry Branch of Chinese Association of Animal Science and Veterinary Medicine.
Fengyuan Piao is a professor in Department of Occupational and Environmental Health, Dalian Medicine University in China. 
Stephen W. Schaffer is professor emeritus in Department of Pharmacology, College of Medicine, University of South Alabama. 
Abdeslem EI Idrissi is a professor in College of Staten Island, Center for Developmental Neuroscience, City University of New York. 
Jang-Yen Wu is a professor in Department of Biomedical Science, Charles E. Schmidt College of Medicine, Florida Atlantic University.


Part 1: Taurine and Metabolism.- Chapter 1: Effect of aging on taurine transporter (TauT) expression in the mouse brain cortex.- Chapter 2: Effect of Taurine on Intestinal Microbiota and Immune Cells in Peyer's Patches of Immunosuppressive Mice.- Chapter 3: Effects of Chronic Intake of a Low Concentration of Taurine on Physical Strength and Body Composition in Mice.- Chapter 4: Infuences of Taurine Deficiency on Bile ACIDS of the Bile in the Cat Model.- Chapter 5: Inhibition of Renin-Angiotensin System from Concep-tion to Young Mature Life Induces Salt-Sensitive Hy-pertension via Angiotensin II-Induced Sympathetic Overactivity in Adult Male Rats.- Chapter 6: TAURINE CHLORAMINE INHIBITS OSTEOCLASTIC DIFFERENTIATION AND OSTEOCLAST MARKER EXPRESSION IN RAW 264.7 CELLS.- Chapter 7: Taurine Enhances the Protective Actions of Fish Oil Against D-Galactosamine-Induced Metabolic Changes and Hepatic Lipid Accumulation and Injury in the Rat.- Chapter 8: Taurine Improves the Actions of Metformin and Lovastatin on Plasma Markers of Carbohydrate and Lipid Dysfunction of Diabetic Rats.- Chapter 9: Taurine Supplementation Inhibits Cardiac and Systemic Renin-Angiotensin System Overactivi-ty after Cardiac Ischemia/Reperfusion in Adult Female Rats Perinatally Depleted of Taurine Fol-lowed by High Sugar Intake.- Chapter 10: The Production of a Rat Model That Inhibits Phosphoenolpyruvate Carboxykinase (PEPCK), a Rate-Limiting Enzyme of Hepatic Gluconeogenesis.- Chapter 11: The Production of a Rat Model That Inhibits Phosphoenolpyruvate Carboxykinase (PEPCK), a Rate-Limiting Enzyme of Hepatic Gluconeogenesis.- Chapter 12: Taurine Improves Lipid Metabolism and Skeletal Muscle Sensitivity to Insulin in Rats Fed with High Sugar and High Fat Diet.- Chapter 13: Taurine Inhibited Uric Acid Uptake in HK-2 Renal Tubular Epithelial Cells.- Chapter 14: Role of Taurine in Testicular Function in the Fragile x Mouse.- Chapter 15: EFFECT of Taurine on Cell Function Via TXNIP Induction in CACO-2 Cells.- Chapter 16: Taurine regulation of peripheral hemodynamics.- Part 2: Taurine and Nutrition.- Chapter 17: Antioxidant and Anti-Stress Effects of Taurine Against Electric Foot-Shock-Induced Acute Stress in Rats.- Chapter 18: Taurine promotes rat follicle development, oocyte maturation, fertilization and cleavage in vitro.- Chapter 19: Consumption Patterns and Importance-Performance Analysis of Home Meal Replacements by Level of Taurine-related Nutritional Knowledge in Korean Adults.- Chapter 20: Demands for Development of Taurine-Containing Home Meal Replacement for Prevention of Dementia According to Age.- Chapter 21: Dietary Taurine Intake and Its Food Sources in Korean Young Adults using 2015 Korea National Health and Nutrition Examination Survey Data.- Chapter 22: Effects of Dietary Taurine Supplementation on Blood and Urine Taurine Concentrations in the Elderly Women with Dementia.- Chapter 23: Effects of Taurine on Eusociality of Ants.- Chapter 24: Food Preference Of The Elderly For The Development Of Taurine-Containing Elderly-Friendly Foods.- Chapter 25: LAXATIVE EFFECTS OF TAURINE ON LOPERAMIDE-INDUCED CONSTIPATION IN RATS.- Chapter 26: Positive Changes in Blood Lipid Profiles, Nutrition Knowledge, and Dietary Taurine Intake after 8-week Nutrition Education Program in Low-income Korean Children.- Chapter 27: Relation of Taurine Intake During Pregnancy and Newborns' Growth.- Chapter 28: Relationship among Dietary Taurine Intake, Dietary Attitudes, Dietary Behaviors, and Life Stress by Depression in Korean Female College Students.- Chapter 29: Relationship Between Taurine Intake and Cardiometabolic Risk Markers in Korean Elderly.- Chapter 30: Relationships between the purposes of Taurine-Contained Nutritional Drink Intake and Lifestyle Habits: a Cross-Sectional Survey of Workers in Japan.- Chapter 31: Taurine-Related Nutritional Knowledge has a Positive Effect on Intake of Taurine and Cognitive Function in the Elderly.- Chapter 32: The Development of Taurine Supplementary Menus for the Prevention of Dementia and Their Positive Effect on The Cognitive Function in the Elderly with Dementia.- Chapter 33: The Intake of Taurine and Major Food Source of Taurine in Elementary School Children in Korea.- Chapter 34: Taurine Enhances Stretch Reflex Excitability.- Part 3: Taurine and Organ Dysfunction.- Chapter 35: Modification by Ethanol and Taurine, Singly and in Combination, of Changes in Indices of Renal Dysfunction Caused by Diabetes In Rats.- Chapter 36: Effect of Taurine on Thymus Differentiation of Dex-Induced Immunosuppressive Mice.- Chapter 37: Effects of taurine on broiler aortic endothelial apoptosis induced by heat stress.- Chapter 38: Effects of Taurine Supplementation on Vascular Endothelial Function at Rest and after Resistance Exercise.- Chapter 39: Perinatal Taurine Supplementation Prevents the Adverse Effects of Maternal Dyslipidemia on Growth and Cardiovascular Control in Adult Rat Offspring.- Chapter 40: Pleiotropic Effects of Taurine on Nematode Model for Down Syndrome.- Chapter 41: Protective Effects of Taurine on the Radiation Exposure Induced Cellular Damages in the Mouse Intestine.- Chapter 42: Taurine Prevents Hyopxia-induced Chicken Cardiomyocyte Apoptosis by Inhibiting Calpian-1-derived Mitochondrial Apoptotic Pathway in vitro.- Chapter 43: Taurine Supplementation Ameliorates Arsenic-Induced Hepatotoxicity and Oxidative Stress in Mouse.- Chapter 44: Taurine-Containing Hot Water Extract Of Octopus Ocellatus Meat Prevents Methylglyoxal-Induced Vascular Damage.- Chapter 45: Taurine-Rich-Containing Hot Water Extract Of Loliolus Beka Gray Meat Scavenges Palmitate-Induced Free Radicals And Protects Against DNA Damage In Insulin Secreting beta-Cells.- Chapter 46: The Potential Effects of Taurine in Mitigation of Radiation Nephropathy.- Chapter 47: Taurine Increases Spermatozoa Quality and Function in Asthenospermia Rats Impaired by Ornidazole.- Part 4: Taurine and Heart health.- Chapter 48: Taurine-conjugated metabolites in hearts.- Part 5: Taurine and Anti-cancer.- Chapter 49: Anti-Cancer Mechanisms of Taurine in Human Nasopharyngeal Carcinoma Cells.- Chapter 50: Targeting Taurine Transporter (TauT) for Cancer Immunotherapy of p53 Mutation Mediated Cancers - Molecular Basis and Preclinical Implication.- Chapter 51: Tau-TCHF Inhibits Spleenic Apoptosis via PI3K-Akt Signaling Pathway in Chickens.- Part 6: Taurine and Anti-oxidation and Anti-microbial.- Chapter 52: A Hepatoprotective Effect of a Hot Water Extract From Lolius Beka Gray Meat Against H2O2-Induced OxidAtive Damage in Hepatocytes.- Chapter 53: An Aqueous Extract from Batillus Cornutus Meat Protects Against H2O2-Mediated Cellular Damage Via up-Regulation of Nrf2/HO-1 Signal Pathway in Chang Cells.- Chapter 54: An Aqueous Extract of Octopus Ocellatus Meat Protects Hepatocytes Against H2O2-induced Oxidative Stress Via the Regulation of Bcl-2/Bax Signaling.- Chapter 55: Antioxidant Activities of Viviparus Contectus Extract Against Tert-Butylhydroperoxide-Induced Oxidative Stress.- Chapter 56: Antioxidant and Protective Effects of Atrina Pectinata Extract.- Chapter 57: Antioxidant Effects of an Alcalase Hydrolysate from Batillus Cornutus Meat.- Chapter 58: Cytoprotective Effects of an Aqueous Extracts from Atrina Pectinate Meat in H2O2-Induced Oxidative Stress in a Human Hepatocyte.- Chapter 59: Effects of Taurine on Broiler Aortic Endothelial Cells Activity and Antioxidant Ability impired by heat stress in vitro.- Chapter 60: Hepatoprotective Activity of a Taurine-Rich Water Soluble Extract from Octopus vulgaris Meat.- Chapter 61: Hot Water Extract of Loliolus beka Meat Attenuates H2O2-Induced Damage in Human Umbilical Vein Endothelial Cells.- Chapter 62: Protective Effect of Hot Water Extract of Loliolus Beka Gray Meat Against Palmitate-Induced HUVEC Damage.- Chapter 63: Radio-Protective Effects of Lolius Beka Gray Meat Consisted of a Plentiful Taurine Against Damages Caused By Gamma Ray Irradiation.- Chapter 64: Protective Effects of Taurine on Paraquat-Induced lung Epithelial Cell inJury.- Chapter 65: Taurine Protects Against Arsenic-Induced Apoptosis Via Pi3k/Akt Pathway in Primary Coryical Neurons.- Chapter 66: Thiotaurine: from Chemical and Biological Properties to Role in H2S Signaling.- Part 7: Taurine and Neuroprotection.- Chapter 67: Alteration of Placental Deiodinase 3 Expression by BDE 209 and Possible Protection by Taurine in Human Placenta-derived JEG Cells under Hypoxia.- Chapter 68: Anti-Apoptotic Effect of Taurine on Schwann Cells Exposed to High Glucose in Vitro.- Chapter 69: Assessing the Anxiolytic Properties of Taurine-Derived Compounds in Rats Following Developmental Lead Exposure: a Neurodevelopmental and Behavioral Pharmacological Pilot Study.- Chapter 70: Early Neurodevelopmental Exposure to Low Lead Levels Induces Fronto-Executive Dysfunctions That are Recovered by Taurine Co-Treatment in the Rat Attention Set-Shift Test: Implications for Taurine as a Psychopharmacotherapy Against Neurotoxicants.- Chapter 71: Effect of Taurine on Alterations in Deiodinase 3 Expression induced by BDE 209 in human neuroblasoma-derived SK-N-AS cells.- Chapter 72: GLUCOSE-TAURINE REDUCED EXERTS NEUROINFLAMMATORY RESPONSES BY INHIBITION OF NF- B ACTIVATION IN LPS-INDUCED BV2 MICROGLIA.- Chapter 73: Protection of Taurine Against Neurotoxicity Induced by Arsenic in Primary Cortical Neurons.- Chapter 74: Protective Effect of Taurine on Apoptosis of Spinal Cord Cells in Diabetic Neuropathy Rats.- Chapter 75: Taurine ameliorates high glucose induced apoptosis in HT-22 cells.- Chapter 76: Taurine partially improves abnormal anxiety in taurine-deficient mice.- Chapter 77: Taurine Promotes Neuritic Growth of Dorsal Root Ganglion Cells Exposed to High Glucose in Vitro.- Chapter 78: The microRNAs Expression Profile in Sciatic Nerves of Diabetic Neuropathy Rats after Taurine Treatment by Sequencing.- Chapter 79: The Protection of Taurine on Abnormal Expression of Deiodinase 3 Induced by BDE 209 in JEG Cells under The Normal Culture Conditions.- Chapter 80: The Effect of Drug Pre-treatment on Taurine Transport at the Inner Blood-retinal Barrier under Variable Conditions.- Chapter 81: Taurine Regulation of Neuroendocrine Function.- Part 8: Taurine and Anti-inflammatory.- Chapter 82: Anti-Inflammatory Action of Glucose-Taurine Reduced by Inhibiting Nf- b Activation in Lps-Activated Raw264.7 Macrophages.- Chapter 83: Anti-inflammatory effects of Batillaria multi-formis water extracts via NF- B and MAPK sig-naling pathways in LPS-induced RAW 264.7 cells.- Chapter 84: Combined Biological Effects of N-Bromotaurine Analogs and Ibuprofen. Part I: Influence on Inflammatory Properties of Macrophages.- Chapter 85: Combined Biological Effects of N-Bromotaurine Analogs and Ibuprofen. Part II: Influence on a Local Defense System.- Chapter 86: Effects of Taurine on bowel inflammatory factor of small intestinal mucosa impaired by heat stress in broilers.- Chapter 87: Ribose-Taurine Suppresses Inflammation Through Nf- b Regulation in Activated Raw 264.7 Macrophages.- Chapter 88: Scallop extracts inhibited LPS-induced inflammation by suppressing MAPK and NF- B activation in RAW264.7 macrophages.
versandkostenfreie Lieferung
---
246,09 €

(inkl. MwSt.)
Lieferfrist: bis zu 10 Tage
Aufgrund der Corona-Krise kann es in Einzelfällen zu deutlich längeren Lieferzeiten kommen.
---
Webcode: sack.de/6ewce
Bitte ändern Sie das Passwort