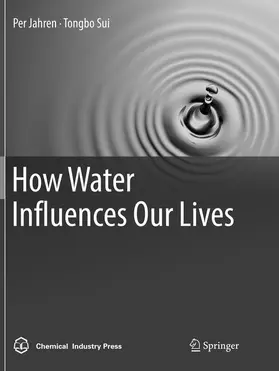 Jahren / Sui
How Water Influences Our Lives
Softcover Nachdruck of the original 1. Auflage 2017
ISBN: 978-981-10-9483-5
Verlag: Springer, Berlin
Seite exportieren
---
Buch, Englisch,
286 Seiten, Kartoniert, Previously published in hardcover, Format (B × H): 210 mm x 279 mm, Gewicht: 759 g
Erhältlich auch als Buch
Softcover Nachdruck of the original 1. Auflage 2017, 286 Seiten, Kartoniert, Previously published in hardcover, Format (B × H): 210 mm x 279 mm, Gewicht: 759 g
ISBN: 978-981-10-9483-5
Verlag: Springer, Berlin
Seite exportieren
---
(inkl. MwSt.)
versandkostenfreie Lieferung
Lieferfrist: bis zu 10 Tage
---
---
---
---
---
---
---
This beautifully illustrated book explains how water influences our culture; the many phases of water from ice to gas, its simple but still so unpredictable nature, and water resources on Earth; how water is distributed in ice, oceans, rivers, lakes and more; how it creates transport possibilities; how it produces and absorbs energy; how it is constantly changing the surface of the Earth; how there is enough water on Earth, yet sometimes there is too much or too little; the role of water in recreation; and how water supplies us with food in a myriad of ways.

Few things are like water – a subtle and thought-provoking element, so simple and yet complicated, so conspicuous yet unpredictable, so soft and peaceful yet powerful, and so universal yet unique. Water is by far the world's largest commodity. Though it belongs to all of us, it is still not shared by all. We very seldom take time to reflect on the many ways that water affects our lives.

Though it would be too ambitious to believe that it claims all the meanings and roles of water, this book, by showcasing water's versatility and by sharing the experiences and insights gained by the two authors during their many travels across the globe, contributes to a greater awareness of the most important substance in our society – water.  The book offers an insightful and intriguing read for anyone interested in science and culture related to water, from laymen to students and decision-makers.­­­­­­­­
Autoren


Jahren, Per
Per Jahren: MD Civil Engineering Norwegian Technical University, Trondheim, Norway, 1965. Stanford Executive Program, USA 1976 Wide experience from the building industry in general and in particular the cement and concrete industry for 50 years. Past Chairman and Honorary member Norwegian Concrete Society. Various awards amongst others the CANMET/ACI award for his work with silica fume in concrete in 1966. More than 150 technical papers from 30 countries world wide. Professor Agder University, Grimstad, Norway Books: Concrete History, (Norwegian and English) 2011. Concrete, Manyfold and possibilities (Norwegian) 2012Concrete and Sustainability with co-author Sui Tongbo (English) 2013.

Professor SUI TongboDirector General of Sinoma Research InstituteVice President of China Sinoma International Engineering Co.Ltd.2010.6- now, Director General of Sinoma Research Institute and vice president of Sinoma International Engineering Co. Ltd;
1991.4-2010.5 from research engineer, director of research institute, and to vice president of China Building Materials Academy;More than 20 years experience in research and development of low energy and low CO2 cements and resultant high performance concrete with over 60 papers and publications; Three years experience working with UNIDO international center for technology promotion;
As project leader for over 10 China national key research projects and more than 10 international cooperative projects with partners from Australia, France, Norway, Netherland, Germany and USA etc.;As main organizer of many international symposiums, workshops and seminars in China on cement and concrete and sustainability since 2002, as keynote/invited speaker in many international conferences, workshops on the topic in Germany, Norway, USA, Canada, Australia, Russia, Japan, Korea, India and China;Recipient of various awards including China national expert for excellent achievement in scientific research on cement based materials awarded by the State Council in 2005, the 2nd class national prize for technological invention awarded by the State Council in 2006 for the development and application of low energy and low emission high belite cement, and award for the outstanding contribution to the technology for cement and concrete sustainability by the Organization of International Conferences for the Advances of Concrete Technology for Sustainable Development, ACI Council, 2009.Books as Author or co-author: Special Cements (Chinese) 2006Concrete and Sustainability as co-author with Per Jahren (English) 2013



Water.- Water in Culture and Social Development.- Snow and ice.- The Oceans.- Rivers and lakes.- The transport source.- The energy source.- Erosion.- Water consumption.- Recreation.- The food source.
versandkostenfreie Lieferung
---
48,14 €

(inkl. MwSt.)
Lieferfrist: bis zu 10 Tage
Aufgrund der Corona-Krise kann es in Einzelfällen zu deutlich längeren Lieferzeiten kommen.
---
Webcode: sack.de/odj8c
Bitte ändern Sie das Passwort