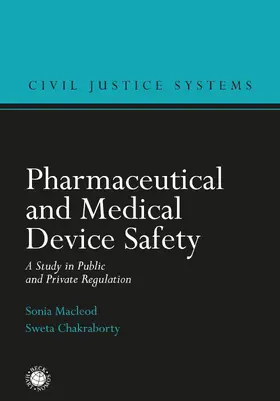 Macleod / Chakraborty
Pharmaceutical and Medical Device Safety
A Study in Public and Private Regulation
Erscheinungsjahr 2019
ISBN: 978-1-5099-1669-6
Verlag: HART BECK
Seite exportieren
---
Buch, Englisch, Reihe:
Civil Justice Systems
320 Seiten, Gebunden, Hardback, Format (B × H): 170 mm x 246 mm, Gewicht: 726 g
A Study in Public and Private Regulation
Erscheinungsjahr 2019, 320 Seiten, Gebunden, Hardback, Format (B × H): 170 mm x 246 mm, Gewicht: 726 g Reihe: Civil Justice Systems
ISBN: 978-1-5099-1669-6
Verlag: HART BECK
Seite exportieren
---
(inkl. MwSt.)
versandkostenfreie Lieferung
Lieferfrist: bis zu 10 Tage
---
---
---
---
---
---
This book examines how regulatory and liability mechanisms have impacted upon product safety decisions in the pharmaceutical and medical devices sectors in Europe, the USA and beyond since the 1950s. Thirty-five case studies illustrate the interplay between the regulatory regimes and litigation. Observations from medical practice have been the overwhelming means of identifying post-marketing safety issues. Drug and device safety decisions have increasingly been taken by public regulators and companies within the framework of the comprehensive regulatory structure that has developed since the 1960s. In general, product liability cases have not identified or defined safety issues, and function merely as compensation mechanisms. This is unsurprising as the thresholds for these two systems differ considerably; regulatory action can be triggered by the possibility that a product might be harmful, whereas establishing liability in litigation requires proving that the product was actually harmful.

As litigation normally post-dates regulatory implementation, the 'private enforcement' of public law has generally not occurred in these sectors. This has profound implications for the design of sectoral regulatory and liability regimes, including associated features such as extended liability law, class actions and contingency fees. This book forms a major contribution to the academic debate on the comparative utility of regulatory and liability systems, on public versus private enforcement, and on mechanisms of behaviour control.
Autoren

Herausgeber


Macleod, Sonia
Sonia Macleod is a Researcher in the Research Programme on Civil Justice Systems at the Centre for Socio-Legal Studies, Oxford.

Chakraborty, Sweta
Sweta Chakraborty is a cognitive behavioural scientist, and most recently the Associate Director of the Institute of Science for Global Policy, Washington D.C. She is a former programme associate on pharmaceutical regulation and product liability at Oxford University's Centre for Socio-Legal Studies (CSLS) and an adjunct assistant professor at Columbia University. Prior to joining the ISGP, Dr. Chakraborty served as the resident cognitive behavioral scientist at Lootok Ltd., a risk management-consulting firm. She received her doctorate in Risk Management from King's College London and her undergraduate degrees are in Decision Science and International Relations from Carnegie Mellon University. Her primary area of expertise is in science and technology policy options for topics of international concern (e.g., emerging technologies, infectious disease, food/agriculture security, environment and climate issues). Her research has included studies of risk perception, risk and crisis communications, corporate reputational management, risk regulation, and public trust. She has applied quantitative and qualitative research methods developed in the fields of social and decision sciences to study irrational consumer behaviors and public reactions to perceived risks (e.g., GMOs, prescription drugs). She asserts that understanding public perceptions of risk is the necessary first step towards developing communications to address public concerns, recover from negative media backlash, and improve upon levels of public trust. Sweta has over 25 published articles, has contributed to 3 additional books, and is a co-author of the forthcoming book Pharmaceutical Safety: A Study in Public and Private Regulation.


1. Introduction
I. The Legal Context
A. Basis of Liability
B. Litigation Systems
C. Funding and Costs
D. US: The Class Action and MDL
E. Europe
F. Settlement Schemes

2. The Regulation of Medicines and Medical Devices
I. Medicinal Products
A. Historical Drug/Pharmaceutical Regulation in the UK
B. European Regulation of Medicinal Products
C. European Regulation of Medical Devices
D. General Product Safety Regulation in Europe
E. Medicinal Product Regulation in the US
F. US Regulation of Medical Devices

3. Detailed Case Descriptions and Regulatory Histories
I. Teratogens and Foetal Damage
A. Thalidomide (alpha-phthalimido-glutarimide)
B. Hormonal Pregnancy Tests - Including Primodos
C. Diethylstilboestrol (DES)
D. Epilim/Depakote/Depakene (sodium valproate, valproic acid, magnesium valproate, valproate semisodium or valpromide)
E. Accutane/Roaccutane (isotretinoin)
II. Contraceptives and Hormone Replacement Therapy
A. Gravigard or Copper 7 Intrauterine Device
B. Third-Generation Oral Contraceptives
C. Norplant (levonorgestrel)
D. Hormone Replacement Therapy
III. Vaccines
A. DTP Vaccine
B. MMR Vaccine
IV. Neuromodulators
A. Benzodiazepines
B. Merital (nomifensine)
C. Selective Serotonin Reuptake Inhibitors
D. Sabril (vigabatrin)
E. Mirapexin/Sifrol/Daquiran (pramipexole)
V. Non-Steroidal Anti-Inflammatories
A. Opren (benoxaprofen)
B. Vioxx (rofecoxib)
VI. Pancreatic Function (Endocrine and Exocrine) and Obesity Treatments
A. Adifax/Isomeride/Redux (dexfenfluramine) and Ponderax (fenfluramine)
B. Mediator (benfluorex)
C. Human Insulin
D. Pancreatic Enzymes
VII. Contaminated Human-Tissue-Derived Products
A. Blood Products
B. Human Growth Hormone
VIII. Cardiovascular Pharmaceuticals
A. Eraldin (practolol)
B. Manoplax (flosequinan)
C. Lipobay (cerivastatin)
IX. Anti-Protozoan Medications
A. Emaform, Entero-Form or Chinoform (clioquinol)
B. Lariam (mefloquine)
X. Breast and Other Cosmetic Implants
A. Dow-Corning Silicone Implants
B. Trilucent Breast Implants
C. Poly Implant Prothese (PIP) Hydrogel Breast Implants
D. Poly Implant Prothese (PIP) IMGHC Silicone Breast Implants
XI. Urinary Incontinence and Pelvic Prolapse Treatments
A. Micturin (terodiline)
B. Urogynaecological Mesh

4. Conclusions
I. Prevention is Better than a Cure
II. Adverse Event Reporting
III. Correlation or Causation?
IV. Thresholds
V. Product Withdrawals
VI. Compensation or Redress?
VII. Public Regulation v Private Regulation
A. Compensation - Redress
B. Deterrence
VIII. Conclusions
versandkostenfreie Lieferung
---
79,00 €

(inkl. MwSt.)
Lieferfrist: bis zu 10 Tage
Aufgrund der Corona-Krise kann es in Einzelfällen zu deutlich längeren Lieferzeiten kommen.
---
Webcode: sack.de/0qnh0
Bitte ändern Sie das Passwort