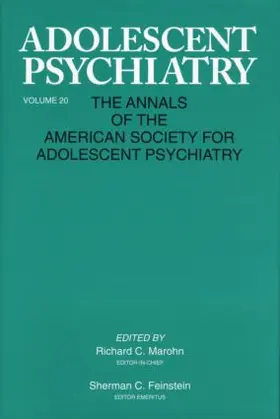 Marohn
Adolescent Psychiatry, V. 20
Annals of the American Society for Adolescent Psychiatry
Erscheinungsjahr 1995
ISBN: 978-0-88163-194-4
Verlag: Routledge
Seite exportieren
---
Buch, Englisch,
456 Seiten, Gebunden, Format (B × H): 152 mm x 229 mm, Gewicht: 926 g
Annals of the American Society for Adolescent Psychiatry
Erscheinungsjahr 1995, 456 Seiten, Gebunden, Format (B × H): 152 mm x 229 mm, Gewicht: 926 g
ISBN: 978-0-88163-194-4
Verlag: Routledge
Seite exportieren
---
(inkl. MwSt.)
versandkostenfreie Lieferung
Lieferfrist: bis zu 10 Tage
---
---
---
---
---
---
Launched in 1971, Adolescent Psychiatry, in the words of founding coeditors Sherman C. Feinstein, Peter L. Giovacchini, and Arthur A. Miller, promised "to explore adolescence as a process.to enter challenging and exciting areas that may have profound effects on our basic concepts." Further, they promised "a series that will provide a forum for the expression of ideas and problems that plague and excite so many of us working in this enigmatic but fascinating field." For over two decades, Adolescent Psychiatry has fulfilled this promise. The repository of a wealth of original studies by preeminent clinicians, developmental researchers, and social scientists specializing in this stage of life, the series has become an essential resource for all mental health professionals working with youth.
Volume 20 ofthe series serves as a tribute to editor emeritus Sherman C. Feinstein. In addition to an appreciation of, and contributions by, Dr. Feinstein, it contains heretofore unpublished papers by two other major figures in adolescent psychiatry, founding father William Schonfeld and a Viennese colleague transplanted toAmerica, Siegfried Bernfeld.With sections on general considerations of adolescence, specific syndromes, and treatment modalities, volume 20 presents the work of many of today's preeminent minds in adolescent psychiatry.
Autoren

Herausgeber


Marohn, Richard C.
Richard C. Marohn, M.D., has held various offices within the American Society for Adolescent Psychiatry since 1973, including the presidency in 1983-84. He has chaired ASAP's Future Diretions Task Foce and the Committee on Certification and has been a Vice-President of the American Board of Adolescent Psychiatry since its founding in 1990. He has also served on the Group for Advancement of Psychiatry's Committee on Adolescenceand on the National Council for Psychoanalytic Self Psychology since 1988.


Editor's Preface - Richard C. MarohnReflections of the Editor Emeritus- Sherman C. FeinsteinI. A Tribute to Sherman Feinstein 1. Sherman C. Feinstein, M.D.: Editor, Adolescent Psychiatry, 1973 to 1994- Allan Z. Schwartzberg2. Adolescent Affective Disorders - Sherman C. Feinstein3. Assimilating Piaget: Cognitive Structures and Depressive Reaction to Loss- Sherman C. Feinstein and David J. BerndtII. History 4. Depression in Adolescents- William A. Schonfeld5. Reflectoins on the History of Adolescent Psychiatry - Herman D. Staples6. Vienna Psychoanalytic Society Minutes - February 15, 1922 - (trans. Julie Winter and Richard C. Marohn); Concerning a Typical Form of Male Puberty- Dr. Siegfried Bernfield (trans. Julie Winter and Richard C. Marohn); Comments on Dr. Siegfried Bernfeld's Paper, "Concerning a Typical Form of Male Puberty- Richard C. Marohn7. Adolescent Psychiatry: Present Status and Future Trends- Adrian D.CopelandIII. General Considerations of Adolescence 8. Adolescence and society- Aaron H. Esman9. Trauma and Adolescent Rites of Initiation - Vivian M. Rakoff10. Childhood Trauma Revisited: Interruption of Development- Clarice J. Kesetenbaum11. Facets of Adolescent Sexuality- Max SugarIV. Specific Syndromes 12. Seeking Help from Informal and Formal Resources During Adolescence: Sociodemographic and Psychological Correlates- Kimberly A. Schonert-Reichl, Daniel Offer,& Kenneth I. Howard13. Anxiety, Depression, and Psychosomatic Disorders: Developmental Arrhythimias in Adolescent Mothers- Paul V. Trad14. Dissociative Disorders in Adolescence- William P.Fleisher and Geri Anderson15. The Child and Adolescent Literature about the Death of a Parent- Benjamin Garber16. Diagnostic Assessment and Therapeutic Approaches to Borderline Disorders in Adolesents- Derek Miller17. Paradise Lost-Bulimia, A Closet Narcissistic Personality Disorder: A Developmental, Self, and Object Relations Approach- James F. Masterson18.A Review of Eating Disorders in Adolescents- Lynn E. PontonV. Treatment Modalities 19. Forming a Therapeutic Alliance with Teenagers- Baroness Ghislaine D. Godenne20. Thoughts on Short-Term and Single-Session therapy- Bertram Slaff21. Brief Psychoanalytic Psychotherapy with Adolescents- Harvey Golombek and Marshall Korenblum22. The Psychotherapeutic Treatment of Suicidal Adolescents - Philip Katz23. The Adolescent in the Schools: A Therapeutic Guide- Irving H. Berkovitz24. Family Therapy and Some Personality Disorders in Adolescence- Claude Villeneuve and Normand Roux25. Adolescent Partial Hospitalization: A Develomental Perspective - Dennis C.Grygotis and Eitan D. Schwarz26. Residential Treatment of Severely Disturbed Children- Jacquelyn Seevak Sanders
versandkostenfreie Lieferung
---
69,50 €

(inkl. MwSt.)
Lieferfrist: bis zu 10 Tage
Aufgrund der Corona-Krise kann es in Einzelfällen zu deutlich längeren Lieferzeiten kommen.
---
Webcode: sack.de/9imcc
Bitte ändern Sie das Passwort