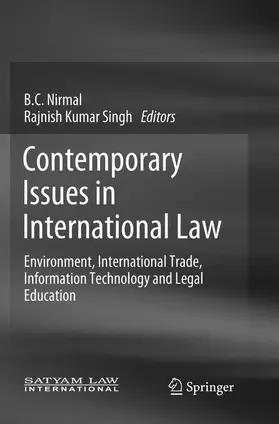 Nirmal / Singh
Contemporary Issues in International Law
Environment, International Trade, Information Technology and Legal Education
Softcover Nachdruck of the original 1. Auflage 2018
ISBN: 978-981-1348-46-4
Verlag: Springer, Berlin
Seite exportieren
---
Buch, Englisch,
625 Seiten, Kartoniert, Previously published in hardcover, Format (B × H): 151 mm x 243 mm, Gewicht: 961 g
Erhältlich auch als
Environment, International Trade, Information Technology and Legal Education
Softcover Nachdruck of the original 1. Auflage 2018, 625 Seiten, Kartoniert, Previously published in hardcover, Format (B × H): 151 mm x 243 mm, Gewicht: 961 g
ISBN: 978-981-1348-46-4
Verlag: Springer, Berlin
Seite exportieren
---
(inkl. MwSt.)
versandkostenfreie Lieferung
sofort versandfertig, Lieferfrist: 1-3 Werktage
---
---
---
---
---
---
---
This book explores the changing nature of international law and its ability to respond to the contemporary issues related to international environment, trade and information technology. The evolution of international law has reached a stage where we are witnessing diminishing power of the state and its capacity to deal with the economic matters challenging the existing notions of territory and sovereignty. Recent trends in international law and international relations show that states no longer have exclusive control over the decision-making process at the global level. Keeping this in mind, the book brings together the perspectives of various international and national scholars.
The book considers diverse issues such as, sustainable development, climate change, global warming, Rio+20, technology transfer, agro-biodiversity and genetic resource, authority for protection of environment, human right to water, globalization, human rights, sui generis options in IP laws, impact of liberalization on higher education, regulation of international trade, intellectual property rights, collective administration of copyright, broadcast reproduction rights, implementation of copyright law, communication rights under copyright law, arbitration for IP disputes, doctrine of exhaustion of rights, trans-border reputation of trademark, information as an asset, cyber obscenity and pornography, e-governance, taxation of e-commerce, computer crime, information technology, domain names, research excellence in legal education, ideological perspective on legal education, challenges for law teachers, and clinical legal education. The topics, though diverse, are closely interrelated, with the common concern throughout being that the global environment, international trade, information technology and legal education need appropriate national normative and institutional responses as well as the global cooperation of members of the international community. Presenting reflections of a number of Asian, African and European scholars on these varied facets, the book is of great value to scholars, practitioners, teachers and students associated with contemporary international law.
Herausgeber


Nirmal, B.C.
B.C. Nirmal is Professor of Law and Vice Chancellor, National University of Study and Research in Law, Ranchi, India. He was Head and Dean of the Law School, Banaras Hindu University (2012-2014), Varanasi, India. He is Vice-President of the Indian Society of International Law, Vice President of All India Law Teachers' Congress, a member of the Indian Law Institute Governing Body, and a member of the Commonwealth Legal Education Association (Asia-India) Executive Council. He is also a member of the Academic Council of Banaras Hindu University, Varanasi and Deen Dayal Upadhyaya Gorakhpur University, Gorakhpur, India, as well as the Board of Studies (Law) at Allahabad University and Delhi University and the School Board of Social Sciences, North Eastern Hill University, Shillong, India. He is Honorary Professor, Gujarat National Law University (GNLU), Gandhinagar, India, and was a Visiting Fellow North-Bengal University, Darjeeling, India. He visited The Hague in 1985, Taipei in 2006 and Xiamin Academy of International Law, China, in 2010 in relation to academic programmes. He has delivered lectures at Indian and foreign universities and chaired a number of national and international conferences. He has also served as Editor-in-Chief of Banaras Law Journal (2000-2009). He is on the Editorial Board of the Indian Journal of International Law. He has written five books and more than 120 research articles, published in various international and national journals. He has presented papers at more than 200 national and international seminars and conferences. He specializes in the areas of international law, human rights, labour law, and consumer protection law.

Rajnish Kumar Singh, Assistant Professor of Law at the Law School, Banaras Hindu University, Varanasi, India, obtained his LL.B., LL.M. and PhD degrees from the University of Delhi, India. His research papers have been published in various international and national journals. He is the assistant editor of the Banaras Law Journal and guest editor of NUSRL Journal of Law and Policy. His main areas of specialization are intellectual property laws and arbitration law.



PART I. Environment, Trade, Information Technology and Legal Education: Overview.- 1. Legal Education.- 2. International Environmental Law, Trade Law, Information Technology Law and Legal Education.- 3. Environmental Pollution and its Control.- PART II. International Environmental Law.- 4. Understanding Further Regulatory Needs of Components of Agrobiodiversity and Genetic Resources for Food and Agriculture for Sustainable Use.- 5. Environmental Law: Post-Rio Discussions on Environmental Protection- A Reflection.- 6. Principles of International Environmental Law: Application in National Laws of Bangladesh.- 7. Technology for Climate Cha(lle)nge: Issues and Concerns.- 8. Current Perspectives on Environmental Law.- 9. Authority for Protection and Conservation of The Environment: A Judicial Invocation in India.- 10. Human Right to Water and National Water Policy-2012: Emerging Issues.- 11. From Rio to Doha: In Search of Cooperative Action for Climate Change.- 12. The Principle of Sustainable Development: International and National Perspectives.- PART III. Trade Law.- 13. Globalization, International Human Rights Law and Current Economic Crisis.- 14. National and International Perspectives of IPR Laws With a Focus on Some Sui Generis Options.- 15. The Impact of Liberalization on Higher Education and Domestic Regulation.- 16. WTO and the Regulation of International Trade Law.- 17. The Complexities of Nigeria's Copyright: (Collective Management Organizations) Regulations, 2007.- 18. Intellectual Property Rights: National and International Perspectives.- 19. The Changing Contours in the Regime of Copyrights in India with Reference to Broadcasting.- 20. Copyright Law in Nepal: Challenges of Effective Implementation.- 21. Communication to the Public under Copyright Law and the Impact of Information and Communication Technologies: An Analysis.- 22. Arbitration for Intellectual Property Disputes: Problem of Mutually Exclusive Development of Laws.- 23. Intellectual Property Rights and Parallel Trade: Debate on National vs. International Exhaustion of Rights.- 24. Transborder Reputation and Trademark Law in India.- PART IV: Information Technology Law.- 25. Information Asset as Property: A Legal Perspective.- 26. Data Protection Law and Policy Factor Impact on Public Trust in E-Government System in Developing Countries.- 27. Law Relating to Information Technology in Nepal: An Overview.- 28. Analysis of Law Relating to Cyber Crime in Nepal.- 29. High-Tech and Computer Crime: Global Challenges, Global Responses.- 30. Globalization, Communication and Obscenity: A Feminist Perspective.- 31. Taxation of E-Commerce: Problems and Possible Solutions.- 32. Legislation for Domain Name Registration: A Requirement in Globalization.- 33. Legal Framework of Information Technology In India: With Special Reference to Cyber Obscenity.- PART V: Legal Education.- 34. Research Excellence in Legal Education: A Critical Assessment of the Research Excellence Framework 2014 and the British Approach.- 35. Legal Education: Ideological and Institutional Perspectives.- 36. Problems and Challenges Bedeviling Law Teachers in Developing Societies.- 37. Legal Education and Research in India: the Changes and the Challenges.- 38. Legal Education in Nepal: Recent Reform and Need for Change.- 39. Need of Clinical Legal Education in the Scientific Era.- 40. The Landscape of Legal Pedagogy in India: Issues and Challenges.- 41. Issues and Challenges on Legal Education: A Study with Special Reference to Odisha.- 42. Legal Education in India: Need for Reform.- 43. Donut-Style of Teaching Law, the Multi-Disciplinary Subject.- 44. Legal Education in India: A Contemporary Discourse.
versandkostenfreie Lieferung
---
165,84 €

(inkl. MwSt.)
sofort versandfertig, Lieferfrist: 1-3 Werktage
Aufgrund der Corona-Krise kann es in Einzelfällen zu deutlich längeren Lieferzeiten kommen.
---
Webcode: sack.de/v5uv2
Bitte ändern Sie das Passwort