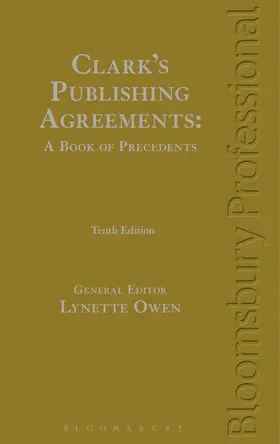 Owen
Clark's Publishing Agreements: A Book of Precedents
---
Buch, Englisch,
864 Seiten, Medienkombination, Format (B × H): 156 mm x 248 mm
Vorauflage:
10th edition, 864 Seiten, Medienkombination, Format (B × H): 156 mm x 248 mm
ISBN: 978-1-78451-946-9
Verlag: Bloomsbury
Seite exportieren
---
---
---
---
---
Clark's Publishing Agreements has long been the 'must have' legal resource for the publishing industry. This comprehensive book provides 24 model agreements, from author agreements, to merchandising rights to online licensing to ebook distribution to text and data mining.

It includes a "Legal Developments" introduction giving an overview of existing and forthcoming legislation (UK and international). It also covers new initiatives undertaken by the industry and acts as an essential checklist for industry professionals. The impact of these developments have been updated in the precedents, their accompanying notes and appendices.

It also includes an "Introduction to Electronic Precedents" which highlights the continuing developments in the field of technology and their impact on licensing practice and contractual wording.

For the tenth edition all the precedents, explanatory notes and appendices have been thoroughly revised to take account of the latest developments including:

- the Copyright, Designs and Patents Act 1988
- coverage of the new EU DSM directive and its impact on TDM
- coverage of the ratification of the Marrakesh Treaty which introduces a broad range of new copyright exceptions for people who are visually impaired (or who have other print disabilities)
- new appendices on library aggregators and Creative Commons licences

Whether an experienced drafter of publishing agreements or new to the industry Clark's Publishing Agreements will prove invaluable in ensuring that your publishing agreements are expertly and effectively drafted.

This book comes with an electronic download of the precedents for you to adapt and use in your contracts. On purchase, you will be provided with a code and a web link from which the precedents can be downloaded in a generic format such as *.doc which will be compatible with all operating systems.
Herausgeber


Owen, Lynette
Lynette Owen started her publishing career at Cambridge University Press and then worked at Pitman Publishing and Marshall Cavendish before joining Longman Group Ltd (now Pearson International) where she holds the post of Copyright Director. She has always worked in the field of intellectual property and licensing and was a contributor and co-editor before taking over as general Editor of Clark's Publishing Agreements: A Book of Precedents. She is the author of a number of books on copyright and licensing, and lectures regularly on courses in the UK and abroad. In 2009 she was awarded an OBE for services to publishing and international trade in the New Year Honours list.