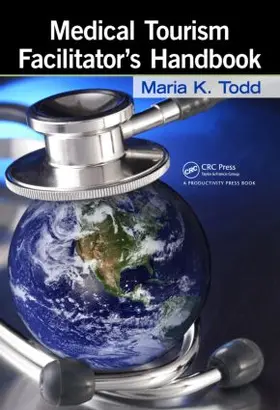 Todd
Medical Tourism Facilitator's Handbook
Neuausgabe 2012
ISBN: 978-1-4398-1283-9
Verlag: PRODUCTIVITY PR INC
Seite exportieren
---
Buch, Englisch,
180 Seiten, Gebunden, Format (B × H): 175 mm x 254 mm, Gewicht: 567 g

Neuausgabe 2012, 180 Seiten, Gebunden, Format (B × H): 175 mm x 254 mm, Gewicht: 567 g
ISBN: 978-1-4398-1283-9
Verlag: PRODUCTIVITY PR INC

Seite exportieren
---
(inkl. MwSt.)
versandkostenfreie Lieferung
Lieferfrist: bis zu 10 Tage
---
---
---
---
---
---
---
In addition to coordinating health travel logistics and gathering medical records, medical tourism facilitators play the role of travel agent, appointment setter, concierge, hotel reservationist, tour operator, and hand-holder to clients seeking health services domestically and abroad. Addressing the issues that are likely to emerge as clients travel, the Medical Tourism Facilitator's Handbook is a must-have resource of hard-to-find tools, checklists, terminology, and other helpful information for hospital-based, lay facilitators, travel agents, and even retired physicians and nurses.

Supplying the advice of a recognized expert in global healthcare, the book provides a detailed and empathic understanding of patient needs and expectations. It covers the full range of best and worst case scenarios that can occur when clients travel to obtain health services. Using a conversational tone, it includes coverage of international travel logistics, where to find answers to immigration concerns, confidentiality/privacy issues, and unanticipated care in transit in the event of complications or missed connections.

The book delivers a fast-moving presentation of useful information and teaches readers how to decode the language, what to look for in terms of safety and quality, how to decode hospital facilitator agent agreements, and how to anticipate clients' needs and expectations. It also includes access to a regularly updated website with helpful worksheets and reference material so you will be prepared to handle any scenario that might present itself when your clients travel.
Autoren


Todd, Maria K.
Maria K. Todd, MHA, PhD, is the CEO of Mercury Healthcare. Dr Todd's background includes postgraduate degrees in Health Administration, and more than 30 years of healthcare industry experience. Her professional experience includes work as a HMO provider relations coordinator, an Independent Practice Association (IPA), Physician Hospital Organization (PHO), and Management Services Organization (MSO) developer and executive director, contract analyst and negotiator, medical group administrator, surgical assistant and EMT, hospital business office manager, health law paralegal and certified mediator. She is the author of the industry's bestselling book, IPA, PHO MSO Development Strategies: Building Successful Provider Alliances (1997, McGraw Hill and the HFMA, Chicago).
Dr. Todd has led the project management of more than 150 integrated health delivery systems, many still in successful operation today, and is a highly-regarded international healthcare industry consultant and contract negotiator who authored hundreds of journal articles, several white papers and nine professional trade books. Since 1989, she has presented more than 2700 US and International educational presentations and keynote addresses on topics ranging from managed care contract analysis, integrated delivery system development, medical tourism, contracted reimbursement, and global healthcare program development.
In her role with Mercury Healthcare, she leads the world's first and only globally integrated health delivery system® making its vast integrated provider network available by contract to a variety of payers of health benefits, including insurers, third party administrators or employers. Mercury also grants access to individual consumers seeking local care and domestic and international health travel for elective healthcare and related services, and manages logistical coordination and medical case management services for clients.


Defining the Role of the FacilitatorProfessional Medical Travel FacilitatorCase ManagementTravel PlannerTravel Agent Individual Designations The Travel Agent Proficiency (TAP) Test Certified Travel Associate (CTA) Designation Travel Agency Credentials IATA/IATAN Endorsement IATAN Credentials/ID Cards Agency Appointments Airlines Reporting Corporation (ARC)Agencies Without ARC Accreditation or AppointmentsRegulatory OversightComputer Software and Programs to Support Your Travel Agency BusinessWeb Portal (Electronic Mail)ConciergeAdditional Resources Trade and Industry Organizations American Society of Travel Agents ASTA Future Travel Professional (FTP) Club National Association of Commissioned Travel Agents, Inc. International Airlines Travel Agent Network (IATAN)— www.iatan.org Airline Reporting Corporation—www.arccorp.comTravel Agency BondsTravel Trade PublicationsTravel Agency Software

Business StartupBusiness PlanPresent Status of the BusinessDescribe Your Competitive AdvantageIndustry OverviewMarketing PlanCustomer Service PlanTechnology PlanConsultants for Your BusinessCompliance PlanBasic Privacy LawsDeveloping a Medical Records and Electronic Data Privacy and Security PlanThe Red Flags Rule: Fair and Accurate Credit Transactions Act (FACTA)ComplianceHealth Insurance Portability and Accountability Act (HIPAA) Privacy and Security ComplianceHealth Care Business Associate Agreement Recitals Definitions Specific Definitions Obligations and Activities of Business Associate Permitted Uses and Disclosures by Business Associate Obligations of Covered Entity Permissible Requests by Covered Entity Term and Termination MiscellaneousHealth Information Technology for Economic and Clinical Health (HITECH)

Developing a Business Startup BudgetFinancial ProjectionsCash Management PlanCostly Contingencies, Refunds, and LiabilitiesNonrefundable and Partially-Refundable DepositsOstensible Agency LiabilityFailure to Perform Due DiligencePrivity of ContractJoint and Several LiabilityLiquidated DamagesSlow Pay

Understanding Managed Care and Health Care ReimbursementHealth Plans in the United StatesHealth Maintenance Organizations (HMOs)Administrative Services Organizations (ASOs)Preferred Provider Organizations (PPOs)Third-Party Administrators (TPAs)Exclusive Provider Organizations (EPOs)Consumer-Driven Health Plans (CDHPs)Medicare and Medicaid

Building Your Product and InventoryWhat Do You Sell?The ProceduresPaper or Software?Anesthesia OverviewGeneral AnesthesiaRegional (Block) AnesthesiaSpinal AnesthesiaEpidural and Caudal AnesthesiaPeripheral Nerve BlockIntravenous Regional Anesthesia (Bier Block)Monitored Anesthesia Care (MAC) (Anesthesia Standby)Local AnesthesiaAcupuncture and HypnosisHypnotic AnesthesiaPostanesthesia RecoveryAn Overview of Medical Procedures Diagnostic Procedures Cancer Treatment Cardiac surgery Laryngectomy Biopsy Myotomy Radiosurgery Laparoscopy Cauterization Pleurodesis Grafting Hemorrhoidectomy Fistulotomy Parathyroidectomy Angioplasty Cricothyrotomy or Corodotomy Endoscopic Thoracic Sympathectomy Frenectomy Eye Surgery Corneal Transplantation Refractive Surgery Cataract Surgery Macular Degeneration Glaucoma Retinal DetachmentGynecological Surgery Hysterectomy Oophorectomy Episiotomy Tubal ligation Tubal reversal (tubal anastomosis) Colporrhaphy Lithotripsy Orchidectomy Circumcision Foreskin restoration Penectomy or Peotomy Phalloplasty Vasectomy ProstatectomyDiscectomyBilateral CingulotomyCordotomy or ChordotomyOrthopedic Surgery Hip Replacement Hip Resurfacing (Birmingham HipTM) Arthrodesis Arthroplasty ArthroscopyKnee Replacement (TKR) Partial Knee Resurfacing/Unicondylar Knee Arthroplasty (UKA)/Journey Deuce Anterior Cruciate Ligament (ACL) ReconstructionShoulder Reconstruction Acromioplasty Ulnar Collateral Ligament Reconstruction or Tommy John ProcedureAmputationShoulder Replacement Pediatric Surgery Plastic Surgery Rhytidoplasty or rhytidectomyBOTOX® Cosmetic, Dermal Fillers, and Other Wrinkle TreatmentsBreast Augmentation (Implants) Breast Lift (mastopexy) Breast Reduction Breast Reconstruction Reconstructive Mammoplasty Lumpectomy Mammectomy or Mastectomy Flap Procedures Buttock Augmentation/Buttock Lift Eyelid Surgery (blepharoplasty) Ear Surgery (otoplasty) Myringotomy Stapedectomy Mastoidectomy Adenoidectomy Tracheotomy TracheostomyFrontalis lift or Forehead LiftLiposuctionTummy Tuck (abdominoplasty)Thigh Lift Facelift (rhytidectomy) Thread Facelift Rhinoplasty (Nose Surgery) MentoplastyPodiatric SurgeryRegenerative Medicine Spine Surgery Khyphoplasty Laminectomy HemicorporectomyUrological Surgery Diverticulectomy Abdominal Surgery Splenectomy Pancreaticoduodenectomy Kidney Transplantation Lung Transplantation Thoracotomy Thrombectomy Thymectomy Pneumonectomy or Pneumectomy Nephrectomy Thyroidectomy Heart transplantation Hernia Repair Gastrectomy Nissen fundoplication Cholecystectomy Laparotomy Hepatectomy Appendectomy Cesarean section or C- Section Colon resection ColostomyWeight Loss Surgery (Bariatric Surgery) Bariatric Surgery "Lite"

WorkflowsInitial ContactContacting the Medical ExpertsReporting Back to the ClientDay Before TravelTravel DayOn Arrival at the DestinationHotel ConsiderationsSecond-Tier City ConsiderationsRevPAR—Watch Out For "Ancillary" FeesKeeping the Terms of the Negotiated Rates Are KeyPointers on How to NegotiateOn the Day of Surgery or the Day Prior to SurgeryOn the Day of DischargePostoperative Tourism and Leisure ActivitiesOn the Day of DepartureOn Return Back to the Client's Home CountryContracting for Your Services Working Up a Price Estimate Dealing with Extra Charges that May AriseTravel Planning Planning the Travel for a Surgical Client Planning the Travel for a Wellness Visit Client Planning the Travel for a Diagnostic Services Client If the Client Is Unable to Travel in Commercial AirlinersPeri-Operative Planning Preoperative Details and PreparationsPostoperative: In Country, Prior to DeparturePostoperative, Follow-Up, and AftercarePostsurgery Recuperation Period

Spa Tourism; Derek Bryson HeddenTarget MarketGetting to Know Your ClientServicesTypes of Spas Medical Spas Resort Spas Destination Spas Hot Springs Weight Loss SpasSpa Associations

Quality and Safety Transparency; Lisa Beichl, Transparent Borders LLCTypes of Medical Tourism Groups and Venues Medical Tourism Venues General Medical Tourism Flow (Domestic and International)Risk Assessments Market Risk Transition RiskImportance of Transparency in Managing RisksImportance of Market Transparency in International Medical TourismQuality and Safety TransparencyAccreditationPatient SafetyQuality Tools to Promote TransparencyRisks and Rewards of Medical TourismMeasuring Outcomes Surgical Site Infection Rates Readmission Rates Mortality Rates and Discharge Status Patient SatisfactionMovement to Standard Best Practices

Putting It All Together: Your Provider NetworkAnticircumventionProfessional Liability Issues Disclaimer of Liability Option 2: Each Responsible for Own Acts Theories of Liability Ostensible Liability Vicarious Liability Shared Liability Assignment of the ContractProvider Credentialing and Privileging Agreement to Accept Hospital's Credentialing Dispute Resolution Liquidated Damages Reimbursement and Financial Terms Exclusions and Inclusions Cancellations and Provider Refund Policies, If Any Commissions Forms or Methods of Payment Revenue Cycle Time Period for Provider to Receive Payment ConfidentialityPhysician and Dentist Agreements Credentialing and Privileging Malpractice and Professional Liability Hotel Agreements Chauffeur ServicesContracts, Agreements, and FormsMarket ResearchMedical Association Contact InformationQuality Metrics and OutcomesDealing with Late-Reported or Delayed Adverse OutcomesAdditional ResourcesBibliography
Index
;
Medical Tourism facilitators, case manager, utilization review managers and directors, discharge planning managers and directors. Managers and directors of insurance companies responsible for global medical care services; others interested in becoming facilitators in this emerging market. Travel agents interested in becoming medical facilitators.
versandkostenfreie Lieferung
---
72,50 €

(inkl. MwSt.)
Lieferfrist: bis zu 10 Tage
Aufgrund der Corona-Krise kann es in Einzelfällen zu deutlich längeren Lieferzeiten kommen.
---
Webcode: sack.de/68awg
Bitte ändern Sie das Passwort