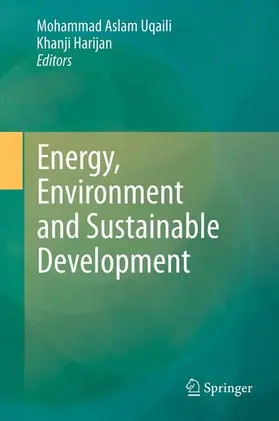 Uqaili / Harijan
Energy, Environment and Sustainable Development
---
Buch, Englisch,
352 Seiten, Kartoniert, Previously published in hardcover, Format (B × H): 155 mm x 235 mm, Gewicht: 563 g
Erhältlich auch als Buch
Erscheinungsjahr 2013, 352 Seiten, Kartoniert, Previously published in hardcover, Format (B × H): 155 mm x 235 mm, Gewicht: 563 g
ISBN: 978-3-7091-1710-1
Verlag: Springer
Seite exportieren
---
---
---
---
---
---
New information and strategies for managing the energy crisis from the perspective of growing economies are presented. Numerous case studies illustrate the particular challenges that developing countries, many of which are faced with insufficient resources, encounter. As a result, many unique strategies to the problems of energy management an conservation, environmental engineering, clean technologies, biological and chemical waste treatment and waste management have been developed.

Herausgeber


Introduction

- Modeling of energy and environment for sustainable development.

- The importance of gender equality when planning for environmental sustainability.

- Food security and sustainable development.

- Sustainable power supply- short term and long term planning.

- Tariff - its importance for sustainability of power sector.

- Sustainable development indicators for energy.

- The existence of energy managers in an industry - a need of the time in the energy starved environment.

- South Asia and management of energy security.

- Status and need of energy education in Pakistan.

- Survival of textile sector through energy management & monitoring.

- Indigenous knowledge: the way to sustainable development – community participation in environmental issues.

- Forecasting electricity demand for agricultural and services sector of Pakistan.

- A promising technology of pressure into power - a case study of pressure into power approach in gas transmission lines.

- Development of sustainable ecomaterial for engineering applications.

- Flood water management of Mithawan hill torrent in D.G. Khan of Pakistan.

- Implementation of environmental policies for new road network of developing countries: case study of Pakistan.

- Solar drying of fruits, vegetables, medicinal plants and fish: developments and potentials.

- Utilizing solar thermal energy for textile processing units.

- Wind power performance improvements using artificial neural network controller for dc/dc converter.

- Ethanol production from thermotolerant kluyveromyces marxianus yeast growing at 65° c using sugar cane molasses in controlled bioreactor.

- Municipal solid waste management: options for its treatment & energy recovery.

- Socio-economic and socio-cultural change after light through solar home systems (SHS) at district Tharparkar.

- Practical applications of solar energy at desert of Tharparkar.

- Tidal power harnessing technologies for Pakistan.

- Bio-hydrogen production by microalgae microcysis aeruginosa: using optical fiber as an internal light source.

- Assessment of land-based pollution sources in the Mediterranean Sea along Gaza Coast-Palestine.

- Fluidization in cold flow circulating fluidized bed system.

- Environmental impacts of untreated effluents from sugar industry- A case study.

- Environmental and social impact: analysis of KPT commercial office building, Karachi.

- Air pollution control: a route to safer and healthier environment.

- Investigation of environmental pollution caused by vehicles service stations in Taxila city.

- Study of noise impacts on human health in textile based cottage industries.

- Source mechanism and seismotectonic investigations of earthquake of October 28, 2008 in Ziarat.

- Modeling of municipal solid waste management.

- Improve bio-degradability by recovering humic substance in MSW landfill leachate.

- Bottom ash analysis of MSW incineration on laboratory scale by XRF.

- Hospital waste generation and management – a case study of hospitals in Karachi.

- Role of scavengers in the collection of recyclable solid waste material in Hyderabad city, Pakistan.

- Two stage bioreactor: sustainable landfill.

- Hydrothermal process for restaurant garbage.

- Biotechnological approach for the treatment of waste water.

- Cause and effect of newly developed organic polymer for treatment of Indus river water.

- Contamination of sewage water by effluents of industry into Fulali canal water, Hyderabad city.

- Biological approach to solve the salinity problem in selected saline areas of Samundri, Faisalabad.

- Catalytic effect of Bl and Bl + ca mixed catalyst on sulfur containing gases of Pakistan lignite chars.

- New stationary phase material for GC separation of organic compounds.

- Pyrrolidinedithiocarbamate as a reagent for GC analysis of metal ions.

- Study of kinetic & thermodynamic parameters using thermotolerant kluyveromyces marxianus yeast for the production of ethanol in 23l fermentor under optimized conditions.

- Industrial effluent treatment by photocatalytic degradation of sodium dodecylbenzensulfonate (DBS).

- A sustainably promising technology for the production of quality Castor Oil & its future prospects.

- Cold pad-batch dyeing: ecofriendly dye application on cotton.

- Improved sustainability of cotton sulphur dyeing using pad-ox processes.

- E-control dyeing process: an ecological and economical approach.