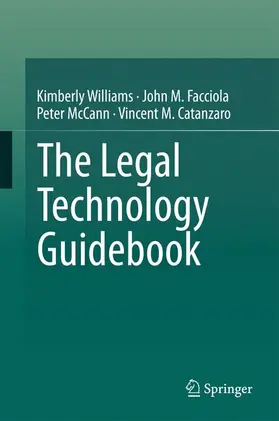 Williams / Facciola / McCann
The Legal Technology Guidebook
---
Buch, Englisch,
142 Seiten, Gebunden, Book, Format (B × H): 160 mm x 243 mm, Gewicht: 394 g
Erhältlich auch als Buch
1. Auflage 2017, 142 Seiten, Gebunden, Book, Format (B × H): 160 mm x 243 mm, Gewicht: 394 g
ISBN: 978-3-319-54522-6
Verlag: Springer, Berlin
Seite exportieren
---
(inkl. MwSt.)
versandkostenfreie Lieferung
sofort versandfertig, Lieferfrist: 1-3 Werktage
---
---
---
---
---
---
---
This book explores the transformational impact of new technological developments on legal practice. More specifically, it addresses knowledge management, communication, and e-discovery related technologies, and helps readers develop the project management and data analysis skills needed to effectively navigate the current, and future, landscapes. It studies the impact of current trends on business practices, as well as the ethical, procedural, and evidentiary concerns involved.

Introducing novel interactive technologies as well as traditional content, the book reflects expertise from across the legal industry, including practitioners, the bench, academia, and legal technology consultants. All of the contributing authors currently teach aspiring lawyers and/or paralegals and have identified a gap in the available instructional material.

Rapid technology advances have radically changed the way we all live and work, and the legal profession is by no means exempt from the impact of these changes. In order to better assist their clients, and to better compete on the legal market, it is imperative for lawyers to understand the ethical, functional, and business consequences of new technologies on their respective practices. This book provides the necessary content by including legal technology texts, information about novel pedagogical technologies, helpful tools for managing legal technologies and IT staff, statistical methods, tips and checklists.
Autoren


Williams, Kimberly
John M. Facciola was appointed a United States Magistrate Judge in the District of Columbia in 1997. Prior to being appointed to the bench, he served as an Assistant District Attorney in Manhattan from 1969-1973, and was in private practice in the District of Columbia from 1974-1982. Judge Facciola joined the U.S. Attorney's Office in 1982 and served as Chief of the Special Proceedings section from 1989 until his appointment as Magistrate Judge. A frequent lecturer and speaker on the topic of electronic discovery, Judge Facciola is a member of the Georgetown Advanced E-Discovery Institute Advisory Board and a recipient of the Sedona Conference Lifetime Achievement Award. Kimberly Williams is the founder and CEO of RedShift Legal, Inc. She is a certified Six Sigma Master Black Belt, and pioneered the application of Six Sigma processes to legal service delivery domestically and abroad (in India, where she spent nearly two years). She has consulted extensively with both in-house and law firm clients on the application of these processes in various contexts requiring the optimal use of legal technology, including eDiscovery, contracts management, alternative fee arrangements, and other legal projects. Kimberly received her A.B. from Harvard University, and her J.D. from Columbia Law School, and practiced as a commercial litigation associate at Carter, Ledyard & Milburn and Loeb & Loeb. She is currently an adjunct professor of Legal Technology and Legal Project Management at New York Law School. Vincent M. Catanzaro is a member of Counsel with the law firm Shook, Hardy & Bacon LLP, where he works with clients to develop best practices and untangle issues related to data preservation, litigation management and international and cross-border collection. Before joining Shook, he served as Senior Counsel, Global Discovery Manager for E. I. du Pont de Nemours and Company, where he was responsible for counseling the company on how best to comply with evolving legal standards relating to discovery. He is a current member of the Sedona Conference Working Group One on Electronic Document Retention and Production and Working Group Six on International Electronic Information Management, Discovery and Disclosure, a former faculty member of the Georgetown Law School Advanced e-Discovery Institute and Academy and Adjunct Professor at Widener University Legal Education Institute, a member of the Richard Herrmann Technology Inn of Court, and a Certified Six Sigma Green Belt. Peter McCann is a Founding Partner and Director of Legal Informatics of Loop, a Legal Services company leveraging patented Artificial Intelligence to provide answers to legal questions. A proud Legal Technology Futurist, Peter believes that technology is the key to solving the access to justice problem, and making the legal system operate as it was intended.Before Loop, he founded and operated e3 Discovery Consultants, a pioneering legal technology consultancy that educated attorneys on pertinent developments in the legal technology software space and facilitated relationships between lawyers and legal tech vendors. Prior to e3 he spent 10+ years practicing law in the eDiscovery/Legal Technology field. Peter received his B.A. from Penn State and his J.D. from Temple University. He currently holds various advisory board positions and serves as an adjunct professor at Wilmington University and Drexel University's Kline School of Law.


Chapter 1-Introduction to Ethics and Technology.- Chapter 2-Technological Competence.- Chapter 3-Outsourcing.- Chapter 4-Receipt of Privileged Information.- Chapter 5- What Is Technology?.- Chapter 6-How Did We Get Here?.- Chapter 12-Technology Assisted Review.- Chapter 14-Effective Communication.- Chapter 17-Effective Supervision.- Chapter 18-Using Technology for Improved Billing & Business.- Chapter 19-Understanding Business Impact of Competence Failures in Technology.
versandkostenfreie Lieferung
---
74,89 €

(inkl. MwSt.)
sofort versandfertig, Lieferfrist: 1-3 Werktage
---
Webcode: sack.de/01jki
Bitte ändern Sie das Passwort