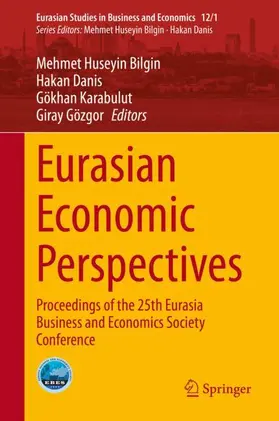 Bilgin / Danis / Karabulut
Eurasian Economic Perspectives
Proceedings of the 25th Eurasia Business and Economics Society Conference
1. Auflage 2020
ISBN: 978-3-030-35039-0
Verlag: Springer, Berlin
Seite exportieren
Proceedings of the 25th Eurasia Business and Economics Society Conference
1. Auflage 2020,
Band: 12/1
420 Seiten, Gebunden, HC runder Rücken kaschiert, Format (B × H): 161 mm x 239 mm, Gewicht: 808 g Reihe: Eurasian Studies in Business and Economics
ISBN: 978-3-030-35039-0
Verlag: Springer, Berlin
Seite exportieren
---
(inkl. MwSt.)
versandkostenfreie Lieferung
Lieferfrist: bis zu 10 Tage
---
---
---
---
---
---
---
This volume of Eurasian Studies in Business and Economics includes selected papers from the 25th Business and Economics Society (EBES) Conference, held in Berlin, Germany, in May 2018. While the theoretical and empirical papers presented cover diverse areas of economics and finance from different geographic regions, the main focus is on the latest research in the economics of innovation, investment and risk management together with regional studies. The book also includes studies on law and regulation themes such as economic offences by women, formation of contracts via the internet and public tender for residents of communes.
Herausgeber


Bilgin, Mehmet Huseyin
Mehmet Huseyin Bilgin is a Professor at the Istanbul Medeniyet University (Turkey). He also held several visiting faculty positions at Indiana University-Purdue University Indianapolis (IUPUI) (USA), Jacksonville University (USA), Zagreb University (Croatia), and Nanyang Technological University (Singapore). Prof. Bilgin has published many articles in reputable international journals and is the Associate Editor of the Eurasian Economic Review (Springer). He is the founder and current Chairman of the Istanbul Economic Research Association, and is the founder and current Vice President of the Eurasia Business and Economics Society (EBES, Turkey). He has also been active as a consultant in several institutions, as a newspaper columnist, and featured in several television programs.
Hakan Danis is Assistant Professor of Economics at the Istanbul Sehir University (Turkey), Vice President of Eurasia Business and Economics Society (EBES), and Director in Credit Strategies Group at the Mitsubishi UFJ Financial Group (MUFG) (USA). Previously, he worked at the Spanish multinational global bank Banco Bilbao Vizcaya Argentaria (BBVA) in USA as a Senior Economist. He is one of the founders and first President of EBES. He has published articles in many leading economics and finance journals and currently serves as the Managing Editor of Eurasian Economic Review (Springer). He is a frequent guest editor at the Emerging Markets Finance & Trade and Singapore Economic Review, and has published several academic books. His current research and teaching interests include monetary policy, nonlinear applied time series, risk management in financial institutions and macroeconomics.


Part I Regional Studies.- Residential Real Estate in the Municipalities Located in the Naturally Valuable Areas in Poland.- Contemporary Trade Regionalism on the Example of Free Trade Area of the Asia-Pacific (FTAAP).- Financial Vulnerability of NGOs in Southeast Anatolia and Mediterranean Regions.- Structural Changes on Polish Housing Market: Has the Market Returned to the Level Before the Crisis?.- Part II Macro Economics.- Effect of GDP, Energy Consumption, and Material Consumption on Waste Generation: The Case of EU-28 Countries.- A Comparative Global Overview for Flat-Plate Solar Collectors (FPSCS) in G-7 and G-20 Countries.- Cluster Analysis of Sustainable Development Goal Indicators in the European Union.- An Investigation of Turkey's Competitiveness on Different Products Groups in Automotive Sector via Revealed Comparative Advantage Index.- Intra-industry Trade Development and Adjustment Cost: Testing Smooth Adjustment Hypothesis for the Estonian Labor Market .- Underemployment Among Educated Poles.- Part III Investment and Risk Management.- A Factor Model for Country-Level Equity Returns.- Earnings Quality and Market Efficiency: Evidence from Romanian Capital Market.- Assessing the Risk Associated with Lease Certificates in the Turkish Capital Market.- A Tale of Two States: An Application of a Markov Switching Model to Anomaly Returns.- Influence of the Correlation Coefficient on the Risk of the Exchange Option.- Part IV Economics of Innovation Evaluation of Creative Industries' Economic Impact in the EU Countries.- Disruptive Innovation and Dynamic Capabilities Approach: Sensing, Seizing, and Transforming and Oscar Fernando Castellanos Dominguez.- Part V Law and Regulation.- Formation of Contracts via the Internet.- Restraint of Trade Clauses in Commercial Agency Contracts: A Comparative Perspective.- Equalization Demand of the Agent and Its Importance in Business Law.- Commercial Agency Contract and Comparison with Similar Contracts (Exclusive Distribution, Franchising, Brokerage, and Commission Contracts).- Women as Perpetrators of Economic Offences in France.- Criteria for the Proper Management of Public Property and the Control of Public Procurement.- The Jurisdiction of the European Commission and National Competition Authorities in the Control of Legal and Economic.- Aspects of Concentration Between Undertakings.- Public Tender as a Form of Selection of the Electricity Supplier for the Residents of the Commune.- The Most Economically Advantageous Tender in the Public Procurement System in the European Union
versandkostenfreie Lieferung
---
181,89 €

(inkl. MwSt.)
Lieferfrist: bis zu 10 Tage
---
Webcode: sack.de/omf9v
Bitte ändern Sie das Passwort