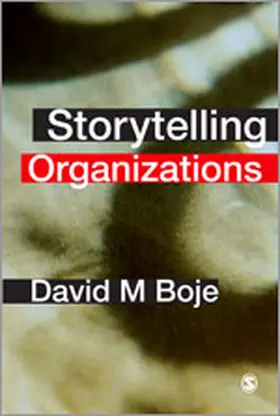 Boje
Storytelling Organizations
1. Auflage 2008
ISBN: 978-1-4129-2977-6
Verlag: Sage Publications UK
Seite exportieren
---
Buch, Englisch,
288 Seiten, Kartoniert, Paperback, Format (B × H): 156 mm x 234 mm, Gewicht: 445 g
Erhältlich auch als Buch
1. Auflage 2008, 288 Seiten, Kartoniert, Paperback, Format (B × H): 156 mm x 234 mm, Gewicht: 445 g
ISBN: 978-1-4129-2977-6
Verlag: Sage Publications UK
Seite exportieren
---
(inkl. MwSt.)
versandkostenfreie Lieferung
Lieferfrist: bis zu 10 Tage
---
---
---
---
---
---
"Boje does not reflect trends, he is among those who set them" - Hervé Corvellec, Department of Service Management, Lund University

"How can I know what I think until I see what David Boje says? What he says about storytelling will forever change what we thought we knew about stories. With remarkable control over a complex argument, Boje recovers, re-punctuates, and re-animates a world of narrative and sensemaking that we have previously taken for granted!" - Karl E. Weick, Rensis Likert Distinguished University Professor of Organizational Behavior and Psychology,Stephen M. Ross School of Business at the University of Michigan

"Few people understand stories and storytelling as well as David Boje. It is a measure of Boje's success as a theorist that the word story can never reclaim the innocence and simplicity it once enjoyed. Nor, with the benefit of his work, can organizations be viewed as spaces which occasionally or incidentally spawn stories. Boje's eagerly awaited book forces us to question many of our assumptions about storytelling; it also demands that we revise several of our assumptions about what organizations are" - Yiannis Gabriel, The School of Management, Royal Holloway University of London

"Our company is made up of lots of stories. We've found that 'stories' get told and retold and become the fabric of an organization. 'Policies' lay unread in the company handbook or training manual. David Boje taught me the value of stories in an organization. Stories are the 'oil' that makes the gears work. How do you get your message heard in an organization with thousands of people? David Boje taught me the value of telling stories at Stew Leonard's!" - Stew Leonard Jr., Stew Leonard Organization

"David Boje is one of the world's leading authorities on storytelling. His work has influenced a generation of organizational theorists and students. He not only provides new ways of understanding organizations but also provides fresh insights into the way in which stories function to provide meanings" - Heather Höpfl, University of Essex

The idea of organizations using `storytelling' to make sense of themselves and their environment has generated a lot of excitement.

Written by the leading scholar in this field, David Boje explores how narrative and storytelling is an important part of an organization's strategy, development and learning processes. With excellent examples from Nike, McDonald's and Disney, readers are shown how the theory that underpins organizational storytelling connects with storytelling in everyday organizational life.

David Boje's theories and ideas in relation to the study of storytelling in organizations are highly influential and this book will be a `must have' for any student or scholar interested in the area.
Autoren


Boje, David M.
David M. Boje is an amateur blacksmith artist, & Professor of Storytelling, Distinguished University Professor, and Bill Daniels Ethics Fellow in Management Department at New Mexico State University. He was awarded an honorary doctorate from Aalborg University, Denmark in 2011 for his contributions to quantum storytelling. He does keynote conference presentations and university seminars around the world. He is founder and president of Standing Conference for Management and Organizational Inquiry founder and past editor, Tamara Journal and Chair of the NMSU Sustainability Council. He is former Bank of America Endowed Professorship of Management (awarded September 2006-2010), and past Arthur Owens Professorship in Business Administration (June 2003-June 2006) in the Management Department at New Mexico State University.


Story Escaping Narrative Prison
PART I: SYSTEMICITY
Systemicity Complexity Levels
Dialogisms
Collective Memory
PART II: STRATEGIES
Polyphonic Strategy
Stylistic Strategy
Chronotopic Strategy
Architectonic Strategy
Polypi Strategy
PART III: RESTORYING
Developing
Transorganization Development
PART IV: STORY METHOD
Living Story Method
Socratic Symposium
versandkostenfreie Lieferung
---
72,70 €

(inkl. MwSt.)
Lieferfrist: bis zu 10 Tage
Aufgrund der Corona-Krise kann es in Einzelfällen zu deutlich längeren Lieferzeiten kommen.
---
Webcode: sack.de/13c15
Bitte ändern Sie das Passwort