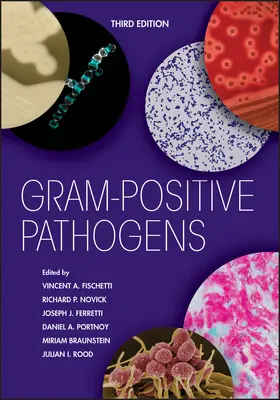 Fischetti / Novick / Ferretti
Gram-Positive Pathogens
---
Buch, Englisch, Reihe:
ASM
1466 Seiten, Gebunden, Format (B × H): 216 mm x 272 mm, Gewicht: 2631 g
3. Auflage 2019, 1466 Seiten, Gebunden, Format (B × H): 216 mm x 272 mm, Gewicht: 2631 g Reihe: ASM
ISBN: 978-1-68367-012-4
Verlag: Wiley & Sons
Seite exportieren
---
(inkl. MwSt.)
versandkostenfreie Lieferung
Lieferfrist: bis zu 10 Tage
---
---
---
---
---
Lieferung vom Verlag mit leichten Qualitätsmängeln möglich
Herausgeber


Dedication

Contributors

Preface About the Editors

Section 1: The Gram-Positive Cell Wall
Vincent A. Fischetti

1 The Gram-Positive Cell Wall
Manfred Rohde
2 Surface Proteins on Gram-Positive Bacteria
Vincent A. Fischetti
Section 2: The Streptococcus
Vincent A. Fischetti and Joseph J. Ferretti

Group A Streptococci
3 Intracellular Invasion by Streptococcus pyogenes: Invasins, Host Receptors, and Relevance to Human Disease
Beinan Wang and P. Patrick Cleary
4 Capsular Polysaccharide of Group A Streptococci
Michael Wessels
5 Toxins and Superantigens of Group A Streptococci
Blake A. Shannon, John K. McCormick, and Patrick M. Schlievert
6 Genetics of Group A Streptococci
Kyu Hong Cho, Gary Port, and Michael Caparon
7 Molecular Mimicry, Autoimmunity, and Infection: The Cross-Reactive Antigens of Group A Streptococci and Their Sequelae
Madeline W. Cunningham
8 Extracellular Matrix Interactions with Gram-Positive Pathogens
Sven Hammerschmidt, Manfred Rohde, and Klaus T. Preissner
9 Streptococcus-Mediated Host Cell Signaling
Vijay Pancholi
10 Vaccine Approaches to Protect Against Group A Streptococcal Pharyngitis
Vincent Fischetti
11 The Bacteriophages of Group A Streptococci
W. Michael McShan
12 Molecular Epidemiology, Ecology, and Evolution of Group A Streptococci
Debra E. Bessen, Pierre R. Smeesters, and Bernard W. Beall
Group B Streptococci
13 Surface Structures of Group B Streptococci Important to Human Immunity
Lawrence Paoletti and Dennis Kasper
14 Epidemiology of Group B Streptococcal Infections
Vanessa N. Raabe and Andi L. Shane
Group C and G Streptococci
15 Genetics and Pathogenicity Factors of Group C and G Streptococci
Horst Malke
16 Pathogenicity Factors in Group C and G Streptococci
Claire E. Turner, Laura Bubba, and Androulla Efstratiou
17 Infections Caused by Group C and G Streptococcus (Streptococcus dysgalactiae subsp. equisimilis and Others): Epidemiological and Clinical Aspects
Gio Baracco

Streptococcus pneumoniae
18 The Cell Wall of Streptococcus pneumoniae
Waldemar Vollmer, Orietta Massidda, and Alexander Tomasz
19 Streptococcus pneumoniae Capsular Polysaccharide
James Paton and Judy Morona
20 Streptococcus pneumoniae: Invasion and Inflammation
Allister J. Loughran, Carlos J. Orihuela, and Elaine I. Tuomanen
21 Phase Variation of Streptococcus pneumoniae
Jing Li and Jing-Ren Zhang
22 Genetics of Streptococcus pneumoniae
Francesco Santoro, Francesco Iannelli, and Gianni Pozzi
23 Pneumococcal Vaccines
David E. Briles, James C. Paton, Reshmi Mukerji, Edward Swiatlo, and Marilyn J. Crain
Enterococci
24 Pathogenicity of Enterococci
Elizabeth M. Selleck, Daria Van Tyne, and Michael S. Gilmore
25 Enterococcal Genetics
Keith E. Weaver
Oral Streptococci
26 Biology of Oral Streptococci
J. Abranches, L. Zeng, J. K. Kajfasz, S. R. Palmer, B. Chakraborty, Z. T. Wen, V. P. Richards, L. J. Brady, and J. A. Lemos
27 The Biology of Streptococcus mutans
J. A. Lemos

28 Genetics of Sanguinis-Group Streptococci in Health and Disease
Angela Nobbs and Jens Kreth
Lactococci
29 Genetics of Lactococci
Philippe Gaudu, Yuji Yamamoto, Peter Ruhdal Jensen, Karin Hammer, Delphine Lechardeur, and Alexandra Gruss
Section 3: The Staphylococcus
Richard P. Novick

30 The Evolving Genome
Jodi Lindsay

31 Plasmids and Transposable and Integrative Elements
Neville Firth, Slade O. Jensen, Stephen M. Kwong, Ronald A. Skurray, and Joshua P. Ramsay
32 Temperate Phages of Staphylococcus aureus
Hanne Ingmer, David Gerlach, and Christine Wolz
33 Pathogenicity Islands and Their Role in Staphylococcal Biology
Richard Novick
34 Respiration and Small Colony Variants of Staphylococcus aureus
Richard Proctor
35 Noncoding RNA
Emma Desgranges, Stefano Marzi, Karen Moreau, Pascale Romby, and Isabelle Caldelari
36 The Staphylococcal Cell Wall
Rita Sobral and Alexander Tomasz
37 Staphylococcal Protein Secretion and Envelope Assembly
Olaf Schneewind and Dominique M. Missiakas
38 Surface Proteins Required for Adhesion and Invasion
Timothy J. Foster
39 Immune Evasion by Staphylococcus aureus
Nienke W. M. de Jong, Kok P. M. van Kessel, and Jos A. G. van Strijp
40 Staphylococcus aureus Secreted Toxins and Extracellular Enzymes
Victor J. Torres
41 Regulation of Staphylococcus aureus Virulence
Christian Jenul and Alexander R. Horswill
42 Virulence and Metabolism
Anthony R. Richardson
43 Staphylococcal Biofilms
Michael Otto
44 Fulminant Staphylococcal Infections
Yves Gillet, Thomas Henry, and Françios Vandenesch
45 Staphylococcus aureus Colonization of the Human Nose and Interaction with Other Microbiome Members
Claudia Laux, Andreas Peschel, and Bernhard Krismer
46 Staphylococcus aureus in Animals
Andreas F. Haag, J. Ross Fitzgerald, and José R. Penadés
47 Antibiotic Resistance and the MRSA Problem
Martin Vestergaard, Dorte Frees, and Hanne Ingmer
48 Immunity to Staphylococcus aureus: Implications for Vaccine Development
Richard A. Proctor
49 Nonconventional Therapeutics Against Staphylococcus aureus
Eric Skaar
Section 4: The Listeriae
Daniel A. Portnoy

50 Epidemiology and Clinical Manifestations of Listeria monocytogenes Infection
Walter F. Schlech III
51 Innate and Adaptive Immune Responses during Listeria monocytogenes Infection
Sarah E.F. D'Orazio
52 Regulation of Listeria monocytogenes Virulence
Jörgen Johannson and Nancy E. Freitag
53 The Cell Biology of Invasion and Intracellular Growth by Listeria monocytogenes
Javier Pizarro-Cerdá and Pascale Cossart
54 Metabolism of the Gram-Positive Bacterial Pathogen Listeria monocytogenes
John-Demian Sauer, Anat A. Herskovits, and Mary X. D. O'Riordan
Section 5: Spore-Forming Pathogens
Julian I. Rood

55 The Bacillus cereus Group: Bacillus Species with Pathogenic Potential
Monika Ehling-Sculz, Theresa M. Koehler, and Didier Lereclus
56 Sporulation and Germination in Clostridial Pathogens
Aimee Shen, Adrianne N. Edwards, Mahfuzur R. Sarker, and Daniel Paredes-Sabja
57 Clostridial Genetics: Genetic Manipulation of the Pathogenic Clostridia
Sarah A. Kuehne, Julian I. Rood, and Dena Lyras
58 Genomics of the Pathogenic Clostridia
Robert J. Moore and Jake A. Lacey
59 Virulence Plasmids of the Pathogenic Clostridia
Sarah A. Revitt-Mills, Callum J. Vidor, Thomas D. Watts, Dena Lyras, Julian I. Rood, and Vicki Adams
60 Enterotoxic Clostridia: Clostridium perfringens Enteric Diseases
Archana Shrestha, Francisco A. Uzal, and Bruce A. McClane
61 Enterotoxic Clostridia: Clostridioides difficile Infections
S. Mileto, A. Das, and Dena Lyras
62 Histotoxic Clostridial Infections
Mashahiro Nagahama, Masaya Takehara, and Julian I. Rood
63 Neurotoxigenic Clostridia
Eric A. Johnson

Section 6: Mycobacteria and Corynebacteria
Miriam Braunstein

64 Mycobacteriophages
Graham F. Hatfull
65 Immunology of Mycobacterium tuberculosis Infections
Jonathan Kevin Sia and Jyothi Rengarajan
66 Unraveling the Structure of the Mycobacterial Envelope
Mamadou Daffé and Hedia Marrakchi

67 The Dream of a Mycobacterium
Catherine Baranowski, E. Hesper Rego, and Eric J. Rubin
68 Mycobacterium tuberculosis Metabolism
Gabriel T. Mashabela1, Timothy J. de Wet, and Digby F. Warner

69 Protein Export Into and Across the Atypical Diderm Cell Envelope of Mycobacteria
Vincent J.C. van Winden, Edith N.G. Houben, and Miriam Braunstein
70 Corynebacterium diphtheriae: Iron-Mediated Activation of dtxR and Regulation of Diphtheria Toxin Expression
Sadiya Parveen, William R. Bishai, and John R. Murphy
Index
versandkostenfreie Lieferung
---
162,00 €

(inkl. MwSt.)
Lieferfrist: bis zu 10 Tage
Aufgrund der Corona-Krise kann es in Einzelfällen zu deutlich längeren Lieferzeiten kommen.
---
Webcode: sack.de/76fxc
Bitte ändern Sie das Passwort