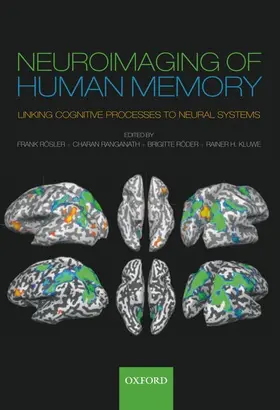 Rösler / Ranganath / Röder
Neuroimaging of Human Memory
Linking cognitive processes to neural systems
Erscheinungsjahr 2009
ISBN: 978-0-19-921729-8
Verlag: OXFORD UNIV PR
Seite exportieren
---
Buch, Englisch,
488 Seiten, Gebunden, Format (B × H): 181 mm x 253 mm, Gewicht: 1125 g
Linking cognitive processes to neural systems
Erscheinungsjahr 2009, 488 Seiten, Gebunden, Format (B × H): 181 mm x 253 mm, Gewicht: 1125 g
ISBN: 978-0-19-921729-8
Verlag: OXFORD UNIV PR
Seite exportieren
---
(inkl. MwSt.)
versandkostenfreie Lieferung
Lieferfrist: bis zu 10 Tage
---
---
---
---
---
In the past 20 years, neuroimaging has provided us with a wealth of data regarding human memory. However, to what extent can neuroimaging constrain, support or falsify psychological theories of memory? To what degree is research on the biological bases of memory actually guided by psychological theory?

In looking at the close interaction between neuroimaging research and psychological theories of human memory, this book presents a state-of-the-art exploration of imaging research on human memory, along with accounts of the significance of these findings with regard to fundamental psychological questions. The book starts with a summary of some of the conceptual problems we face in understanding neuroimaging data. It then looks at the four areas of human memory research that have been most
intensively studied with modern brain imaging tools - Learning and consolidation, Working memory control processes and storage, Long-term memory representations, and Retrieval control processes. Throughout, the book shows how brain imaging methods, such as functional magnetic resonance imaging (fMRI) and
electroencephalography (EEG), can help us increase our knowledge of how human memory is organized, how memory representations are stored, consolidated and retrieved, and how access to memory contents is controlled. With all chapters written by leading researchers in the field, the book will be essential for all those interested in the psychology and neuroscience of memory.
Herausgeber


Rösler, Frank
Frank Rösler received his Dr. phil in 1976 and the grade of a Dr. phil. habil. in 1982 both from Christian-Albrechts-University Kiel (Germany). He held academic positions at the Christian-Albrechts-University Kiel (1973-1986); the University of Hamburg (1983, 1985) and at Philipps-University Marburg (from1986 until the present). He spent short and long-term research visits in the US, in Australia and in the Netherlands. His research was awarded with the
university prize of Christian-Albrechts University Kiel (1977), the Wilhelm-Wundt Medal of the German Psychological Society (DGPs, 2000) and the Max-Planck-Prize for international cooperation (2002). Frank Rösler is full member of Berlin-Brandenburg Academy of Sciences (BBAW) and of the German Academy of
Sciences Leopoldina. His research interests focus on experimental psychology and cognitive neuroscience, in particular on studies of memory, executive functions, language, and neuronal plasticity employing EEG-ERP and fMRI measures.

Brigitte Röder received her Dr. rer nat (equiv. to a Ph.D.) in 1996 from the Philipps-University of Marburg (Germany). As a postdoc she visited the Department of Psychology and Neuroscience (H.J. Neville), University of Oregon, Eugene (U.S.) from 1995 to 1997. Brigitte Röderwas the head of a junior research group from 1999 to 2003. Since 2003 Brigitte Röder has been a full professor for Biological Psychology and Neuropsychology at the University of Hamburg. For her scientific
achievements she received awards of the German Society of Psychology, the Academy of Sciences (Goettingen) and European Society for Psychophysiology. Since 2007 Brigitte Röder has been a full member of the Academy of Science in Hamburg. Her main research interests are multisensory processing and neuroplasticity as a
consequence of learning and sensory deprivation. Methods include behavioral and electrophysiological measures as well as functional magnetic resonance imaging (fMRI).

Rainer H. Kluwe studied Psychology at the Universities of Erlangen and Trier; 1971 Diploma in Psychology; 1975 Dr. phil. University of Trier; 1981 Dr. phil. habil. Ludwig-Maximilian-University of Munich; Academic positions from 1972 until 1980 at the University of Kiel and the Ludwig-Maximilian University of Munich; since 1981 Professor of Psychology at the Helmut Schmidt University Hamburg; 1987 head of the Institute for Cognitive Research. 1978 - 1979 Research fellow Department of Psychology,
Stanford University, CA., USA, funded by Foundation VW; Oct-Dec 1989 Visiting Professor Department of Experimental Psychology; Oxford University, UK and Visiting Fellow Wolfson College. Research interests: metacognition, working memory; 2002-2008 Priority program on executive control together with
B. Hommel (Leiden) and I. Daum (Bochum) funded by the German Research Society.


versandkostenfreie Lieferung
---
163,50 €

(inkl. MwSt.)
Lieferfrist: bis zu 10 Tage
Aufgrund der Corona-Krise kann es in Einzelfällen zu deutlich längeren Lieferzeiten kommen.
---
Webcode: sack.de/y2n8g
Bitte ändern Sie das Passwort