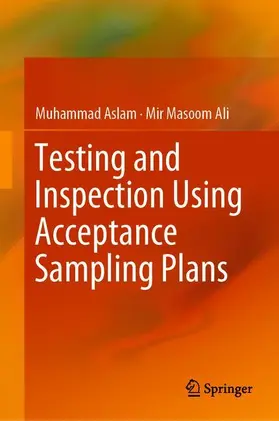 Aslam / Ali
Testing and Inspection Using Acceptance Sampling Plans
---
Buch, Englisch,
288 Seiten, Kartoniert, Paperback, Format (B × H): 156 mm x 18 mm, Gewicht: 468 g
Erhältlich auch als
1. Auflage 2019, 288 Seiten, Kartoniert, Paperback, Format (B × H): 156 mm x 18 mm, Gewicht: 468 g
ISBN: 978-981-1393-08-2
Verlag: Springer, Berlin
Seite exportieren
---
(inkl. MwSt.)
versandkostenfreie Lieferung
Lieferfrist: bis zu 10 Tage
---
---
---
---
---
---
---
This book introduces a number of new sampling plans, such as time truncated life tests, skip sampling plans, resubmitted plans, mixed sampling plans, sampling plans based on the process capability index and plans for big data, which can be used for testing and inspecting products, from the raw-materials stage to the final product, in every industry using statistical process control techniques. It also presents the statistical theory, methodology and applications of acceptance sampling from truncated life tests.

Further, it discusses the latest reliability, quality and risk analysis methods based on acceptance sampling from truncated life, which engineering and statisticians require in order to make decisions, and which are also useful for researchers in the areas of quality control, lifetime analysis, censored data analysis, goodness-of-fit and statistical software applications.

In its nine chapters, the book addresses a wide range of testing/inspection sampling schemes for discrete and continuous data collected in various production processes. It includes a chapter on sampling plans for big data and offers several illustrative examples of the procedures presented. Requiring a basic knowledge of probability distributions, inference and estimation, and lifetime and quality analysis, it is a valuable resource for graduate and senior undergraduate engineering students, and practicing engineers, more specifically it is useful for quality engineers, reliability engineers, consultants, black belts, master black belts, students and researchers interested in applying reliability and risk and quality methods.
Autoren


Aslam, Muhammad
Muhammad Aslam is Professor of Statistics at the King Abdulaziz University, Jeddah, Saudi Arabia. He has published more than 330 research papers in respected national and international journals, including IEEE Access, Journal of Applied Statistics, European Journal of Operation Research, Information Sciences, Journal of Process Control, Journal of the Operational Research Society, Applied Mathematical Modeling, International Journal of Advanced Manufacturing Technology, Communications in Statistics, and the Journal of Testing and Evaluation. He has received several awards, including a Meritorious Service award for research from the National College of Business Administration & Economics Lahore in 2011 and the 2012 Research Productivity Award from Pakistan Council for Science and Technology. He also received the King Abdulaziz University Excellence Award in Scientific Research in 2015. He was the top-ranking statistician in the Directory of Productivity Scientists of Pakistan in 2014. He is on the editorial boards of several statistical journals and has reviewed numerous papers for statistical journals. Dr. Aslam's research interests include reliability, decision trees, industrial statistics, acceptance sampling, rank set sampling and applied statistics. 

Mir Masoom Ali is the George and Frances Ball Distinguished Professor of Statistics Emeritus at the Ball State University, Muncie, Indiana, USA. He has published over 200 articles in leading statistical journals, such as Sankhya, Canadian Journal of Statistics, Statistische Hefte, Journal of Statistical Planning and Inference, Statistica, Calcutta Statistical Association Bulletin, Metrika, Statistics: A Journal of Theoretical and Applied Statistics, Communications in Statistics - Theory and Methods, Communications in Statistics - Computation and Simulation, IIE Transactions on Reliability, Austrian Journal of Statistics, Brazilian Journal of Probability and Statistics, and Estadistica. He has been a keynote, plenary and invited speaker at several conferences and universities. He has received a number of awards, including gold medals from two statistical associations, an Outstanding Researcher Award and an Outstanding Faculty Award from the Ball State University and five Meritorious Service awards from the Biopharmaceutical Section of the American Statistical Association for his co-founding of the Midwest Biopharmaceutical Statistics Workshop (MBSW) which has been held annually for the past 42 years and is co-sponsored by the Biopharmaceutical Section of the American Statistical Association.  He is the recipient of the Sagamore of the Wabash, the highest award of the State of Indiana, USA. He is a fellow of several statistical associations, including the American Statistical Association. Dr. Ali has published widely in areas such as finite sampling, order statistics, inference based on optimal spacing, multivariate statistics, characterization problems, mixtures of distribution, ranking and selection, survival analysis, estimation of tail probabilities, parametric estimation, Bayesian inference, skew-symmetric distributions and generalized distributions. Dr. Ali has served as editor, associate editor and editorial board member of several international statistical journals.  Journal of Statistical Studies in 2002, Pakistan Journal of Statistics in 2004, International Journal of Statistical Sciences in 2007, Pakistan Journal of Statistics and Operation Research in 2012, and Journal of Statistics in 2013 published Special Volumes in Honor of Professor Ali.  Ball State University organized a two-day international statistics conference in 2007 to celebrate Dr. Ali's retirement and published a Festschrift in his Honor.



1 Introduction and genesis1.1 Introduction1.2 History1.3 Background: acceptance sampling1.4 Background: reliability theory1.5 Censorship and truncation1.6 Selecting a life distribution1.7 Applications2 Some life distributions2.1 Introduction2.2 Birnbaum-Saunders distribution2.3 Burr type XII distribution2.4 Gamma distribution2.5 Generalized Birnbaum-Saunders distribution2.6 Generalized exponential distribution2.7 Generalized Rayleigh distribution2.8 Inverse Gaussian distribution2.9 Inverse Rayleigh2.10 Log-logistic distribution2.11 Pareto distribution2.12 Lognormal distribution3 Acceptance sampling from truncated life tests3.1 Introduction3.2 Plans based on one point of the OC curve3.2.1 Simple acceptance sampling plans3.2.2 Double acceptance sampling plans3.2.3 Acceptance sampling plans by groups3.2.4 Reliable economical acceptance sampling plans3.3 Plans based on two points of the OC curve3.3.1 Simple acceptance sampling plans3.3.2 Double acceptance sampling plans3.3.3 Two stage acceptance sampling plans using groups3.3.4 Acceptance sampling plans by groups3.3.5 Reliable economical acceptance sampling plans3.3.6 Reliable economical group acceptance sampling plans4 Acceptance sampling based on life tests from some specific distributions4.1 Introduction4.2 Birnbaum-Saunders distribution4.3 Burr type XII distribution4.4 Gamma distribution34.5 Generalized Birnbaum-Saunders distribution4.6 Generalized exponential distribution4.7 Generalized Rayleigh distribution4.8 Inverse Gaussian distribution4.9 Inverse Rayleigh4.10 Log-logistic distribution4.11 Pareto distribution4.12 Lognormal distribution5 Some group acceptance sampling based on life tests from specific distributions5.1 Introduction5.2 Birnbaum-Saunders distribution5.3 Burr type XII distribution5.4 Gamma distribution5.5 Generalized Birnbaum-Saunders distribution5.6 Generalized exponential distribution5.7 Generalized Rayleigh distribution5.8 Inverse Gaussian distribution5.9 Inverse Rayleigh5.10 Log-logistic distribution5.11 Pareto distribution5.12 Lognormal distribution6 Skip Sampling Plans6.1 Introduction6.2 Skip-V plans6.3 Skip-R Plans6.4 Design of Skip-R Plans6.5 Economic Skip-R Plans6.6 Skip plan using reference plans7 Sampling Plans using Process Capability index (PCI)7.1 Introduction7.2 Repetitive sampling using PCI7.3 Resubmitted sampling PCI7.4 Mixed plan using PCI8 Miscellaneous acceptance sampling plans8.1 Bayesian Sampling plan8.2 sampling plan using loss function8.3 Sampling Plans using EWMA8.4 Hybrid Plan9 Sampling plan for Big Data9.1 Introduction of Big Data9.2 Application of Big Data in quality control9.3 Inspection for Big Data49.4 Sampling plans for Big Data9.5 Application of sampling plan for Big Data
versandkostenfreie Lieferung
---
74,89 €

(inkl. MwSt.)
Lieferfrist: bis zu 10 Tage
Aufgrund der Corona-Krise kann es in Einzelfällen zu deutlich längeren Lieferzeiten kommen.
---
Webcode: sack.de/3q6wx
Bitte ändern Sie das Passwort