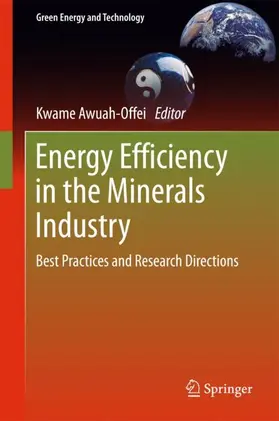 Awuah-Offei
Energy Efficiency in the Minerals Industry
Best Practices and Research Directions
1. Auflage 2018
ISBN: 978-3-319-54198-3
Verlag: Springer, Berlin
Seite exportieren
Best Practices and Research Directions
1. Auflage 2018, 333 Seiten, Gebunden, Book, Format (B × H): 166 mm x 242 mm, Gewicht: 660 g Reihe: Green Energy and Technology
ISBN: 978-3-319-54198-3
Verlag: Springer, Berlin
Seite exportieren
---
(inkl. MwSt.)
versandkostenfreie Lieferung
sofort versandfertig, Lieferfrist: 1-3 Werktage
---
---
---
---
---
---
---
This book presents a state-of-the-art analysis of energy efficiency as applied to mining processes. From ground fragmentation to mineral processing and extractive metallurgy, experts discuss the current state of knowledge and the nagging questions that call for further research. It offers an excellent resource for all mine managers and engineers who want to improve energy efficiency to boost both production efficiency and sustainability. It will also benefit graduate students and experienced researchers looking for a comprehensive review of the current state of knowledge concerning energy efficiency in the minerals industry.
Herausgeber


Awuah-Offei, Kwame
Kwame Awuah-Offei is currently an associate professor of mining engineering at Missouri University of Science and Technology, as well as a mining engineering academic fellow at the US Securities and Exchange Commission. He holds a PhD from the University of Missouri-Rolla (UMR). Part of his PhD work was done at the University of Alberta, Canada. He holds a BS (Hons) from the Kwame Nkrumah University of Science & Technology, Ghana.

Dr. Awuah-Offei's research focuses on the modeling and optimization of sustainable mining systems, including energy-efficient mining systems. In addition to 12 years of research and teaching experience, he has worked in surface gold mining and aggregates operations. In his current role, he teaches graduate and undergraduate mining engineering courses including Environmental Aspects of Mining. Dr. Awuah-Offei is an active member of the Society of Mining, Metallurgy and Exploration (SME) and the Society of Mining Professors (SOMP).


1.Introduction.- 2. Overview of energy input for ground fragmentation.- 3. Effect of hole stemming practices on energy efficiency of comminution.- 4. Effect of detonation wave collision on fragmentation and energy efficiency of mining and comminution.- 5. Energy efficiency of drilling operations.- 6. Estimating the energy efficiency of fragmentation during blasting.- 7. Energy efficient loading and hauling operations.- 8. Energy efficiency in cable shovel operations.- 9. Energy efficiency benefits of autonomous haul trucks.- 10. Benchmarking energy consumption of truck haulage.- 11. Optimizing gear shifting strategies for energy efficient haul truck operation.- 12. The role of operator in dragline energy efficiency.- 13. Energy efficient comminution: Best practices and future research needs.- 14. Energy efficiency of electrowinning.- 15. Plant automation for energy efficient mineral processing.- 16. Energy efficiency trends in smelting.- 17. Hybrid energy systems: State-of-the-art and possible applications in mining.- 18. Solar energy applications in mining: A case study.- 19. Towards energy efficient mine dewatering.- 20. Energy efficient mine ventilation practices.- 21. Energy efficiency and sustainability impacts of mining.
versandkostenfreie Lieferung
---
160,49 €

(inkl. MwSt.)
sofort versandfertig, Lieferfrist: 1-3 Werktage
---
Webcode: sack.de/fhdx5
Bitte ändern Sie das Passwort